Rakesh Jhunjhunwala:The Warren Buffet of India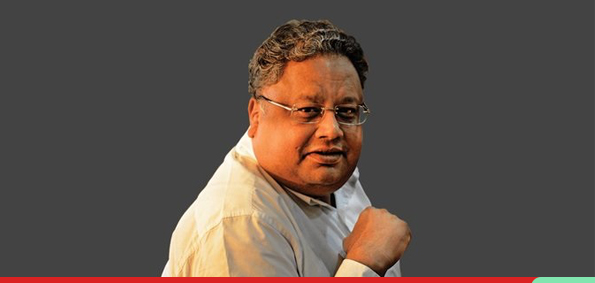 Many names for one man.
He is often referred to as India's own Warren Buffet. He is a trader and also a Chartered Accountant. According to Forbes' Rich List, he is the 48th richest man in the country. Often called "The Big Bull', he is one of the most renowned and successful stock market investors in India. He has made a great fortune by trading and investing in stocks, which is an inspiration for all those who want to succeed in the Indian Stock Market.
Beginner's luck?
Jhunjhunwala started his career in the stock market when he was in college. He enrolled at the Institute of Chartered Accountants of India but after attaining the degree, he decided to plunge headlong into Dalal street. He earned his first big profit in 1986 when he bought 5,000 shares of Tata Tea at Rs 43 and the stock rose to Rs 143 within three months. In 1985, he started by investing Rs 5,000 as capital, which was estimated to have grown to around Rs. 11,000 crores by September 2018.
The apple that fell as the idea
Jhunjhunwala developed an interest in the stock market after eavesdropping on his father's discussion with his friends. After revealing his interest to his father, Jhunjhunwala said his father told him to read newspapers regularly as it was the news that made the stock market fluctuate. While his father allowed him to dabble in the stock market, he refused to give him any financial aid and forbade him to ask friends for money.
But Jhunjhunwala was a risk-taker right from the start. He borrowed money from his brother's clients and promised to return the capital with higher returns compared to bank fixed deposits.
Today, he is called the 'King of Share Market' and many more titles have been given to this self-made billionaire.