Top 3 cryptocurrencies to invest in 2021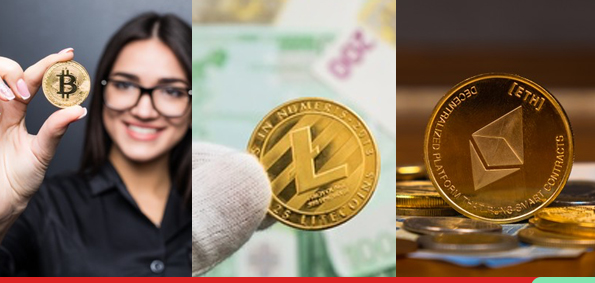 Cryptocurrencies are all the rage right now, with everyone looking to get on board this bandwagon, dip or no dip. Here are a few cryptocurrencies you can keep an eye on.
There are two portfolios to choose from, if you want to play safe then choose the top players in the market, such as:
Bitcoin: 38,364.92 USD
If its price rises or falls, there is no denying that bitcoin will continue to dominate the cryptocurrency sector. Traders will benefit from high liquidity regardless of market stability as long as it continues to exist. Although bitcoin is unpredictable, it has a steady upward trend. With a market capitalization of $1.01 trillion, BTC, as it is known by its market ticker, is the most popular cryptocurrency. It was developed as a means of facilitating decentralized transactions as well as a store of value.
Lite coin: 185 USD
If Bitcoin is the gold equivalent of cryptocurrency, Litecoin is silver. It's one of the most trusted altcoins, and one of the first too. It has a market cap of US$2.59B which holds potential and Litecoin has faster transactions compared to Bitcoin.
Etherum: 2659 USD
Ether is the second-largest cryptocurrency produced in 2015, with a market capitalization of $316 billion. The Ethereum blockchain is based on smart contracts, which allow for decentralised applications such as the widely used decentralised finance services (DeFi). Ether may not be a cheap buy but it worth the investment. Ethereum is a decentralised, open-source blockchain that allows users to create smart contracts. The platform's native cryptocurrency is Ether (ETH). After Bitcoin, it is the second-largest cryptocurrency in terms of market capitalization. The most widely used blockchain is Ethereum. Ethereum is credited with laying the groundwork for what is now referred to as decentralised finance (DeFi). Because of Ethereum's early success, the blockchain is now used by a significant portion of the DeFi industry.
And if you want to take a risk, then these can be the next shining stars of this market.
Cardano: 1.64 USD
Because of its flexible network and fast transactions, Cardano is expected to remain one of the most popular cryptocurrencies. Charles Hoskinson (co-founder of Ethereum) developed Cardano. Scalability, interoperability, and sustainability are among its chief selling points. The recent update finally brought the ability to build smart contracts on Cardano's network. Cardano has always been a venture that takes its time and accomplishes things gradually.
Dogecoin: 0.36 USD
After a shady past, this coin has resurfaced thanks to Elon Musk's moniker as the "Dodgemaster." Nobody expected this meme coin, which was created in 2013, to become legit, let alone to be included in the top list of cryptocurrencies. DOGE, the coin that rose to prominence earlier this year thanks to Elon Musk, is the cheapest cryptocurrency to purchase in 2021. Dogecoin is currently one of the cryptocurrencies that many analysts consider to be a viable investment option.
Uniswap: 25.64 USD
Uniswap is an Ethereum-based DApp that enables users to trade Ethereum tokens via liquidity pools. Uniswap has two main services: delivering and utilizing liquidity. Uniswap was released in the DeFi framework, and the UNI coin was released in 2020. Hayden Adams, a former Siemens mechanical engineer, founded Uniswap on November 2, 2018. Via the use of smart contracts, the protocol allows for automatic transactions between cryptocurrency tokens on the Ethereum blockchain. Despite its infancy in the market, the UNI coin has already reached major milestones, and it is now one of the DeFi coins to enter the top race. Since Uniswap was recently positioned as the first decentralized exchange to enable margin and leverage trading, market analysts believe this price is below its expected potential growth.
The higher the risk, the higher the reward, and with the right calculation, these cryptocurrencies can prove to be a savvy addition to your portfolio.