VST Tillers Tractors Ltd. Introduces Series 9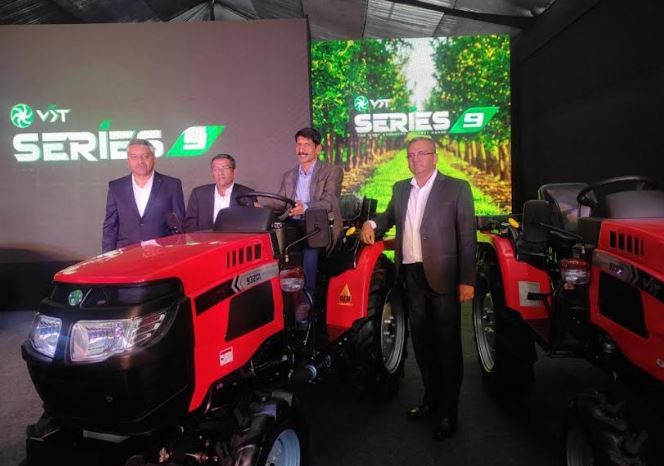 VST Tillers Tractors Ltd., one of India's leading farm equipment manufacturers, today announced the launch of the Series 9 Range of Compact Tractors, 18 HP upwards. The company, with the aim of further establishing its leadership position in the 4WD Compact Tractor segment in the country, designed and developed the new series of tractors at its Hosur plant. The 6 new models, in the range of 18HP to 36HP will be available from this month itself. The tractors are named, starting with "9", VST 918 (18.5 HP), VST 922 (22 HP), VST 927 (24 HP), VST 929 (28 HP), VST 932 (30 HP), VST 939 (36 HP).
Antony Cherukara, CEO, Pramod Rajan, CTO, V T Ravindra, Managing Director & Prabhu Eshwaran, Head of Sales at the launch of 6 new tractors under the Series 9 Tractor Range by VST Tillers Tractors Ltd.
Series 9 by VST is "The Most Advanced Compact Range" with international design and technological integration to address the growing needs of farm mechanization in Orchard, Horticulture as well as Traditional Agriculture Crops and non- agriculture field. The Segments first features in the industry will make Series 9 as the right choice for aspiring Farmers.
VST's new multiutility compact tractors have several firsts to their credit including an independent PTO, MID PTO, Reverse PTO, fully Synchromesh Gearbox, Electro-Hydraulic Controls (EHC), and Dual Track width Option with selective models. By adopting advanced technology, the new range provides increased comfort for the operator. The EHC feature enables the driver to control the implements with the touch of a button. Its narrowest track width with Dual options and short turning radius allows farmers to navigate narrow spaces easily while working with different crops, considerably increasing productivity and reducing crop damage.
VST's feature-filled Series 9 tractor range comes with a state-of-the-art design and optimal dimensions making it the REAL LIGHT WEIGHT Tractor. Operating these tractors is very easy and hassle-free. The series is equipped with a best-in-Class Engine delivering best-in-class power, torque, and mileage.
The ergonomics of the new VST Series 9 Tractors include raised platform, a premium look, projector headlamps, a heat protector shield, a new-generation instrument cluster, deluxe seat, and a short turning radius. These versatile tractors are suitable for a wide range of applications and can be used with tillers, rotavators, MB plough, ridger, duck foot cultivators, sprayers, loaders, haulage, thresher, genset, and many more.
Talking about the launch, Antony Cherukara, CEO, VST Tillers Tractors Ltd. said, "VST's compact tractor delivers best-in-class performance in the segment. The launch of the new Series 9 tractors is in line with VST's commitment towards Farm Mechanization of multiple crops and enriching the lives of Indian farmers. With the Indian farming community embracing newer technologies, which are innovative and efficient, our Series 9 Range will be the most advanced and versatile tractor offering in its segment and is developed to deliver a winning formula of "Extra Power – Extra Saving – Extra Comfort" for better earnings for Indian farmers."
"With this launch, we now have a complete range of compact tractors, and we are confident that these products will further cement our leadership position in the compact tractor market."
Progressing on the path of exponential growth by adopting a Fast, Frugal & Future ready approach, a premium series of VST-Zetor will also be launched in the coming months to offer a wide range of products to the farmers and business associates.
VST Tillers Tractors Limited. was established in the year 1967 by the VST Group of companies. With a legacy of more than 55 years, VST continues to drive farm mechanization and empowerment of Indian farmers. VST Tillers Tractors Ltd is one of the fastest-growing brands in the agriculture segment and commands a leadership position in power tillers with more than 70% Market share and pioneer in 4WD compact tractors segment and is amongst the leading producers of the other category of Tractors, Engines, Transmission, Power Reaper, and Precision Components. VST also exports products to European, Asian, and African markets. VST Tractors are marketed under the 'FIELDTRAC' brand in various markets of the European Union meeting the latest EU standards.
The company crossed the milestone of Rs. 1000 crore revenue during FY 2022-23 and is on track to become a Rs. 3000 crore global brand in diversified farm mechanization products and solutions by 2026, as per their 5X Vision.
With its focus on Research and Development, the company has made significant investments in R&D to drive continuous innovation. Other than process improvisations, product improvements, and new product introduction the organization has built a strong foundation of transformation to accelerate growth by undertaking strategic initiatives, new business prospects, Global ventures, and brand initiatives.
For more details, please visit: www.vsttractors.com.