His Holiness Dalai Lama Unveils 1 Ladakh FC Home Jersey by Hummel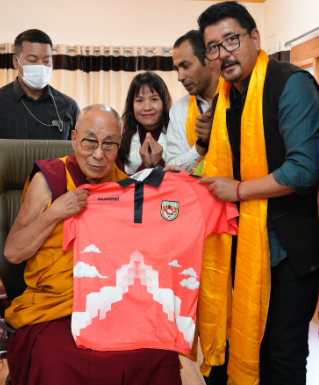 Hummel and 1 Ladakh FC receive blessings of His Holiness Dalai Lama as he unveils the home jersey to the public before the upcoming climate cup in Leh. The jersey is made entirely from recycled material and features the local Black-necked Crane in the club crest. The design pays homage to the winding Ladakh roads & high passes. The jersey along with other fan merchandise will be available for retail in the coming days at www.hummel.net.in. A portion of the sale will go in support of the development of sports in the region.
In the spirit of unity and change, His Holiness Dalai Lama unveils the 1 Ladakh FC jersey by Hummel in presence of Honble Chief Executive Councillor, LAHDC Leh Advocate Tashi Gyalson
"We believe in Changing The World Through Sport, this collaboration is the symbol of unity and change," said Soumava Naskar, Managing Director of Hummel India. "We are truly honoured to be partnering with 1 Ladakh FC, a club that embodies the principles we stand for. This is our 100th year in the arena of sports and together, we aim to use the power of football to raise awareness about climate change and inspire positive action across the globe."
"Ladakh's first Pro football team aims to promote sustainability to minimize ecological footprint," said T Angmo, Director of 1 Ladakh FC. We are thrilled to be partnering with Hummel India as a kit partner for 1 Ladakh FC and an exciting partnership for the upcoming Climate Cup. It not only serves as a platform for talented players from the region but also acts as a reminder to address climate change and protect our planet.
About Ladakh FC
Ladakh FC is a football club based in the picturesque region of Ladakh, India. Founded by passionate individuals with a love for football and a dedication to preserving their unique environment, the club aims to be India's first cleanest and greenest football club. The team plays their home matches in Spituk Football Stadium – situated at 11000ft above sea level.
About Hummel
Hummel (A Thornico Group Company) was founded 100 years ago and is one of the leading sports & athleisure wear brand from Denmark. The company is the official supplier for the Danish national football team, as well as numerous premier handball, football and esports teams including Everton, Real Betis, FC Kln, Astralis, Team Vitality etc.
For more information, please visit hummel.net.in/pages/doing-business-with-us.