Food Service India Launches Food & Beverage Innovation Centre in Gurugram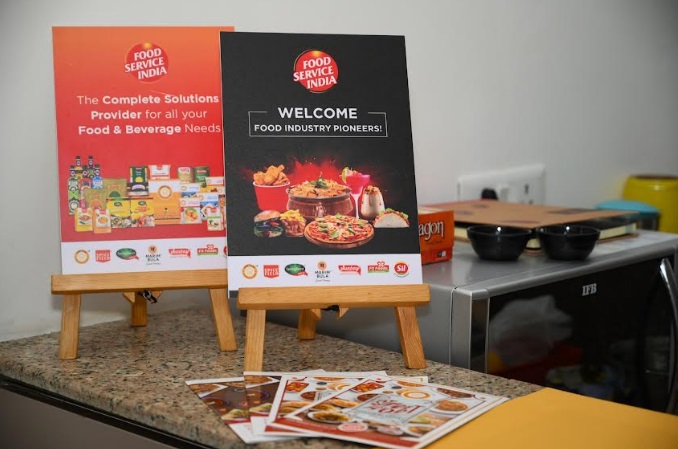 Food Service India Pvt.. Ltd. (FSIPL) recently inaugurated a very special Food & Beverage Innovation Centre for culinary conceptualization in Gurugram. The launch event was held from 18th to 22nd July 2023 and was attended by many well-known chefs, distinguished guests and stalwarts from the food and beverage industry.
Launch of Food & Beverage Innovation Centre by FSIPL in Gurugram
The Innovation Centre is a collaborative space where food tech, conversations, and consumer insights come together to curate the latest and most promising solutions to enhance customer experiences. It is an incubation centre that in the coming years will provide the most conducive atmosphere for a free flow of new culinary ideas. The in-house team of FSIPL consists of food technologists, chefs and mixologists, who with their combined knowledge and experience will create innovative & futuristic food solutions for the industry.
Speaking on the recent launch, R&D Head Ms.Tayyaba Shewan said, "For quite some time, it has been our cherished dream to establish a showcase kitchen in the national capital, where we can proudly present our innovative food and beverage solutions. We are thrilled to host this event, catering to multiple QSR brands, cloud kitchens, and other food companies. It gives me immense joy that weve been able to accomplish this in Delhi, despite our team primarily operating from Mumbai. Moving forward, our vision is to replicate such showcases in every region across the country. Our ultimate goal is to become the foremost provider of food and beverage solutions in India, with aspirations to expand internationally as well."
Enterprise Business Head Ms. Sreedevi Menon said, "I am extremely happy to celebrate the opening of our F&B studio in Gurgaon. The opening of the studio goes much beyond an office for Food Service India, it is a unique space for culinary & beverage innovation. With this studio, we now have a talent pool of master chefs and food technologists who will help us get closer to all our customers in north India. The studio will help us in creating extraordinary customer experiences and we are happy to come together to innovate, collaborate and create."
The Quick Service Restaurant (QSR) industry is a booming industry with 20-25% growth YOY, and this is a huge market size that needs innovative food solutions often. The QSRs, with their penetration into Tier-II and Tier-III cities, are always faced with the challenges of delivering the same food quality, taste and standard across all their restaurants. They need solutions in the form of consistently tasty food, seasonal menus, fast food solutions and more. In its mission to empower every commercial kitchen, Food Service India Pvt. Ltd. provides the most innovative solutions for the hospitality industry, and the Innovation Centre is a step towards staying ahead in the game of F&B industry.
About Food Service India Pvt. Ltd. (FSIPL)
Food Service India Pvt. Ltd. (FSIPL) was established as a corporate brand in 2015. The company sees itself as a complete solutions provider, India's largest in the F&B space. FSIPL offers over 350+ products across cuisines and meal courses, including marinades and coatings, taste enhancers, Indian gravies, spices, sauces, soups, pre-mixes (including bakery and confectionary pre-mixes), and herbs, dips and sprinklers. Its brands Sunbay, Marimbula and Chef's Art are pioneers in the space, and are supported by the best-in-class manufacturing and research.