No Label: Revolutionizing the RTD Segment with a 7 percent Market Share in Delhi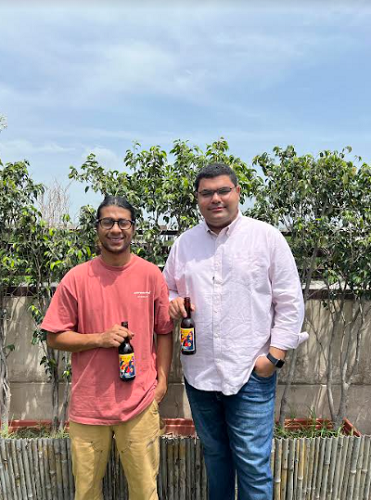 No Label, a Bored Beverages Brand, the innovative start-up known for its ground-breaking approach to the Ready-to-Drink (RTD) segment, has been making waves and ushering in a new era of change. With its flagship product, No Label Original Mead, the brand has carved out an impressive 7% market share in the highly competitive RTD segment, in Delhi.
(L-R) Anant Gupta & Vinayak Malhotra, Co-founders at Bored Beverages
Mead, a long-forgotten category in the beverage industry, has been revitalized by Bored Beverages' ingenious vision. The brand has breathed new life into this ancient drink, capturing the imagination of consumers seeking unique and exciting experiences. With its commitment to quality and creativity, No Label has managed to capture the hearts and palates of the younger audience.
No Label Original Mead
The success of No Label Original Mead is a testament to the brands unwavering dedication to producing exceptional beverages. Crafted with passion and expertise, No Label meads stand apart with its distinctive flavours and character. By embracing the purity of honey and combining it with carefully selected ingredients, the brand has created a product that is unmatched in taste and quality.
What sets No Label apart is its immense popularity among the younger demographic. This generation has shown remarkable acceptance towards mead as a drink. With its non-bitter taste and gluten-free goodness, mead competes with established categories, attracting a growing number of consumers who seek a refreshing alternative.
We're very happy with the progress we've had in Delhi and Haryana in a small span of 6 months. Pranoy Chakrabarty, COO of Bored Beverages said, "While we are thrilled with our current success, we have ambitious plans for expanding the portfolio in the coming year. Our goal is to introduce No Label Meads to new markets and share our love and passion for this ancient drink with a wider audience."
No Label Brewings remarkable achievement in attaining a 7% market share in such a short period is a testament to the brands dynamic team and their relentless pursuit of excellence. By challenging traditional norms and championing authenticity.
Consumers can expect a continued commitment to quality and innovation with newer flavours including No Label Passion Fruit Mead, hitting the market in June. The brands expansion plans will bring No Label Mead to new regions, offering consumers an opportunity to indulge in the rich flavours and unique experience it provides.
About Bored Beverages
They introduced their first brand No Label and are a pioneering start-up that has brought about a wind of change in the RTD segment through its innovative approach to mead production. With its flagship product, No Label Original Mead, the brand has achieved a remarkable 7% market share in a fiercely competitive market. Committed to quality and creativity, Bored Beverages aims to redefine the way consumers experience mead, breaking the boundaries and challenging the norms of the industry.