Reinventing the Local Tapri: Bevzilla's Ambitious Plan to Drive Economic Growth in Local Communities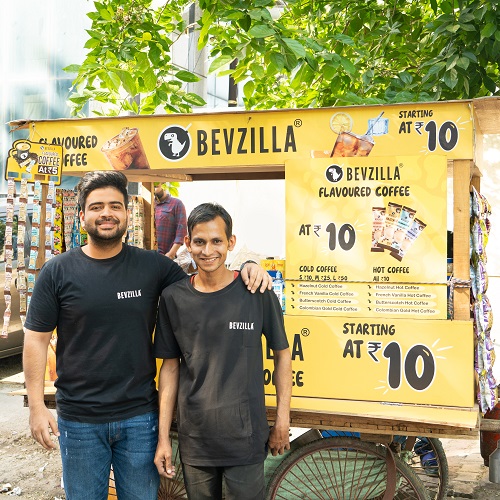 Bevzilla, the leading beverage company, announces a unique and unconventional partnership with local Tea Stalls, widely known as Tapris. They will be launching 100 Tapris by the end of May 2023 and a thousand in 3 months in Delhi NCR. The intention is to support small businesses, empower the Chai sellers in those Tapris, and promote overall community growth.
Bevzillas founder, Anurag Chhabra empowers local Tapri Walla
Bevzilla is known for its innovative instant coffee and milkshake cubes along with other products like ice tea powder, and has earned popularity amongst many customers in the recent past. Their new idea of giving back to the community by partnering with the Tapri Walas is driven by an emotional connection and nostalgia for childhood memories.
The objective is to ensure that small businesses do not lose their relevance in the midst of the growing popularity of branded coffee and cafe culture. The traditional tea or coffee shops known as 'Tapris' have begun to lose their appeal to the younger generation who tend to prefer international coffee brands for their coffee, socialising and work breaks.
Moreover, small businesses were severely impacted by the COVID-19 pandemic, with Tapris being among the worst affected due to reduced footfall and plummeting sales. In light of these challenges, Bevzilla has recognized the significance of supporting these enterprises and has launched an initiative to assist them in sustaining their operations now and in the future. As a part of this initiative, Bevzilla aims to help these small businesses boost their profit margin by 50%.
The brand believes that its not just about making great beverages, but also about making a positive impact on society. This partnership is a natural extension of their corporate social responsibility efforts. The company is committed to creating emotional connections with its customers and communities. They are eager to apply their skills and knowledge to help businesses in need. They also believe that small businesses are the backbone of the economy and the heart of our communities. By supporting them, Bevzilla will also be supporting emotional well-being and a sense of connection.
Bevzilla will also support cart owners through this initiative by providing them with a range of resources including Bevzilla T-shirts, coffee, cups, marketing support, and training. The aim is to help these small businesses attract more customers and increase their visibility in the community, with a goal of reaching 10,000 cart owners in the near future. By providing affordable support, Bevzilla hopes to bring attention to local enterprises and make a positive impact on the community. The initiative also includes assistance in making and selling delicious and energising hot and cold beverages, and the provision of free marketing materials to help promote the cart owners businesses.
Anurag Chhabra, Co-founder, Bevzilla, "This is an initiative that has never been done before in India, and we have taken such a step to do our bit for society, and give back to these Tapri Walas who have been serving us for a long time since we were kids. Improving the quality of beverages offered by Tapris to attract the new generation and compete with international brands is our primary motive. By helping Tapri Walas gain better margins and thrive, Bevzilla intends to contribute to community growth, preserve tradition, and foster a sense of nostalgia and appreciation for local businesses, which were becoming irrelevant amidst the growth of the branded coffee & cafe culture. Hence, this is for those memories, and our beloved Tapri Wale bhaiya and aunties."
Divisha Chaudhry, Co-founder, Bevzilla, "We at Bevzilla are vigilant towards society, and understand the challenges that small businesses are facing. Therefore, we want to do our part to help them thrive, said Divisha, Co-founder. The social consequences Bevzilla aims for through this initiative include community growth, driving economic development, and creating new opportunities. We believe that by partnering with these local Tapris, we can make a real difference and help them succeed."
Bevzilla's partnership is just one of many initiatives the company has launched, and they plan to see a domino effect when it comes to the support and growth of these local or small businesses.
About Bevzilla
Co-Founders of Bevzilla-Divisha Chaudhry and Anurag Chhabra, promise a delicious and healthy beverage experience to their customers. A coffee that can be enjoyed anywhere and at any time. Their idea of carrying your beverage in a cube has earned itself an appellation of one-of-a-kind innovation in the Indian beverage landscape. They aim to revolutionise the affair of drinking coffee, giving it a user-friendly approach while keeping the health aspect in mind.
The products are lightweight, portable, flavoursome and are made using pure ingredients. The cubes are packed with nutrients like Iron, Calcium, Potassium and Vitamins. It is a unique initiative towards making healthier choices for happier lives. Blended with sustainably sourced Date Palm Jaggery, there are just 27 stored calories per cube. Bevzilla coffee is made up of 100% Arabica beans. It is easy to make and gets ready within seconds after being added to milk or water.
For more information, please visit: www.bevzilla.co.