Myntra launches new fashion portal for Gen-Z customers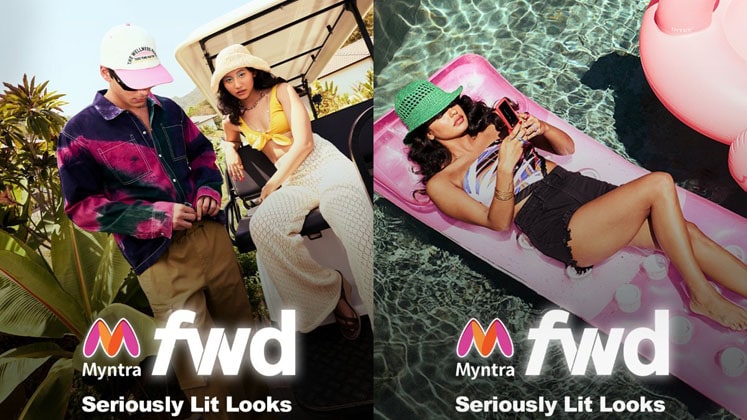 Myntra, a fashion e-commerce site, has launched FWD, a fashion portal tailored for Gen-Z, on its mobile app. Starting in the first week of introduction, Myntra FWD is highlighted by its unmissable location on the Myntra app's high-engagement bottom navigation bar, giving customers quick access to all things Gen-Z from the outset.
Myntra will have around 8.6 million Gen-Z clients by 2022. According to the statement, the company hopes to acquire 10 million new consumers over the next two years with the new launch.
It has brought out a series of unrivalled features as part of this offering, creating an app-in-app experience. It offers discovery of over 65,000 designs and access to a collection of 500 global brands for both men and women. Myntra will also consider expanding its FWD offering to over 1 lakh products by the end of the year. Myntra FWD will be displayed on the bottom navigation bar within the existing Myntra app to ensure visibility in its early days. It will also be available on the platform for Gen Zs to access as a separate page.
Why did Myntra add a new business approach?
Myntra continues to be fascinated by Gen-Z and their fashion transformation over the years. Their individualistic sense of style, various points of view, and basic values are reflected in their distinct fashion choices, and they are progressively influencing the way fashion is consumed on a global scale. According to Nandita Sinha, CEO of Myntra, Myntra FWD is more than simply a fashion destination; it's a full lifestyle experience built specifically for Gen Z.
The estimated global purchasing power of Gen-Zs, those born between 1997 and 2013, is roughly $360 billion (29,46,938.81 crore), with 20% residing in India. This is an important consumer group for fashion retailers. Myntra considers Gen Z as its important cohort that the fashion industry continues to dive deep into. Myntra is excited to cater to this fashion-first audience with the launch of FWD by establishing an environment where their fashion requirements are not just acknowledged, but also proactively serviced.
According to the firm, Myntra's FWD will target the Gen-Z market with brands including H&M, Trendyol, Bebe, Tokyo Talkies, Sassafras, Hersheinbox, Street 9, Athena, Bonkers Corner, and Boohoo. The company plans to add 10 million Gen-Z users in the next two years, adding to its existing 8.6 million Gen-Z clients by 2022.
What will the new Gen Z portal "FWD" include?
Differentiated experience that is a first of its kind Designed for Generation Z: In addition to Gen-Z's distinct fashion sense, the Myntra FWD experience has been created with Gen-Z's buying preferences in mind, which are frequently inspired by what's in style, community-driven recommendations, and their preferred content formats in mind. The FWD experience has been totally reinvented with Gen-Z consumers in mind, with discoverability and inspiration at the forefront. Beginning with the first week of the introduction, the Myntra FWD product will be promoted by its prominent placement on the Myntra app's high-engagement bottom navigation bar. This will help to develop consumer resonance, allowing direct access to all things Gen-Z from the start.
The portal will also have a Daily Drop Widget, which will provide daily updates on new fashions, as well as an automated flow of content and trends tailored to the tastes and preferences of the shoppers. Within the first few weeks of the launch, digital native Gen-Zs will be able to interact with one-of-a-kind shoppable video content created for Gen-Z in the form of reels on the FWD homepage to make their purchase experience smoother and uber-fun.
The Celeb Style Files will also allow users to buy for their favourite celeb/influencer looks. Myntra's tech-enabled photo search feature is being improved for Gen Z shoppers. It will eventually let users to capture a photo or screenshot of a style they see around them or on social media and send it immediately to the Myntra app, which will quickly reveal similar shoppable results from FWD. The brand anticipates updating these trends on a daily, weekly, and monthly basis.
Myntra FWD will collaborate with 500 popular creators, like Radhika Seth, Sanket Mehta, Aditi Bhatia, and Manav Chhabra to develop relatable content for its user base.