Pass Pass Pulse Puts up Billboards on World Compliment Day But Not for Pulse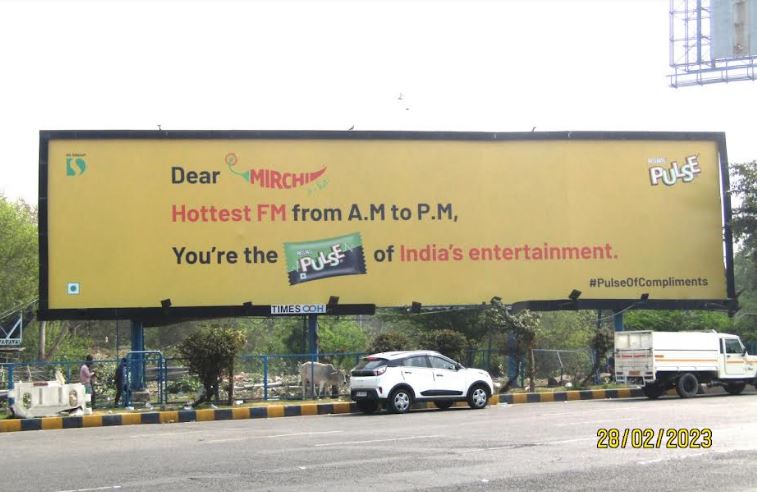 Pass Pass Pulse, India's number one candy from DS Group, a multi-business corporation has released its annual World Compliment Day campaign, #PulseOfCompliments. In its fourth edition, Pulse complimented select brands that are an integral part of young India. Today when brands go for bittersweet/witty and quirky banters, Pulse lauds them instead! Pass Pass Pulse has been complimenting brands for the last 3 years on social media but this time the brand has taken it a notch higher with their campaign #PulseOfCompliments by setting up billboards outside/near the offices of brands like Airtel, Zomato, boAt, Dominos, Dunzo and Radio Mirchi flashing good natured witty thank you messages for these brands besides complimenting them on Facebook, Instagram & Twitter.
Complementing billboard outside the office of Radio Mirchi put up by Pulse​
Pass Pass Pulse also engaged with several other brands like PVR, EaseMyTrip, Sugar Cosmetics, Licious, Yatra, BookMyShow, Wow Momos, Zepto, Flipkart, Baskin Robbins, Tim Hortons, Truly Madly etc. in a twitter banter starting a chain of compliments amongst brands creating an aura of positivity and goodwill coursing through the community. Receiving appreciation feels astonishing and giving appreciation is just as heart-warming, was the thought behind the campaign #PulseOfCompliments. The campaign #PulseOfCompliments was ideated and conceptualized by Foxymoron.
Mr. Arvind Kumar, General Manager Marketing, Dharampal Satyapal Foods Ltd. says, "World Compliment Day campaigns of Pass Pass Pulse have been immensely successful since past few years. While brand banters are pretty common in the social media space, Pulse has leveraged a unique approach to bring forth the ideology of spreading love and joy amongst all the brands out there. Through billboards, this time we decided to do something different to say thank you. We believe that compliments are a modest yet potent way to acknowledge the great work done by brands and we look forward to starting a chain reaction of magnanimity and gratitude in the digital space."
Commenting on the successful campaign, Mr. Dhruv Warrior, National Creative Director, FoxyMoron quotes, "This campaign is a true manifestation of what happens when clients and agencies work together to create a larger-than-life idea. This is what we strive to achieve at FoxyMoron, using the power of creativity and understanding the PULSE of Compliment Day by taking connecting experiences online-to-offline-to-online (O2O2O)."
Pulse candy, the market leader in hard boiled candy segment for the last six years has continuously used innovation to power their marketing campaigns. Pulse candy adapted inventive interaction strategies to create interest and engage consumers on special days.
The campaign is currently live on Pulse's social media handles across Facebook, Instagram and Twitter.
Airtel Instagram – bitly.ws/AXyn
Radio Mirchi Facebook – bitly.ws/AXyz
Dunzo Twitter bitly.ws/AXyv
Zomato Instagram – bitly.ws/AXyr
Twitter Banter Master Tweet – bitly.ws/AXyM
About DS Group
The DS Group (Dharampal Satyapal Group) is a Multi-Business Corporation and one of the leading FMCG (Fast Moving Consumer Goods) conglomerate with strong Indian and International presence. Founded in the year 1929, it is an inspiring and successful business story that blends a remarkable history and legacy with visionary growth. The Group's portfolio is extensive and diverse with presence in Mouth Freshener, Food and Beverage, Confectionery, Hospitality, Agri, Luxury Retail businesses and also has other investments. Rajnigandha, Catch, Pulse, FRU, Maze, Ksheer, Pass Pass, BABA, Tulsi, L'Opera, Le Marche, Birthright, The Manu Maharani and Namah are some of the leading brands, the Group proudly shelters today.