Celebrating Excellence: Indian Icon Awards 2023 Honour Industry Leaders and Talented Entrepreneurs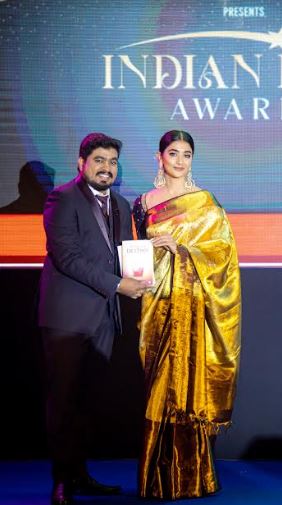 Pride India Awards, one of Indias most prominent award platforms dedicated to recognising and promoting professionals from diverse business sectors, hosted Indias most significant awards event of the year, The Indian Icon Awards 2023, at Bangalore today. With over 60 winners, 7000 nominations and 20+ sponsors and partners, the awards aim to provide businesses and individuals with an opportunity to gain recognition on an ideal platform. As the Chief Guest of the award this year, the dazzling Pooja Hegde presented the awards at the Shangri-La Bangalore.
Mr. Vinaykumar Narayanaswamy, Founder – Pride India Awards, Miss Pooja Hegde, Bollywood Actress, Chief Guest for Indian Icon Awards 2023 at Launch of 1st Edition of Indian Icon Awards by Pride India Awards
"I am thrilled to have been given the opportunity to be a part of the first edition of the India Icon Awards and to celebrate the achievements of so many talented and hardworking professionals from different sectors," said Pooja Hegde, a popular Indian actress.
"Celebrating the accomplishments of entrepreneurs and businesses has been especially meaningful to me as I know first-hand the challenges of pursuing ones passions and dreams. The dedication, resilience and creativity it takes to build and grow a successful enterprise, are admirable. It has been a privilege to recognise these exceptional individuals and companies, and I hope their achievements inspire others to pursue their own ambitions," said Mr. Vinay Kumar, Founder of Pride India Awards.
All businesses, organisations, and individuals worldwide from various sectors were eligible to nominate themselves to compete and showcase with the prestigious leaders in the industry. The nomination process was simple and hassle-free, with fair and impartial jury evaluation.
The Award Winners
Ms. Revathi Kamath – Indian Iconic Changemaker of the year
Ms. Jyothi Malik – Indian Iconic Celebrity Manager of the year
BHIVE – Co-Workspace of the Year
Mr. Prabhat Verma – Merck Life Sciences – Outstanding Leader Of the year
Mr. Moksha Kalyanram Abhiramula – Dispute Resolution Hub
Mrs. Maannse Bagla and Mr. Varun Bagla – Mini Films Private Limited
Mr. Sunil Shejwadkar – Yashneel Developers
Mr. Ashwit Thali – Ambaji Warehousing Solution
Ms. Bhavya Gowda – Influencer of The Year
Ms. Lathashree Kempegowda – Best Dietician and Heath Coach in Bangaluru
Mr. Chandrappa B C – Ebenus Design Solutions Private Limited
Mr. Jayaram D R – Pro-TEAM Solutions Private Limited
Ms. Prameela Prasad- Preventia Wellness
Mr. H. Rahman – Matrix Tiling Solutions
Ms. Chitra Karunanidhi – Women Personality of the Year
Mr. Balakrishnan R and Ms. Yogalakshmi Sundaram- Basilic Fly Studio Pvt. Ltd.
Mr. Appalla Saikiran – SCOPE
Mr. Mohammed Arshad Ghole – The MAG Store
Mr. Madhava Reddy Yatham – RIFTI
Ms. Asma Arif- Abayat
Mr. Mozes David Gadker- Ontogen Digital Pvt. Ltd.
Mr. Mahesh Chandra Agarwal and Mr. Ishaan Agarwal – Holiday Regency
Ms. Priyanka Biswas – Hair Speak Family Salon
Dr. Siddeswar Manoj – Visaka Industries Ltd.
Ms. Sneha Abraham Sehgal – Impactful Entrepreneur of the Year in Sports
Mr. Bhanu Sai Prathap – Mouri Tech Company
Mr. Vineet Tewari – Rucards
Mr. Himanshu Zambre – Himanshu Construction
Mr. Anuroop M – Avench Systems Pvt. Ltd.
Mr. Bhaskar Enaganti – SociallyGood
Dr. Kshama Kulhalli – Ghatge Patil Industries Ltd.
Mr. Sivaprakash R – IElektron Technologies Engineering Pvt. Ltd.
Mr. Arun Jegadeesh Regunatham Leela – Excellence in Contribution to IT Services
Dr. Prabakaran Regunathan Leela – Contribution to Finance Management and Social Empowerment
Mr. Sravan Kumar Maddela and Mr. Pavan Kumar Manthravadhi – Scichip Robotics Private Limited
Mr. Shivesh Anand – Infinty Mutual fund & SIP
Ms. Rishika Kancharlapalli – Manchi Baphe
Mr. James Kanikaraj and Mr. Joy Raj – Growing Spaces
Mr. Sanketh Kumar K M – Whynew.in
Ms. Kiruthika Annadurai and Mr. Gowthama Kannan – Croyez Immigration Service Pvt. Ltd.
Mr. Vishal Yadav – ZealSoft Systems Pvt. Ltd.
Ms. Smita Rathore – Astute Venture
Dr. Mr. Karthik Rathod and Ms. Pooja – Pigment Plus
Ms. M Reena Padmini – Precision Tapes and Sealants
Ms. Vinutha Rao and Mr. Karthik C – Imarticus Learning Pvt. Ltd.
Mrs. Terenyak Maria Mikhailovna – Migratz Services Pvt. Ltd.
Ms. Kurapati Neelima – Excellence Contribution into Digital Strategies
Ms. Urvashi Sharma – Saint Gobain – Excellence into Human Resources
Mr. Mashood N A – Drops Luxury Bathware
Mr. Muthupandy Nadar and Ms. Saranya Muralidharan – Maclareen Consulting India Pvt. Ltd.
Dr. Mir Anwar Mohiuddin – IRS Deputy Commissioner Customs Hyd- Best Social worker of the year
Mr. Vince M Jose – Coreyo
Mr. Dhavan Soha – Flamingo Celebrities World Pvt. Ltd.
Mr. K Nagarjuna – Annam Tours and Travels Pvt. Ltd.
Mr. Suresh Jain – Avira Diamonds
Keshav K singh – Yuva Biosciences
Manish Purohith – Una Vida Productions Wedding Planner
Mansoor Ahamed – ATTIITUDE – Fashion Brand of the Year
O3 Events – Event Management company of the year
Artist Connect – Best Artist Management Company of the year
Digital academy360 – Best Digital academy platform
Myniwa – Fastest growing Ecommerce Brand
Creed Entertainment – Lifestyle Luxury Brand Management
Seher Band – Pop Band of the Year
Bikash Sunar – Most promising Artist of the year
Sky Wave Aviation – Aviation Technical Consultancy
Rohit Murthy – AKB Group
Vittal Shetty and Bhasker Rao – Puranpoli Ghar
Nikhil Gonsalves – Ingo E Bike
Lakshmi Shruti Settipalli – Ecoverse
Medical Palliative Clowning – Brave Hearts of the Year
Pride Hotel – Star Business Hotel of the Year
Sharvani Group – Best PR House of the Year
The Event was sponsored by "Sandpiper Visas and Immigration"
The Event Partner O3 Events and Entertainment Media Pvt. Ltd.