Urban Yog Launches Dry Shampoo; Eases Women's Busy Lifestyle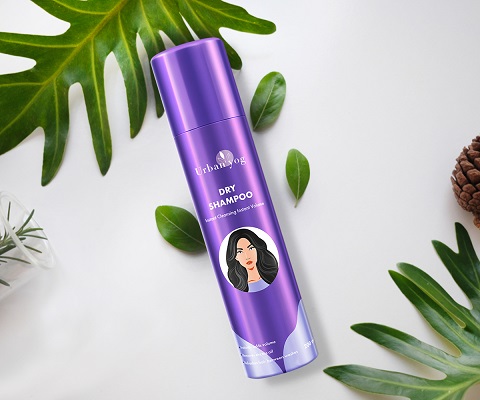 Women's beauty & personal care brand, Urban Yog, introduced Dry Shampoo which is an extension of their brand's, 'Be Bold, Be the Change' ethos that aims to change women's traditional approach to personal care.
Newly launched Urban Yog Dry Shampoo | Quick fix for your hair every day!
Innovated to ease the busy lifestyle of the women of today, Urban Yog Dry Shampoo comes in a spray form that absorbs all the oil & dirt and refreshes hair between washes. When there is no time to wash your hair and they feel oily & greasy, this dry shampoo is bound to come in handy.
Specially made benzene-free Urban Yog Dry Shampoo gives instant cleansing and instant volume, leaving behind a marine fragrance with no visible residue.
Be it during the menstrual cycle, workout sessions, or a change in weather conditions, this dry shampoo is designed to save both time & trouble and give the hair an instant bounce.
Now, one does not have to wait for the perfect hair day, one can make it perfect every day using Urban Yog Dry Shampoo.
Moreover, this dry shampoo is the best solution for color-treated hair. It enhances the life of shaded or textured hair as there is limited contact with water. Now, use dry shampoo anywhere anytime hassle-free! Just spray it and step out with confidence even on weekdays.
Urban Yog Dry Shampoo | Benzene-free | Absorbs Excess Oil & Dirt | Instant Cleansing & Volume
Speaking on the launch of the product, Hemant Raulo, Founder Urban Yog says, "I wanted to bring a product which works like a shampoo but needs no water or time to ease the life of today's women. All you need to do is, spray it through your hair strands and brush them. The best part is that Urban Yog Dry Shampoo is benzene-free and is absolutely safe for hair.
A few sprays of it will make you look good and feel good. Many Indian women aren't aware of the perks that dry shampoo brings with it. It is like make-up for your hair. Looking into the mirror, you will be able to witness the difference instantly and once you do, it will become a part of your lifestyle. This dry shampoo is not just a product; it is a habit that you would not want to give up on."
YouTube link of the Ad www.youtube.com/watchv=fRv4cZZqNU8.
Urban Yog offers bold, affordable, and innovative beauty & personal care products spanning menstrual, skin, and hair care categories. All the products are alcohol-free, paraben-free, cruelty-free, suitable for all skin types, and available on the website and Amazon.
About Urban Yog
Urban Yog is a womens beauty and personal care brand from GlobalBees Brands Pvt. Ltd. The brand was founded in 2019 and has been continuously innovating solutions for bold women who wish to bring change in themselves and society.
For more information, please visit website urbanyog.com.