Biesse Announces Participation at DelhiWood 2023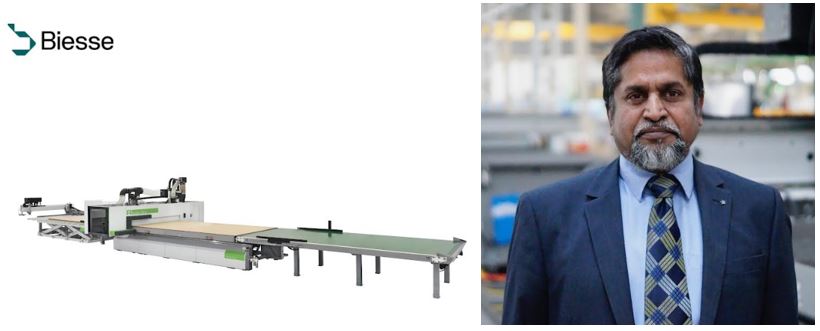 Biesse, a global leader in woodworking manufacturing machines, has announced its participation in DelhiWood 2023, Indias premier woodworking exhibition. The event will take place from March 2nd to 5th 2023 at the India Expo Centre and Mart in Greater Noida.
Rover As FT machine and Mr. Sayeed Ahmed, CEO of Biesse India
At DelhiWood, Biesse will be marking a historical milestone with unveiling of the new global visual identity and as well launch of upgraded nesting solution "Rover As FT machine". The brand will also showcase its latest range of advanced technologies and solutions for the woodworking and furniture manufacturing industry.
Biesse has undergone modernization aimed at enhancing efficiency through restructuring and adopting a transversal approach. This includes adopting a new visual identity to align group positioning to convey new values and retain distinctive sector features.
The new Rover As FT, a nesting machine, will be the best in the league with improved efficiency, speed, and accuracy. The product features a 'gantry' structure with dual X-axis motors that aim to enhance precision and reliability in machining operations. The reinforced transmission guides and adds greater rigidity, improving machining quality and precision. It also boasts higher axis motor power that increases acceleration and speed, thereby reducing cycle times and waiting times. Overall, this product promises to deliver high standards of precision and reliability in executing machining operations.
Visitors and fellow participants will have the opportunity to experience live demonstrations of Biesses cutting-edge machinery, including CNC routers, edgebanders, CAD/CAM software & IoT solutions. Biesse experts will also be available to provide personalized demonstrations and answer any questions visitors may have.
Biesse has been present in India for over 15 years, and its commitment to the Indian market is reflected in its state-of-the-art manufacturing facility in Bengaluru, which produces high-quality machines for the local and international markets.
Commenting on Biesses participation, Mr. Sayeed Ahmed, CEO of Biesse India, said, "DelhiWood is an important platform for us to showcase our latest technologies and solutions for the Indian woodworking industry. India is a key market for Biesse, and we are committed to providing our customers with the best possible solutions and services. We look forward to meeting with customers and partners at the event and exploring new opportunities for growth."
DelhiWood 2023 promises to be an exciting event for the woodworking and furniture manufacturing industry in India, and Biesse looks forward to playing a key role in showcasing the latest technologies and solutions for the industry.
About Biesse Group
Biesse Group is a multinational leader in technology for processing wood, glass, stone, plastic and metal. Biesse India is a direct subsidiary of Biesse Group and also the only production site of Biesse Group outside Italy. Biesse Group designs, manufactures, and distributes machines, integrated systems and software for manufacturers of furniture, door/window frames and components for the construction, shipbuilding and aerospace industries.
The company invests 4% of its annual revenue in research and development and has registered over 200 patents. It operates through 12 industrial sites, 39 branches, 300 agents and selected dealers, exporting 85% of its production. Biesse India itself exports to more than 70 countries across continents. Founded in Pesaro in 1969 by Giancarlo Selci, Biesse Group has been listed in the STAR segment of the Italian Stock Exchange since June 2001. It currently has over 4000 employees around the world.