Alstom and United Way Demonstrates an Effective PPP Model of Integrated Rural Development in Vadodara and Anand Districts in Gujarat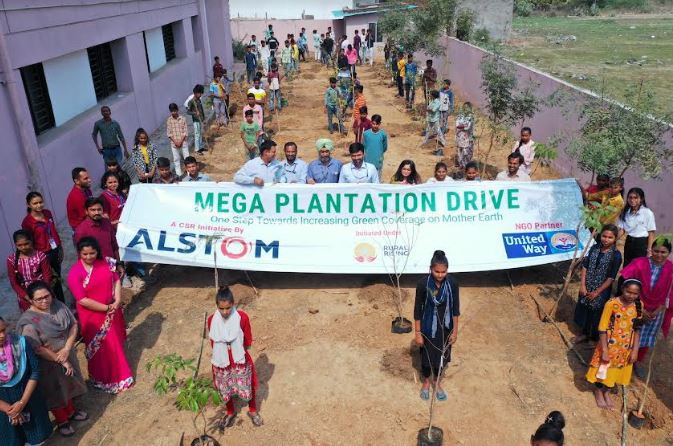 Alstom, as a part of its CSR initiative, in collaboration with United Way, initiated Rural Rising– an integrated rural development program at Manjusar Gram Panchayat, located in Savli taluka of Vadodara district and Hathipura village located in Anklav taluka of Anand district of Gujarat.
Volunteers from Alstom, community members, school students, and teachers planted 400 saplings in two govt Schools at Manjusar Gram Panchayat
Under the initiative, volunteers from Alstom (Baroda Unit), community members, school students, and teachers planted over four hundred saplings covering a total area of 33000 sq. feet in two govt. schools. Saplings included medicinal and aromatic plants, fruits, and flowing plants to enhance biodiversity and sensitize people.
As a part of the Water, Health, and Hygiene initiative, a new campaign called "GendHer", pioneered by United Way Bengaluru, has been initiated in government schools. 400 girls and boys of grades VII to XII will learn about reproductive health, gender sensitivity, and inclusion. The campaign will help to create safe spaces in schools. WASH interventions are also critical to the "GendHer" campaign. Hathipura Secondary Govt. School had unsuitable restrooms for pupils. The school has been supported by the construction of four toilets, benefiting 200 female students and staff.
An RO Water ATM that can dispense 750 litres per hour is being installed in Hathipura, ensuring access to safe drinking water for 4500 community members.
"Built on a convergence model, the program is implemented in remote areas and aspirational districts in alignment with government schemes and partnerships with government and private partners. This initiative demonstrates the strength of mobilizing the caring power of communities," said Rajesh Krishnan, CEO of United Way Bengaluru.
Olivier Loison, Managing Directorat Alstom India said, "At Alstom, we believe that enhancement of communities through socio-economic development leads to a more sustainable living environment. We are happy to partner with the local panchayats to identify the key improvement areas and support them with the required interventions in Manjusar and Hathipura villages that will improve its overall living conditions adding to our long-term aim of making a positive impact, and nurture holistic development of the local communities across the country."
One hundred solar streetlights have been installed in public places to promote sustainable energy. "Solar lights light up the village in the evening without the Panchayat having to pay for it. It has ensured safety. After 7 pm, commuting was difficult. We now witness children studying under using the solar streetlights, women and men having social gatherings, and people returning late from weddings and other functions," Jaisinghbhai Chaturbhai Chauhan, Village Sarpanch. This intervention helps to offset carbon emissions and keep the environment clean.
This multi-year Rural Rising intervention aims to improve the overall condition of the two-gram panchayats in line with the indicators defined by the Mission Antyodaya gap analysis of the Government of India. Initiatives have been planned in three key areas – Water, Health and Hygiene, Environment, and Livelihood in Manjusar and Hathipura Gram Panchayats (GPs).
In addition, solar-powered digital classrooms equipped with digital curricula have been set up in two govt. schools which are benefitting 800 students. A Tailoring Lab has been set up for students pursuing a vocational course in Hathipura's government school. Currently, fifty-two girls are using the lab regularly.
Two Rooftop Rain Water Harvesting (RWH) systems have been set up in these schools, ensuring water conservation.
Livelihood is another critical area. Forty identified women members from Self Help Groups are receiving vocational (beautician and tailoring) and entrepreneurship training. Need-based initiatives are being explored to support Persons with Disabilities (PWDs).
About Alstom
Leading societies to a low carbon future, Alstom develops and markets mobility solutions that provide the sustainable foundations for the future of transportation. Alstoms product portfolio ranges from high-speed trains, metros, monorails, and trams to integrated systems, customized services, infrastructure, signalling, and digital mobility solutions. Alstom is committed to supporting carbon neutrality in transport by building innovative, sustainable mobility solutions with a lower carbon footprint while actively contributing to the public debates on sustainable development policies.
For more information, www.alstom.com.
About United Way Bengaluru (UWBe)
UWBe, part of United Way Worldwide, is an NGO focused on social issues that seek immediate and long-term attention. As an organization, UWBe believes in "mobilizing the caring power of the communities". The chapter catalyzes unified efforts from corporates, civic bodies, and citizen associations to bring about visible change. The organization works in four key areas – Environment, Education, Healthcare, and Livelihood. Currently, UWBe is implementing four flagship campaigns that serve important purposes: Wake the Lake works to protect Bengalurus lakes, One Billion Drops aims at conserving rainwater through percolation pits, Born Learning helps provide nutrition and education to very young children and Rural Rising aims to develop and empower the rural communities. Besides, COVID relief work is another key area where the organization is helping healthcare institutions, healthcare professionals, and other organizations working towards COVID relief.
For more information, www.uwbengaluru.org.