SCINNTC Supply Chain Solutions (NTC Group) Commissions a State-of-the-art Warehouse Facility in Gujarat for Gulf Oil Lubricants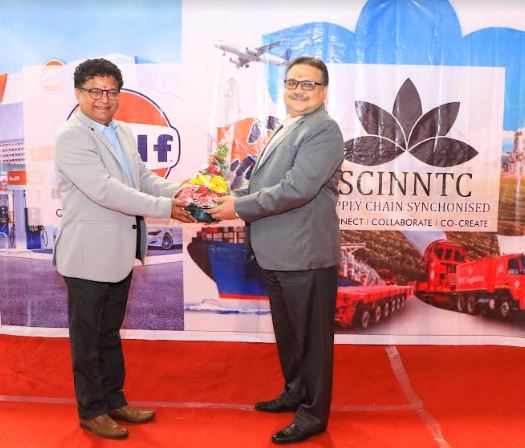 SCINNTC, a subsidiary of NTC Group is pleased to announce the inauguration of India's amongst few lubricant compliant warehouse at its state-of-the-art distribution Centre (CDC) for Gulf Oil Lubricants India Ltd. at Nandigram, near Silvassa – Gujarat. This facility will help support and administer the supply of lubricants & allied products for Gulf Oil, across the country to meet the growing demands of Indian Lubricant market.
(L-R) Balaji V, Co-Founder & CEO – SCINNTC & Arijit Bhattacharya, General Manager-Demand Fulfilment-SCM at Gulf Oil
This facility set up by SCINNTC Supply Chain Solution with a total capital outlay close to Rs. 20 Cr industry real estate & support infrastructure is a fully secured facility with Fire Sprinkler System with all safety guidelines in place for storage & handling of products. The dedicated warehouse is designed to store over 12000 Kilolitres of throughput and inventory of 6000 to 8000 Kilolitres.
Speaking on the occasion of the launch of the facility, Balaji V, Co-founder & CEO – SCINNTC said, "We are committed to creating such state-of-the-art warehouse infrastructure to valued customers like Gulf and operations to deliver – high quality of service experience, operational efficiency and customer satisfaction. This facility employs best in class warehouse processes namely Kanban, 5S, and 3C to name a few."
The pioneering facility has software enabled & integrated systems to ensure high degree of operational efficiency for inbound operation & out bound operation. Many automation devices, storage devices & process efficiency parameters have been deployed in this warehouse to deliver faster and defect free warehouse management, according to SCINNTC. Phase 1 of this facility is spread over close to 1 lac sq. ft. and is scalable to an additional 1 lac square feet in phase 2.
"Gulf Oil Lubricants India Ltd. (GOLIL) is a leading multinational brand in the lubricant market and is in the top 2/3 brand among private lubricants manufacturing companies in India. We have been on a growth path for the last 10 years with CAGR+12% year on year. To further strengthen the growth strategy and create a strong supply chain and customer service we have partnered SCINNTC to build and operate a CDC West in Bhilad, Gujarat," said Arijit Bhattacharya, General Manager-Demand Fulfilment-SCM, GOLIL.
This facility will create employment for more than 100 people deployed across two shifts and provide opportunity to a trained workforce, specialized in handling chemicals/lubricants.
About SCINNTC
NTC (SCINNTC Supply Chain Solutions Pvt Limited) is a tech-oriented Supply Chain Company and an integral part of NTC group, a well-diversified business conglomerate – Specialized in providing our valued customers with end-to-end value logistics solutions with over 2 decades of supply chain service experience. We are India's largest over dimensional cargo specialists and the eight largest in the world. SCINNTC operates close to 2.5 million Sq. ft. of warehousing space across the country handling close to 47 customers.
About Gulf Oil
Gulf Oil Lubricants India Limited (GOLIL), part of Hinduja Group and Gulf Oil International, is one of the leading players in the lubricant market in India and has a top 2 / 3 position in key segments amongst the private sector brands. GOLIL has a wide range of world class-leading products in the automotive and industrial lubricants space catering to B2B and B2C segments with a growing distribution network. The brand has tie-ups with over 20 leading OEMs and a leader in the direct sales network to industrial, infrastructure and institutional customers, and exports to over 25 countries. In India, GOLIL have a strong manufacturing and R&D bases with two plants in Silvassa and Ennore, Chennai.
Today, globally the Gulf brand is present in more than 100 countries across five continents. The Gulf Oil International Groups core business is manufacturing and marketing an extensive range of over 400 performance lubricants and associated products for all market segments.