Brinton Healthcare Opens its Global R&D Centre in the UK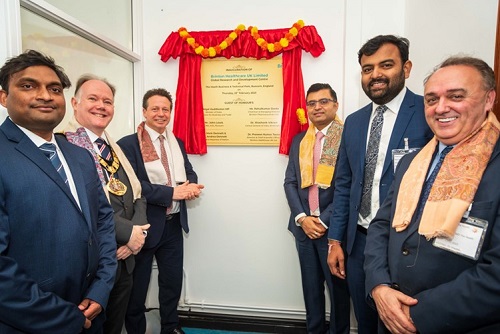 In a move to strengthen its worldwide footprint, Brinton Pharmaceuticals Ltd. on Thursday inaugurated its Global Research and Development Centre in the United Kingdom.
On left Dr Praveen Kumar Tavva, Halton Mayor Cllr Mark Dennett, Minister Nigel Huddleston, on the right John Lewis, Rahul Kumar Darda and Dr Shashank Vikram, Consul General of India, Birmingham
Unveiling the Global R&D Centre located at the Health Technical & Business Park, Runcorn, Cheshire, England, in the presence of Rahulkumar Darda, Chairman and Managing Director, Brinton Pharma, Ministerof State at the Department for Business & Trade, UK, Nigel Huddleston said,"I am delighted to be inaugurating this new facility in Runcorn, which will help our domestic healthcare sector and create highly-skilled jobs. This is an excellent example of the benefits UK-India trade can bring to both nations.""By deepening our trading relationship, the UK-India trade deal can pave the way for even more investment opportunities and make it easier for UK and Indian companies such as Brinton Healthcare UK Ltd., to do business in each others countries."
"The investment relationship between UK and India already supports over half a million jobs across both economies and a forward-facing UK-India free trade agreement (FTA) can create new investment opportunities for British and Indian businesses. A strong trade deal can boost the economic links between the UK and India and is expected to boost the UK economy by billions over the longer term. Total trade in goods and services between the UK and India in 2022 amounted to 34 billion, in current prices,"Mr. Nigel Huddleston added.
Brinton with a global presence spanning across 32 countries is seeing the R&D Centre as a strategic facility that will deepen its ongoing research in the areas of health and life sciences and support the companys ambition to build next generation healthcare products. The company is planning to invest GBP 30 million over the next 5 years in the new facility.
"We have developed this facility to meet global standards. We appreciate the continuous support received from the UK Government at every stage. We are optimistic that this R&D Centre would come up with many new drugs that would change human health for the better," said Rahul kumar Darda.
The R&D Centres primary focus, according to him, is on innovations in topical skin delivery systems & focus on studying various skin disorders, "This is one growing segment where the world is looking towards path-breaking medical interventions and result-oriented solutions. We want to make use of this space and offer meaningful interventions,"Darda opined.
Being committed to develop innovative formulations, Brinton has introduced 14 unique formulations, and the new R&D Centre aims to develop affordable novel products using niche technologies. The company, interestingly, has world-class, multi-locational research and manufacturing partner facilities, and its products meet the most stringent standards of global regulatory authorities like WHO, GMP, PICS, PPB and NDA among others.
Brinton – the pharma biz conglomerate – with a solid presence in the India, UK, South East Asia, Middle East, Latin America and the CIS countries has ambitious growth plans for the UK, which explains the relevance of the newly established R&D Centre. "We are banking on the UK to fulfil our international aspirations. The country has some of the finest pharma talent and offers plenty of growth opportunities," acknowledged Darda.
Brintons long-term business plan is anchored on research and innovation. "Emerging technology is continuously redrawing the boundaries of pharma business. Our ambition is to seamlessly align technology and research to consolidate our global market standing as a company that offers high-quality portfolio of niche-differentiated products catering to the unmet needs of millions of people," briefed Darda. The R&D Centre would play a key role in driving the companys ambitions, he explained.