Unveiling the Art of Rare Jewellery at the Most Iconic Address of Luxury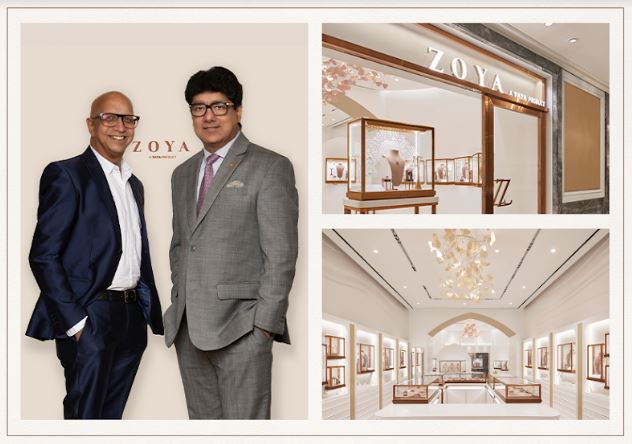 Mr. CK Venkataraman, MD at Titan Company Limited and Mr. Puneet Chhatwal, MD & CEO at Indian Hotels Company Limited opened doors to the sixth landmark boutique of Zoya in the country, at the Taj Mahal Palace. This alignment of two of the most luxurious brands from the house of Tata is a momentous occasion for the conglomerate. Over the years, the exquisite atelier from the house of Tata, has emerged as a destination of choice for the discerning sophisticate, with a reputation for unmatched creativity, innovative design and impeccable craftsmanship. Zoya's meaningful pieces of wearable art are a bejewelled celebration of its muse, the Zoya woman, thoughtfully designed as a timeless ode to her journey of finding her true self. The Taj Mahal Palace is one of the world's most renowned addresses for luxury and for Zoya to be housed in the iconic address is serendipitous. The opening of the beautiful Zoya boutique at this iconic address is indeed a momentous occasion for the Tatas as the two brands come together.
Mr. CK Venkataraman and Mr. Puneet Chhatwal launch Zoyas new store at Taj Mahal Palace Mumbai
A warm glass faade rises from floor to ceiling, offering an inviting glimpse into Zoya's lush feminine interiors that sparkle with its rare treasures. A soft hush and pastel hues of white, beige and blush, extend a warm welcome. Curved surfaces of the walls bring alive the sense celebration in a woman's journey that is the heart of the Zoya world. Here is a space of indulgence, with uninterrupted "me-time" to explore your love for fine jewellery! Signature chandeliers in white and blush weave their way through the store. Handcrafted from the sustainable pulp of banana leaves, and inspired by the fragile loveliness of clover blooms, their design is symbolic of the delicate blossoming and growth inherent in the journey of a woman through life. Accents on the marble floor complement artistic detailing on the boutique's curved white walls, creating an intuitive path around floating window displays and a central island, redolent of an art gallery.
An unhurried exploration leads to the heart of the boutique revealing Zoya's expressive collections and its classics. Skilfully blending tradition with modernity, every Zoya creation is resonant with meaning and transformed with inspired design. Display windows on surrounding walls are adorned with finely crafted paper art echoing the fables of inspiration of each resplendent piece. Sleek drawers reveal countless treasures with sensual shapes, one-of-a-kind cuts and surprising colours, created for the discerning palette of the Zoya woman. Every element is a testament to Zoya's world and artisanal soul; minimal yet intricate, effortless yet crafted.
At the far end of the boutique, sheer curtains in hues of blush reveal a private lounge with spectacular views of the iconic Taj Boulevard, the Gateway of India, and the Arabian Sea beyond. Plush wall panelling, soft carpets, centre seating and faceted mirrors create the perfect environment for an immersive experience as Zoya's signature hospitality indulges you with hors d'oeuvres and gourmet coffee or tea. In this exclusive space, you can also explore Zoya's bespoke services, interact with the brand's jewellery designers and co-create custom pieces of jewellery that are truly one of a kind.
Says CK Venkataraman, "Zoya prides itself in creating a world that is truly meaningful for the Zoya woman. It is a brand where each piece is a work of art, that is proudly Indian at heart with its eye on the world. Zoya opening at the Taj is a moment of great pride and significance for us as it is two of the finest luxury brands from the House of Tata coming together. Taj is a destination synonymous with the finest in luxury hospitality and Zoya, is the jewel in our crown. This intersection of excellence in design, personalised service, and honouring artisanship illuminates the way forward for warm luxury."
Mr. Puneet Chhatwal, Managing Director and Chief Executive Officer, IHCL said, "In line with Tata group's approach of driving synergies across its companies, The Taj Mahal Palace, Mumbai is delighted to welcome Zoya from the house of Titan. For over a century The Taj Mahal Palace has been the epitome of luxury and is home to an array of renowned global lifestyle brands. Zoya with its timeless elegance and impeccable craftsmanship presents a unique offering for our guests."
For more please visit: www.zoya.in.
About Zoya
Zoya, the exquisite diamond boutique from the House of Tata, is a luxury brand of fine jewellery, renowned for its expert craftsmanship and distinguished design. Redefining the way jewellery is experienced in India, Zoya now enters its fourteenth year of operations creating meaningful pieces of wearable art product created exclusively with the discerning, aesthetically astute woman as its muse. Zoya's five boutiques in Bengaluru, Mumbai and Delhi and Zoya galleries in Mumbai, Ahmedabad, Kolkata, Chennai, Chandigarh showcase luxury in its most undiluted form. Zoya's personalized service focuses on providing an unmatched buying experience of warm luxury for its exclusive products. Zoya now extends its service through video-assisted jewellery advisory and home trials.