ART Fertility Clinics Launches the "Tree Of Life" Program as a Tribute to Life in All its Forms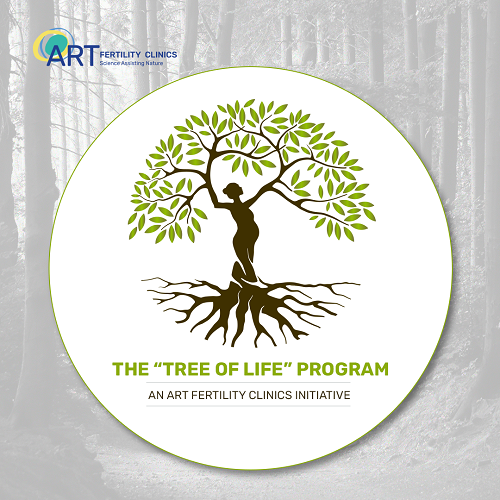 ART Fertility Clinics has launched a unique initiative called the "Tree Of Life" program, under which it will plant a sapling of a fruit-bearing tree for every child born as an outcome of treatments administered across its six clinics which have been operational for less than two years in India. In partnership with SankalpTaru, the brand has planted more than 150 saplings.
Tree Of Life
This innovative and noble initiative celebrates new life in all forms, from motherhood to mother nature, while driving sustainability and biodiversity through this unique afforestation measure. But at its core, the program is an ode to patients who reposed their faith in the ART Fertility Clinics brand through their journey to parenthood.
Dr. Somesh Mittal, CEO of ART Fertility Clinics, India, said, "The collaboration between Art Fertility and Sankalp Taru is a great illustration of how small efforts can make a big difference. Planting a tree for every successful pregnancy celebrates the beginning of a new life while giving children and communities a healthy future, complemented by the fruits and clean air each tree produces. He further mentioned, "We believe this is also a more than symbolic way to leave a lasting legacy while sharing the joy of parenthood with communities at large."
Karan Kumar, Group Chief Marketing and Growth Officer of ART Fertility Clinics, said, "Our clinics have consistently delivered a 70% pregnancy rate, amongst the highest globally, made possible in part because of our serious commitment to research and innovation, leading to our treatments come as close as possible to replicate the natural process of conception. The "Tree Of Life" program celebrates this triumph of science assisting the miracle of nature. Every parent receives a certificate with a unique QR code confirming the plantation of the sapling. They can virtually visit their tree at any time by scanning this QR code. In times to come, we will create mini forests as evidence of the brands success, besides acting as an ode to the beautiful relationship between motherhood and mother nature."
About ART Fertility Clinics
ART Fertility Clinics has established itself as a global leader in Assisted Reproductive Technology and Human Reproductive Medicine. It is highly recognized worldwide for consistently delivering a pregnancy rate of 70% globally, amongst the highest in the world. This success has been possible because of its international expertise, clinical excellence, and relentless commitment to fundamental research, driving innovations, using cutting-edge technology, and building the best-in-class infrastructure that helps create proprietary protocols for patient diagnosis and treatment.
ART Fertility Clinics commenced operations in 2015, with its first clinic in Abu Dhabi. It began its India journey in 2021. Currently, a part of Gulf Capitals portfolio of invested companies, the brand has 4 clinics in the Middle East (Abu Dhabi, Muscat, Al Ain, and Dubai) and another 6 in India (Delhi, Gurugram, Mumbai, Ahmedabad, Hyderabad, and Chennai). In addition, it plans to open 20 more clinics in India, other parts of Asia, and Europe within the next 18 months. To know more, visit ART Fertility Clinics website and on Instagram, Twitter, and Facebook.