CX+ Summit 2023: Uplifting Customer Experience by Leveraging Data and Technology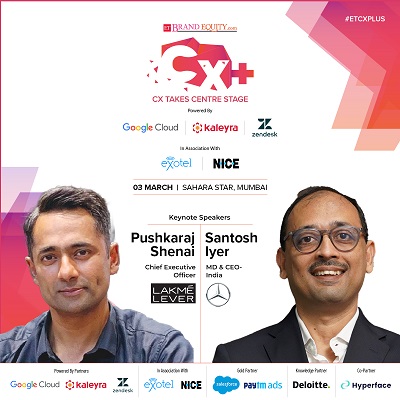 Event to highlight trends that define the future of CX
Insightful keynotes from 40+ industry stalwarts like Santosh Iyer (Mercedes-Benz India) and Pushkaraj Shenai (Lakme Lever)
The second edition of ETBrand Equity's CX+ Summit is all set to take place in Mumbai on March 3 this year. With a mission to dig deeper into the dynamics of customer experience, the day-long event will bring together the country's biggest industry leaders and CX practitioners under one umbrella to discuss topical, relevant issues surrounding the community.
CX+ Summit 2023: Uplifting Customer Experience by Leveraging Data and Technology
The summit will feature more than 40 thought leaders who will share their deep knowledge and expertise with CX professionals. Through panel discussions, insightful keynotes, and networking sessions, these industry stalwarts will cast light on the inherent challenges and enumerate how to create seamless and omnichannel experiences every time to win customer loyalty. Aspiring attendees of the event can avail of regular tickets at Rs. 25,000.
The summit will begin with intriguing keynote sessions from Pushkaraj Shenai, Chief Executive Officer, Lakme Lever; Santosh Iyer, Managing Director & CEO, Mercedes-Benz India; and Devendra Shivhare, Head – Marketing Technologies, Asia Pacific, The Coca-Cola Company. The audiences will be further enlightened with insightful stories from some of the leading practitioners of the industry on varied facets of CX and how they have built lasting customer relationships in sessions on Scaling Omnichannel Experiences with CDPs; Enriching Digital Customer Experiences with Real-time Communications, and The Future of Customer Experience Interactions Powering Digital Transformation.
Speaking on the nuances of the summit, Amit Kumar Gupta, Business Head of ETB2B said, "A satisfied customer is a loyal and repeat customer, and delivering a great customer experience is hugely important for any business. With CX+ Summit 2023, we aim to bring Indias top notch CX speakers and innovative thinkers to inspire, motivate, and guide the community in navigating the challenges of today and tap into the opportunities of tomorrow."
The keynote speaker for the event, Santosh Iyer, MD and CEO of Mercedes-Benz India, expressed his enthusiasm for the summit and added, "As inventors of automobiles we have pioneered numerous engineering innovations and Mercedes-Benz underpins customers' desire and aspirations, like few other products. We are however obsessed with delighting the customers with unique experiences throughout their brand journey, anytime, anywhere. With an eye for the future, we are developing the organization and its culture towards creating CX of the future, which will be predictive, data and analytics driven and highly measurable. Every touchpoint with the brand, we believe, has to be as desirable and special as a Mercedes car itself. I am highly excited to be part of the Brand Equity CX Summit 2023."
Devendra Shivhare, Head – Marketing Technologies – Asia Pacific, The Coca-Cola Company, who will also speak at the event, stated, "With CX becoming a key differentiator in today's market, it's more important than ever for brands to take a customer-centric approach and strive for excellence in every interaction. As digital marketing continues to evolve and with the rise of AI, brands will be able to better understand their customers' needs and preferences and deliver personalized experiences at scale."
About ETBrand Equity
ETBrand Equity.com is the online avatar of Brand Equity, Indias premier source of information, news and opinion on the marketing and advertising industries. To know more about ETBrand Equity's CX+ Summit 2023, please visit: CX Summit | CX Events | Digital Customer Experience Summit 2023 | CX Plus Corporate Event mumbai | ETBrand Equity (indiatimes.com).