The story of Adani Group, and the "largest con in corporate history"
The Adani Group's empire has been rattled by claims of "brazen stock manipulation and accounting fraud scheme over the course of decades" worth $218 billion by New York based investment firm Hindenburg Research. This two-year investigation culminated in Hindenburg claiming that the Adani Group had pulled off the "largest con in corporate history".
Expectedly, its fiery claims set tongues wagging and the bourses ablaze, and the report has led to Adani group losing more than $51 billion in market value in just two trading sessions, with Adani himself losing in excess of $20 billion, or about one-fifth of his total fortune. Consequently, this means Gautam Adani has slipped from being the world's third-richest man to the seventh-richest.
Hindenburg Research is a tiny investment firm, with something of a speciality in taking a short position on investments. Previously, it has bet against other companies as well, most notably electric truck-maker Nikola Motors, and Hindenburg's findings of fraud in 2020 against them caused the downfall of Nikola's founder, Trevor Milton, and a more than 90% decline in Nikola's stock price.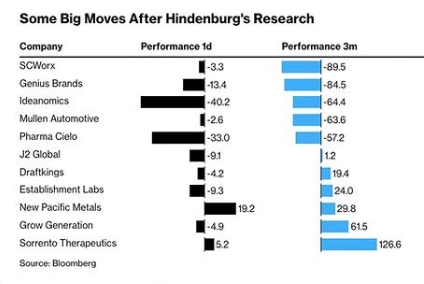 Hindenburg Research's claims
Hindenburg's report dropped multiple bombshells, outlining evidence to back up its claims of stock price manipulation and accounting fraud, saying that the group's "7 key listed companies have 85% downside purely on a fundamental basis owing to sky-high valuations."
It went on to flag multiple concerns, such as highlight the pledging of shares for loans, and drew attention to the involvement of family members in major bribery and tax evasion cases, saying that Adani's brother Vinod "manages a vast labyrinth of offshore shell entities" that move billions into group companies without required disclosure. With as many as 578 offshore shell entities worth $4.5 billion created through forged documents in tax havens such as Mauritius, Panama, Cayman Islands, and the UAE, the report goes on to say that the Adani Group transferred losses to these shell companies in order to raise earnings, in addition to receiving loans from them that haven't been mentioned in the Group's annual reports.
It also sounded a warning of the "substantial debt" of the conglomerate that owns everything from cement businesses to media companies, saying the debt levels put the group on a "precarious financial footing", and that the Group's "obvious accounting irregularities and sketchy dealings" were enabled by "virtually non-existent financial controls".
Hindenburg went on to say that the Adani Group's auditor "hardly seems capable of complex audit work". In fact, the independent auditor for Adani Enterprises and Total Gas, with a combined market cap of $100 billion, is a firm named Shah Dhandharia & company, with merely 11 employees, some of whom are in their 20s. The only other listed entity it is known to audit has a market capitalization of about INR 640 million (U.S. $7.8 million), and its website was taken down not long after the report went live.
Consider this; the audit partners at Shah Dhandharia who signed off on Adani Enterprises and Adani Total Gas' annual audits were as young as 24 and 23 years old when they began approving the audits, and in all likelihood too inexperienced to analyse and audit the financials of some of the largest companies in the country, run by one of the wealthiest men in the world.
The report dug deep, revealing dealings with well-known stock manipulator Ketan Parekh, misappropriation of taxpayer funds, and nepotism in senior management. All of these findings were laid out after conducting interviews with dozens of individuals, including former senior executives at Adani Group, thousands of documents, and due diligence site visits in almost half a dozen countries.
The Adani Group's response, and Hindeburg's rejoinder
The Adani Group was swift to respond, with its Chief Financial Officer Jugeshinder Singh saying in an official statement that the report was a "malicious combination of selective misinformation and stale, baseless, and discredited allegations." In a 413-page response, the Group stated that it complies with all local laws and had made the necessary regulatory disclosures, and called the allegations a "calculated attack" on India, its institutions, and growth story, and that the claims are "nothing but a lie" driven by "an ulterior motive" to "create a false market" to allow the US firm to make financial gains.
The Adani Group's riposte states that the explosive claims were a "selective and manipulative presentation of matters already in the public domain to create a false narrative". The response, posted on Sunday, included more than 350 pages of annexes that included snippets from annual reports, public disclosures and earlier court rulings. The rest, Adani said, relate to public shareholders and third parties, and some were "baseless allegations based on imaginary fact patterns".
The conglomerate also said that the timing of the report suggested malicious intent to "undermine the Adani Group's reputation with the principal objective of damaging the upcoming follow-on Public Offering from Adani Enterprises". The report was published days before bidding for a $2.5 billion stock sale for Adani's secondary shares were to begin on Friday. In light of the allegations, the secondary share sale of the flagship Adani Enterprises saw only 1% subscription on Friday, and Monday saw Adani Enterprises shares rally 9%, but Adani Total Gas, Adani Transmission, and Adani Green fell by up to 20%.
On Thursday, Adani Group said it is "evaluating the relevant provisions under US and Indian laws for remedial and punitive action against Hindenburg Research". Hindenburg was undaunted by this, saying they "fully stand by" the report and believe "any legal action taken against us would be meritless", going on to "welcome" any legal action as they would demand company documents as part of a legal discovery process.
Responding to Adani's 400+ page response, Hindenburg said, "Adani failed to specifically answer 62 of our 88 questions. Of the questions it did answer, the group largely confirmed or attempted to sidestep our findings". It also stated that the explanations "simply defy common sense", before going on to say that Adani's response "only included about 30 pages focused on issues related to our report. The remainder of the response consisted of 330 pages of court records, along with 53 pages of high-level financials, general information, and details on irrelevant corporate initiatives, such as how it encourages female entrepreneurship and the production of safe vegetables…we note that the core allegations of our report – focused on numerous suspect transactions with offshore entities – were left completely unaddressed".
The fallout
The effects of this entire saga have been felt almost immediately, with investors quick to relinquish their holdings in Adani Group stocks, especially widely-held ones such as Adani Ports, ACC, and Ambuja Cements.
Even as Adani disputes the allegations, the almost 100-page report sent shares of the Group' into a tailspin, with INR 4.2 lakh crore ($51 billion) was wiped off their market value in two trading sessions. Gautam Adani's personal fortune too has been affected, declining from $122 billion at the end of 2022 to $93 billion, according to the Hurun Report, a research firm.
The Group is a significant flywheel of the Indian growth story, with total revenues of $25 billion equivalent to 0.7% of Indian GDP and a net profit of $1.8 billion. What's more, its combined annual capital spending of around $5 billion accounts for 4% of the total for all non-financial public companies in India, with investments of more than $50 billion earmarked for clean energy and hydrogen.
These allegations are not new for the Adani Group, with the Group previously saying that such claims have been "tested and rejected by India's highest courts". But Hindenburg Research represents a significant voice as one of Wall Street's most feared short-selling firms with a track record that is formidable, and reports built on forensic analysis that have caught out several other firms.
With the allegations coming just before Adani Group's FPO, it calls into question the ability of the Group to raise capital, tied as it is to valuations. For instance, when cementing the deal with Holcim, borrowings were made against ACC and Ambuja shares. Hence, any value erosion could have a ripple effect. If the FPO goes off well – it is intended to raise around $2.5 billion in new capital – it will improve the group's debt-equity numbers, and give lenders more leeway.
The first stage of the secondary share offering, accounting for 30% of the capital-raising, took place on January 25th and was fully subscribed, raising $735 million. Several prominent investors put in bids, including the Abu Dhabi Investment Authority, Life Insurance Company of India, and entities related to two American banks, Goldman Sachs and Morgan Stanley.
Since then, Adani Enterprises' share price has fallen below the offer price. The public portion of the offering, which began on January 27th, has so far attracted almost no buyers as retail investors are wary.
With the offering meant to pare debt levels, it might constrain the Group's liquidity. More domestic borrowings is one possibility to alleviate this, but reports say there is not much interest among domestic institutions. The group could also consider tapping sovereign funds, but with the global bond market now on alert, that is easier said than done.
Historically, Hindenburg has never looked beyond US shores, but its first foray into Indian stocks is a biggie, and it seems they might have caught a whale. How this story plays out, only time can tell.
Edit, Tuesday, 31st January: Investors have lost over ₹1.53 lakh crore in 6 Adani stocks as of closing on Monday, 30th January, with the ₹20,000 crore FPO subscribed by 3% on the second day. The three-day sell-off has now erased nearly $72 billion market value of investor wealth.