Ananta Capital Announces Appointment of Ashutosh Taparia as Operating Partner and Chief Growth Officer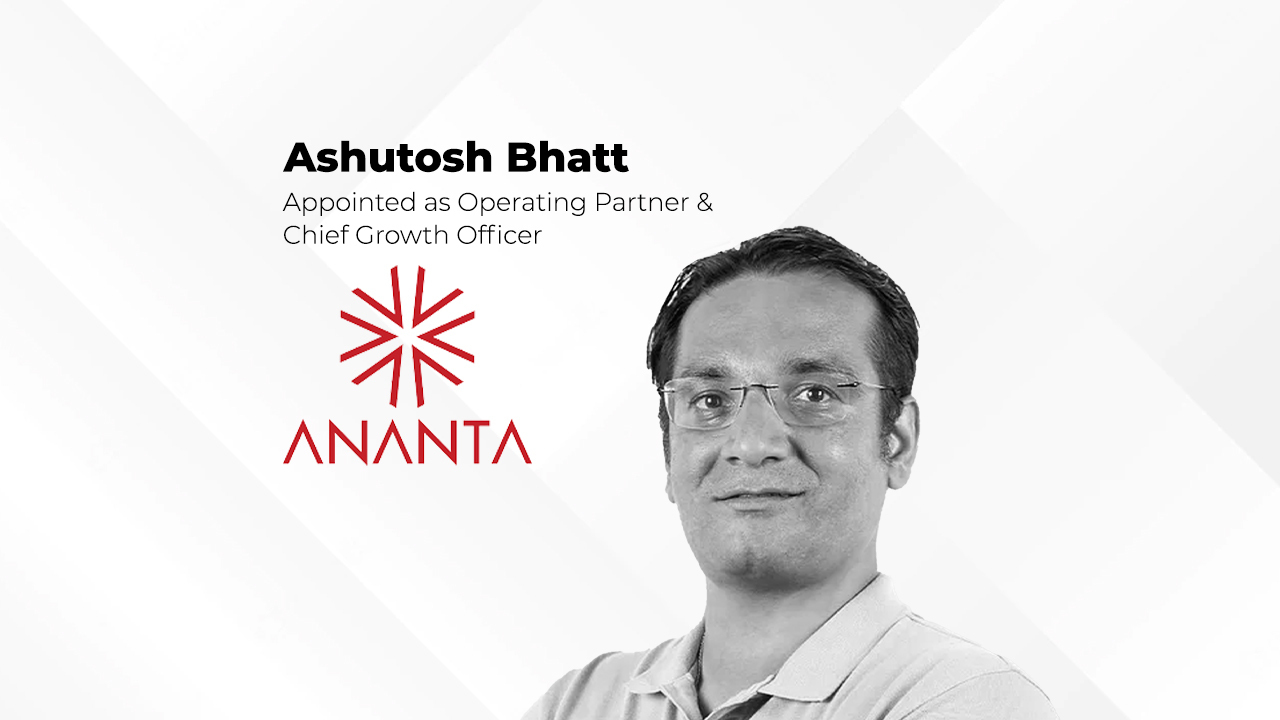 After graduating from IIM Lucknow in 2009, Ashutosh Taparia has over 13 years of leadership experience with major global FMCG companies as well as a consumer technology mastermind. He was working as a Franchise Director for PepsiCo India and played a significant role in directing some of PepsiCo India's core business verticals. He helped in e-commerce, modern trade, customer marketing, West India and Sri Lanka geographies, and aided the company achieve profitable growth and market share gains.
Ashutosh Taparia, Founder and Managing Partner of Ananta Capital, said, "We want to drive maximum synergies among all our consumer brand businesses and setting up a team of very high-quality leaders with functional expertise at the platform level has been a strategic priority for us. We are very happy to have a transformational and competent leader like Ashutosh join us as part of our core team."
Ananta Platform has declared that Ashutosh Taparia has been appointed its Operating Partner and Chief Growth Officer. From the fast-growing personal care business Idam Natural Wellness (owner of brands like Bella Vita Organic, Bella Vita Luxury, Brave Essentials, and specialty beverage brand Bevzilla) to brands like Springwel Mattresses, Guardian Pharmacy, and GNC India are all majority-owned by Ananta Capital. It is a private equity investment platform with the support of Mumbai based Taparia family of Family Care Group.
With a focus toward being business owners or partners, Ananta platform examines a variety of minority and control transactions. They evaluate all fundamentally sound, capital-efficient companies that have the potential to become long-term market leaders in their respective industries. They are broadly sector agnostic. Consumer products, asset-light healthcare, financial services, and specialized manufacturing are a few of the industries they have ventures in.
Ananta has been one of the companies with most active buyout funds over the past 12 months, focusing on mid-market consumer brand businesses. It bought a controlling interest in Idam Natural Wellness in July 2021. Aakash Anand founded and is the CEO of Idam Natural Wellness.
Ananta recently purchased the majority of shares in Springwel Mattresses as well. In India, Springwel manufactures and sells mattresses, home furnishings, and foam for industrial use. A sector with huge untapped potential. They also manage a pan-India network of 1,000+ dealers and distributors as well as operating over 75 exclusive brand shops.
With the appointment of Ashutosh Taparia, Ananta is aiming for direct collaboration between him and Ananta's board of directors. He's also expected to look after all portfolio companies to develop and carry out their growth strategies, which may include expanding current distribution channels, fostering brand-level channel synergies, and setting up procedures and systems for long-term top- and bottom-line growth. An area where he is quite an expert owing to his successful tenure and fame of being a home grown talent in PepsiCo India.
Ashutosh Taparia also said, "Next 2-3 decades are going to be where India leads the world. For me, this is an exciting opportunity to partner with phenomenal founders and management teams of brands like Bella Vita Organic, Bevzilla, Springwel, and GNC India which I love as a consumer to take to the next level of growth. I am keenly looking forward to working closely with Ashutosh, Lovkesh, Aakash, and the entire Ananta team."