Jamshedji Tata, The Father Of Indian Industry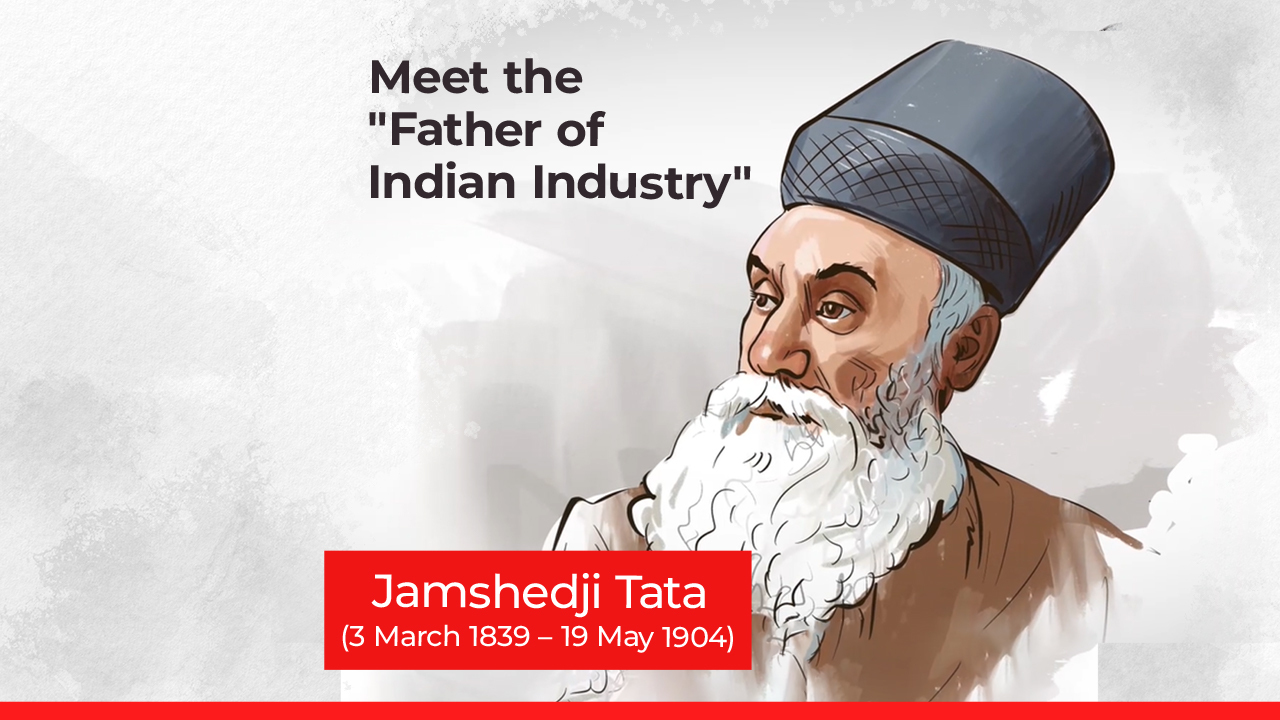 Who would've thought that one man's vision of a textile mill in central India, in the 1870s, would inspire the steel and power industries in the country today. He set the foundation for technical education by also helping India to hurdle into the ranks of industrialized nations.
A humanist and a patriot, Jamshedji Tata's vision and ideals crafted an impeccable business conglomerate.
Colonial India never witnessed the spirit of entrepreneurial adventure ever before Jamshedji, the industrialist who was a visionary and a true pioneer. The unwavering belief by the nationalist in him of enriching the country he deeply cared about makes him an extraordinary figure.
His generosity of heart, it's that quality that places Jamshedji in the pantheon of modern India's greatest sons.
His characteristic of generosity of heart, his compassion for a citizenry labouring under the oppressive foreign occupation and overwhelming poverty makes him a truly unique figure.
The special structure the Tata group took on after Jamshedji's passing, with a huge part of its assets carried by trusts devoted to harvest money into social-development initiatives, can be tracked down directly to the empathy immersed in the Founder's philosophy of business.
Experimental beginnings
Not even a single day suggested that Jamshedji would create his own empire. Jamshedji was born in 1839, on March 3rd in the town of Navsari, Gujarat. He was the only child of the scion of a family of Parsee priests and the first and only son of Nusserwanji Tata.
In the priesthood joined the many generations of Tatas, but, Nusserwanji Tata broke the chain, became the first member of the family to try his luck at business.
Jamshedji, raised in Navsari, was 14 when he joined Nusserwanji, his father in Bombay. His father enrolled Jamsetji at Elphinstone College where he was a 'green scholar' passed out in 1858.
The liberal education fuelled Jamsetji a lifelong interest for academics and the love for reading, but, these passions took a backseeat when he realised his true calling of life: business.
Jamsetji's entrepreneurial career began, as JRD Tata said "when colonial rule was at its peak, the passive despair engendered."
Jamshedji when turned 20 in 1857, he joined his father's small firm when his father was a banker and a merchant. Aged 29, in 1868, the wiser Jamshedji who was garnered by 9 years of work experience working with his father, with a capital of Rs. 21,000, Jamshedji started a trading company. Here came his expedition to England where he learnt about the textile industry.
In 1869, Jamshedji then made his move into textiles business by acquiring a dilapidated and bankrupt oil mill in Chinchpokli and renamed it Alexandra Mill converting it into a cotton mill. This property was situated in the industrial heart of Bombay.
After selling this mill for a significant profit two years later, he continued his visit to England and pursued his curiosity with an exhaustive study of the Lancashire cotton trade.
Jamshedji was impressed with what he witnessed over there– machinery, the quality of people and produce, thinking he could replicate it in his country. He had a strong belief of taking on the colonial masters at the game they had rigged to their advantage.
The Mills of Transformation
Jamshedji saw that the persistent orthodoxy of the time and was sure that Bombay was the place to set up the new project, but, his genius guided him to another direction.
He figured if he could master three crucial factors of the time he could use into his plans for the chances of success– easy access to railway station, close proximity to cotton-growing areas with plentiful supplies of fuel and water. The answer was Nagpur.
Jamshedji, in 1874, with a seed capital of Rs. 1.5lakh, opened a fresh enterprise, the Central India Spinning, Weaving and Manufacturing Company.
In 1877 on January 1st, the Empress Mills came into existence and at the age of 37, Jamshedji established an entirely modern enterprise.
The three great ideas Jamshedji believed until his death in 1904 in his life– to set up an iron and steel company, generate hydroelectric power and to create a world-class educations institution in educating Indians in the sciences.
Unfortunately none of these happened while he lived but with his seeds laid, his dreams would find a florious expression.
The Legacy
Jamshedji's had an enduring love for Bombay, for travel and most of all, for spellbinding new ideas. His courage to push the frontiers of achievement rising up to his demise in Germany in 1904, his mind constantly seeked knowledge.
Men can employ money as a tool, or they can dance around it as if it were an incarnation of God
~ Jamshedji Nusserwanji Tata