World Leaders aims to keep alive a target of ceasing global warming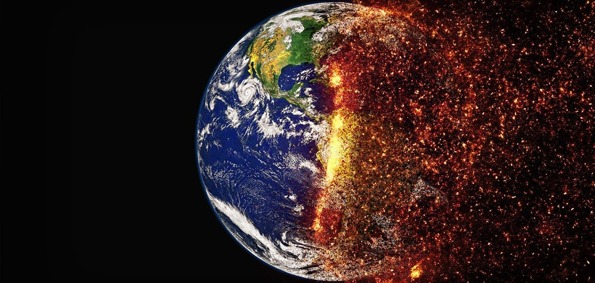 World leaders joined each other in the Scottish city of Glasgow on Sunday for the United Nations COP26 summit, billed as a make-or-break chance to save the planet from the most calamitous effects of climate change.
Delayed by a year because of the COVID-19 pandemic, COP26 aims to keep alive a target of capping global warming at 1.5 Celsius above pre-industrial levels – the limit scientists say would avoid its most destructive consequences.
To make up for the lack of action and hollow commitments that have typified most of global climate politics, meeting that goal, which was agreed to with great hoopla in Paris in 2015, will require a spike in political momentum and diplomatic heavy lifting.
The summit must achieve more ambitious pledges to reduce emissions even further, lock in billions in climate money, and complete the framework for implementing the Paris Agreement with the unanimous assent of the almost 200 countries who signed it. "Let's be clear – there is a serious risk that Glasgow will not deliver," UN Secretary-General Antonio Guterres told leaders of the Group of 20 (G20) rich nations last week.
Even if recent pledges were clear and credible – and there are serious questions about some of them – we are still careening towards climate catastrophe."
Climate change would intensify storms, expose more people to deadly heat and floods, kill coral reefs, and destroy natural habitats, according to the UN. Countries' existing pledges to cut emissions would see the planet's average temperature rise 2.7 degrees Celsius this century, which the UN says would supercharge the destruction that climate change is already causing by intensifying storms, exposing more people to deadly heat and floods, killing coral reefs, and destroying natural habitats.
U.S. President Joe Biden warned in his COP26 speech on Monday that "in an age where this pandemic has made so painfully clear that no nation can wall itself off from borderless threats, we know that none of us can escape the worst that's yet to come if we fail to seize this moment."
The indications leading up to COP26 have been contradictory. Last week's vow from China, the world's largest polluter, was criticized as a squandered opportunity, casting a pall over the two-week summit. Russia's and Saudi Arabia's announcements were likewise underwhelming.
Other obstacles – not least, sky-high hotel rates in Glasgow – have stoked concerns that civil society groups from the poorest nations which are also most at risk from global warming will be under-represented.
COVID-19 will make this U.N. climate conference different from any other, as 25,000 delegates from governments, companies, civil society, indigenous peoples, and the media will fill Glasgow's cavernous Scottish Event Campus.
On Monday, world leaders kicked off COP26 with two days of speeches, including some fresh emissions-cutting pledges, before technical negotiators debate the terms of the Paris Agreement. Any agreement will most likely be reached hours, if not days, after the event concludes on Nov. 12.
It will be difficult to evaluate progress. Unlike previous climate summits, this one will not result in a new treaty or a major "victory," but focus on modest but significant triumphs on emission reduction promises, climate financing, and investment.
In the end, whether those deals add up to enough progress to keep the 1.5C objective alive – which is still a long way off – will determine success. Since the Paris accord in 2015, scientists have issued increasingly urgent warnings that the 1.5C goal is slipping out of reach. To meet it, global emissions must plummet 45 percent by 2030 from 2010 levels, and reach net zero by 2050 – requiring huge changes to countries' systems of transport, energy production, manufacturing, and farming. Countries' current pledges would see global emissions soar by 16% by 2030.