Where there's a wheel, there's a way: Amateur cyclist covers 8,000 kilometres across India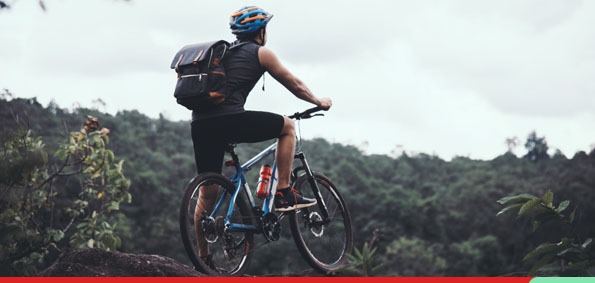 Dagara Ranjith was on the verge of starvation only a few months ago, when his employer at an agriculture corporation stopped paying due to the pandemic. The 30-year-old has subsequently discovered a passion for travel and has cycled over 8,000 kilometres around the country in just over six months. He returned to Hyderabad on September 10 following a scarcely believable cycle ride to Leh, Ladakh.
Ranjith is a pharmacist by training and an organic farming expert by trade. He expressed his intention to pedal his way to numerous destinations in an Instagram story. He returned 38 days later, having travelled roughly 3,000 kilometres. Ranjith acquired a bike with the support of a few friends, despite having no experience touring or riding professionally.
The 'Ranjith on Wheels' YouTube channel now has 69,200 subscribers and 110 videos. He has 82,300 Instagram followers under the same identity. Ranjith describes his trip to Kanyakumari as "inspiring," notwithstanding an incident at the Goa-Karnataka border when three youths stole his bike and possessions. "That night was notable because the cops at the police station refused to accept that I was travelling on a bicycle in May 2021, at the height of the COVID-19 outbreak."
In Himachal Pradesh's Baralacha Pass, Ranjith was caught in a landslide. The entire day had been spent riding a 13-kg bicycle up a steep incline with over 40 kg of luggage. Ranjith remembers the bikers who came to his aid when his hands and face became numb from the winter cold, and who provided him with food and water at various locations.
Ranjith has returned to Hyderabad after 53 days and has already planned a bike trip to Nepal. He spent just over Rs 60,000 on food, lodging, and other miscellaneous expenses on his journey from Manali to Hyderabad, which took him through Ladakh and western Indian states. Perhaps his most unforgettable encounter was when he was treated like a son by a family in Ladakh's Nimmu hamlet.
He has taken out a loan to purchase touring equipment, but he is unconcerned because he already possesses the necessary equipment. He says, "I just want to live in the moment and not worry about tomorrow."