Why did Lionel Messi leave Barcelona?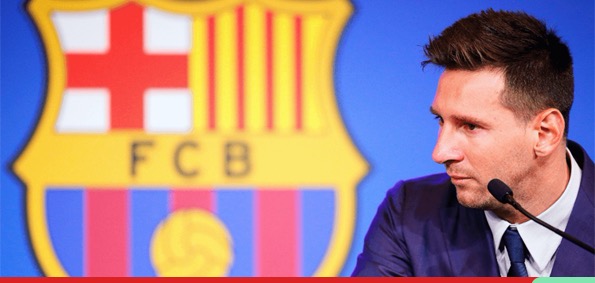 Lionel Messi will not be returning to Barcelona next season, according to the club. The news came just eight days before the new La Liga season began. After a short time, the club released a Messi memorial video, confirming the hitherto unthinkable truth that Barcelona and Messi would part ways after 21 years.
When Marca, a Spanish newspaper located in Barcelona, stated that signing Messi might not be possible, it was interpreted as a warning. A few hours later, the club made a declaration, pointing the focus squarely at the Spanish league, La Liga.
Barcelona blames La Liga
Barcelona has announced that Lionel Messi will not be returning to the Spanish club. A fresh deal for the Argentine forward is not possible according to La Liga restrictions. According to reports in recent weeks, Messi was willing to accept a 50% pay cut to make it happen. "Both parties deeply regret that the player's and the club's wishes will not be fulfilled in the end", Barca declares.
To sign Lionel Messi this summer, Barcelona had to sacrifice nearly $200 million in salary. All teams in La Liga are subject to a salary cap, which limits player salaries and acquisition expenditures to 70% of club earnings. The Blaugrana were nowhere near that sum, and on August 5, the club and Messi realized that the deal could not be completed.
The proposed private equity deal has been met with opposition from Barcelona and Real Madrid. Many saw the news of large private equity investment, named CVC, into La Liga and its teams the day before as assisting Barcelona in making the financial progress required to secure the Messi agreement. Accepting the arrangement, according to observers, would have entailed the two giants financially committing themselves to La Liga for decades to come, putting their Super League ambitions on hold.
Barcelona has stated that the club will not take money from CVC to maintain Lionel Messi. The financial plan, which included giving up 10% of La Liga's revenues to the corporation CVC Capital Partners, was not acceptable to the Spanish club. He stated, "It would not be in Barca's best interests." Real Madrid striker Neymar has been linked with a move to Barcelona.
Was the Barcelona-Messi talk just for show?
Barcelona understood all along that it would never be able to sign Lionel Messi and fit his pay within the club's player budget for the coming season. Some media outlets speculate that the false hope that has been fostered in recent weeks was a public relations strategy to aid club management in navigating the fan backlash. In the court of public opinion, Barca officials demonstrated that they gave it their all.
Lionel Messi is a free agent, which means he can join any team he wants. In recent weeks, Argentina forward has been linked with a move away from Barcelona. Some have suggested that the "La Liga restrictions" are merely a handy justification for leaving the club. He needs to be signed by the September 2 deadline if he wants to play in the UEFA Champions League, and it seems Paros Saint-Germain would be his likeliest destination.
Could it be a bluff? Could Messi return?
Some cynics feel Barcelona's announcement was an attempt to persuade La Liga to modify the rules or grant the team an exception. The theory is that La Liga as a business cannot afford to lose Messi, especially since it recently secured a $175 million per year ($1.4 billion) TV rights contract with ESPN in the United States.
The contract talks between Lionel Messi and Barcelona have come to an end, and he will not be able to play in La Liga next season. The Argentina attacker is frustrated that he is unable to sign a new contract in Spain due to the salary cap for players. In recent months, Javier Tebas has been adamant that Messi and Barcelona would receive no special treatment.
How is this different from last summer's Messi drama?
Lionel Messi, the Barcelona forward, has extended his contract with the Spanish club until 2020. After one year remaining on his four-year, $675 million contracts, the Argentine says he wants to quit the club. He stated last year that he wanted to quit Barcelona due to a disagreement with the club's management. He, on the other hand, refused to sue the club and chose to stay for an extra season against his will.
Joan Laporta was well aware of Barcelona's financial predicament. Many anticipated that with Bartomeu's departure, Messi would be able to stay at the club. He claims, however, that his financial situation was far worse than he had been led to believe. In the 2020-2021 season, the club will lose $572 million, compared to $ billion the previous year.
Barcelona released Lionel Messi after the club's financial woes were revealed. Argentina forward was set to renew his contract with the club, but owing to La Liga roster budget constraints, he was unable to do so. Joan Laporta, the club's president, said he followed the laws but blamed the previous two administrations for the club's financial woes. Messi's signing would have been a problem if it hadn't been for their incompetence, he added.
Messi's tearful goodbye
Messi was the one who had to share his side of the tale, which he did during a tearful press conference at the Nou Camp in Barcelona on Sunday:
Lionel Messi stated that he has no desire to leave the Spanish club. The Argentina international is "disappointed" and "didn't expect" to be connected with PSG. He does not confirm a move to PSG, though, stating that he wants to continue winning trophies. Barcelona president Joan Laporta said the club is in debt and that staying at the club is "difficult."
Lionel Messi said he tried everything to stay at Barcelona but was unable to do so. Argentina's striker claims that he offered to cut his salary in half and that Barcelona didn't ask for anything else in return. "I didn't want to go, but I had no choice. And I want to continue to win. That's how I think "he declares
"I've been here since I was thirteen years old. I'm departing with my wife and three small Catalan-Argentine children after 21 years "he declares "My family and I were adamant that we would stay; it was the only thing we wanted. We feel at ease here."
Former Barcelona players have expressed their feelings on Lionel Messi's departure from the Spanish club. Ansu Fati, Xavi Hernandez, and Javier Mascherano were among others who took to Instagram to congratulate Messi. In recent days, Lionel Messi has been linked with a move to Paris Saint-Germain in France, a move that was near unthinkable at the start of the summer.