The accumulated wealth of 5 temples of India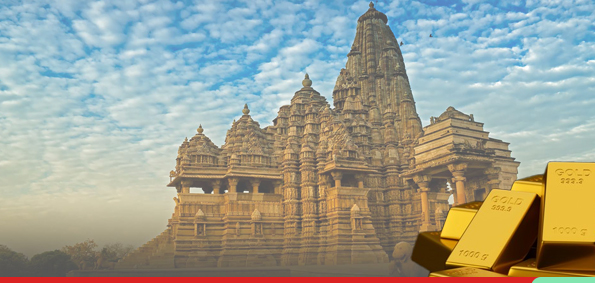 India's religious and cultural traditions have a long and illustrious history. Temples have been built by several Hindu kingdoms to showcase their art and culture. Many temples needed to be renovated, thanks to donations from worshippers. Donations were made as a way of expressing appreciation to God. The devotees have donated sacks of gold, silver, and jewels as a token of their gratitude. Here is a glimpse into some of the wealth of Indian temples:
Padmanabhaswamy Temple, Kerala
The shrine of Lord Padmanabhaswamy, the country's richest temple, houses a fortune of over $20 billion in the temple's underground chambers. This temple's golden idol of Lord Vishnu is valued at Rs. 500 crores. Antique gold ornaments, gold crowns, priceless jewels, silver, and diamonds are among the treasures said to have been discovered at Padmanabhaswamy Temple. The gold necklace, which adds to the deity's divinity, is 18 feet long and weighs about 2.5 kilogrammes.
Tirumala Tirupati Venkateswara Temple, Andhra Pradesh
A decade ago, Tirupati temple was regarded as the wealthiest temple in the country. Tirupati has fallen to second place in terms of riches after discovering a hidden treasure by the Padmanabhaswamy Temple. Around 60,000 worshipers attend the Venkateswara Temple every day. The annual revenue from prasad sales is estimated to be over 11 million USD. Every year, the temple is estimated to receive over Rs. 650 crores in donations.
Shirdi Saibaba Shrine, Maharashtra
The Shirdi temple of Sai Baba is one of the most valuable in the country. The temple receives roughly Rs. 360 crores in donations every year. The deity sits on a throne made of 94 kg of pure gold, with people from different faiths converging to pay their respects at the temple.
Vaishno Devi Temple, Jammu & Kashmir
Around eight million pilgrims visit this temple each year, making India's second most visited shrine after Tirupati. The temple, which stands at the height of 5300 feet above sea level, is linked to Indian mythology. The temple, which is the epicentre of Hindu religious beliefs, generates roughly Rs. 500 crores annually.
Golden Temple, Punjab
The Golden Temple, also known as Harmandir Sahib, is the most well-known sacred centre of the Sikh religion. It has gold and silver trim and a brightly lighted golden dome that makes it look formidable at night. Daily, it is estimated that 40,000 people seek blessings at this sacred sanctuary.