Challenges abound for New BYJU'S CEO Arjun Mohan: here's how he is reshaping the Edtech Company's path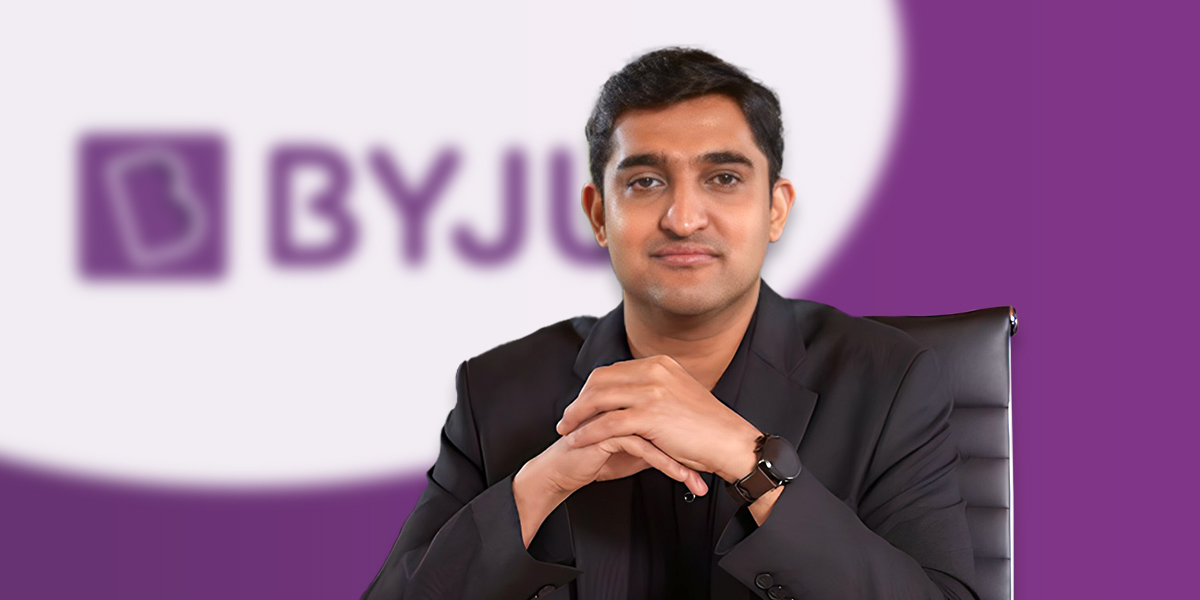 During the middle of September, Byju's underwent a significant leadership shift as it bid adieu to Mrinal Mohit, the India CEO, who was not only a founding employee but also a former student of the company's founder, Byju Raveendran. The leadership baton was passed to another former student, Arjun Mohan, marking the commencement of a pivotal transformation within the 12-year-old educational powerhouse.
Mohan is more than just a former student selected by Raveendran to fill a temporary role for appearances' sake. Having graduated from IIM Kozhikode, he worked as a consultant alongside Raveendran for several years before officially joining Byju's in 2016. In 2020, he departed the company to assume the role of CEO at another edtech firm, upGrad, before returning to Byju's in July of this year.
Mohan's return coincides with a period of significant upheaval for the company. Byju's is currently embroiled in a legal conflict with its Term-Loan B (TLB) providers in New York, and it has witnessed the departures of both its auditor Deloitte and three board members nominated by investors Peak XV Partners, Prosus, and the Chan Zuckerberg Initiative. Following his return, Mohan has been entrusted with leading the restructuring efforts within the company as it grapples with acute financial constraints and corporate governance issues.
Sources says Raveendran has pulled out of day-to-day operations to concentrate on major corporate issues, like obtaining the desperately needed additional funding, concluding the $1.2-billion term loan, handling the asset sale procedures to pay off debt, working through the difficulties surrounding the Aakash acquisition, and taking care of the past-due financial statement filings.
Arjun Mohan embarking on a challenging restructuring process aimed at restoring stability and order within the organisation
Mohan has assumed total control over the business's operations, starting with attempts to alter the company's approach to marketing to parents. Sales professionals at Byju had historically faced extreme pressure to close deals, regardless of whether the product was the perfect fit for the child or if the parents could afford it.
According to someone with intimate knowledge of the company's transformation, "it [restructuring] requires a transition from being a sales and marketing-focused company to one that is customer-centric." He claims that rather than focusing on what will increase the team's short-term sales target, Mohan has given his sales staff the directive to try to spend time with each disgruntled customer to address their concerns and recommend solutions that best meet their needs.
"Key consumer challenges have been identified by Mohan and categorized into three to four groups. He is currently enforcing a mentality shift with his sales team. The good news is that Byju's offers a variety of goods to suit various use cases, and he has now granted the sales teams the latitude to provide the best option to clients," he stated.
Mohan is spearheading a decrease in payroll and non-payroll costs, which is far more crucial and has direct repercussions. The primary online business used to have distinct business divisions and leaders for each of the following functions: home tuition, UPSC, K10, 11th, and 12th grade, early learning, and so on. For the sake of handling finance and HR, each BU established its own company. In the meantime, each of the offline marketing and sales departments had its own support staff and worked under a regional structure. Earlier this year, in response to concerns of mis-selling, the corporation undertook a major strategic shift in sales, converting the field sales teams to inside sales.
Currently, Mohan is combining these verticals into two business categories: test preparation and K12. One sales head oversees all sales and marketing tasks, which are distributed regionally. The corporation is already drawing distinct lines inside the areas between offline and indoor sales operations, or Byju's Tuition Centers (BTCs). As a result, the company closed about twenty offices, reduced the number of employees to five regional offices, and centralised all finance operations under the CFO.
As a result of the consolidation, many overlapping responsibilities have been eliminated, which has caused an additional 3,500 people to leave the organisation. After increasing its employment from over 58,000 in March 2022 to over 24,000 in May, the corporation is likely to employ roughly 20,000 people overall because of the continued job cuts.
These centers will serve the K12 and test prep units until the end of the current academic year before the company decides which ones to maintain, even though the sales and other support operations of its 300-strong network of BTCs have been combined with the core business teams.
Even if students visit the offline centers just once or twice a week, they are taught by full-time teachers. Significant real estate costs are also associated with these centers. These are starting to resemble abandoned stores, true white elephants, according to a second source close to the company.
Enhancing income collection is one of Mohan's top priorities in the interim
Prior to the company receiving upfront money from its partner NBFCs that offered loans and EMI choices to customers, the sales force's primary focus was on bookings. However, following severe accusations of mis-selling and increased government agency scrutiny over the legitimacy of financial institutions forming corporate agreements with edtech platforms to facilitate such loans, NBFCs ceased giving loans early this year.
Since then, the business has been directly providing clients with options for installment payments. The company is facing major cash flow issues because of the large reduction in collections following the suspension of upfront cash payments.
Byju's used a technique whereby they solely concentrated on bookings and collected money up front. According to one of the aforementioned individuals, Mohan is currently reorienting the organization to concentrate on collecting.
In an additional attempt to entice more parents to make complete payments, the company has nearly entirely transitioned to digital short duration courses lasting 1-2 years, which are priced significantly lower than tablet-based long duration courses (30-35k versus 80k before / 3-5 years).
In order to ensure more complete payments up front and enable quicker and better financial flows, shorter courses are essential. Mohan is presently working with leaders to clarify their roles, KPIs, and accountability in the interim. One of the sources claims that Mohan will shortly start going to various offices to have face-to-face meetings with the team and talk about the adjustments and enhancements to the operations.
Along with overseeing payroll, Mohan is also in charge of a number of non-payroll issues, such as lowering cloud costs, SaaS license fees, office space consolidation, and travel policy revisions.  Due primarily to laid-off employees being placed on garden leave, the workforce cost reductions may take up to three months to show results. However, the company expects a significant improvement in its cash situations from improved collections and cash flows, which it hopes will help it reach operational breakeven by the end of this fiscal year.