Vijaya Diagnostic Centre: The best place to work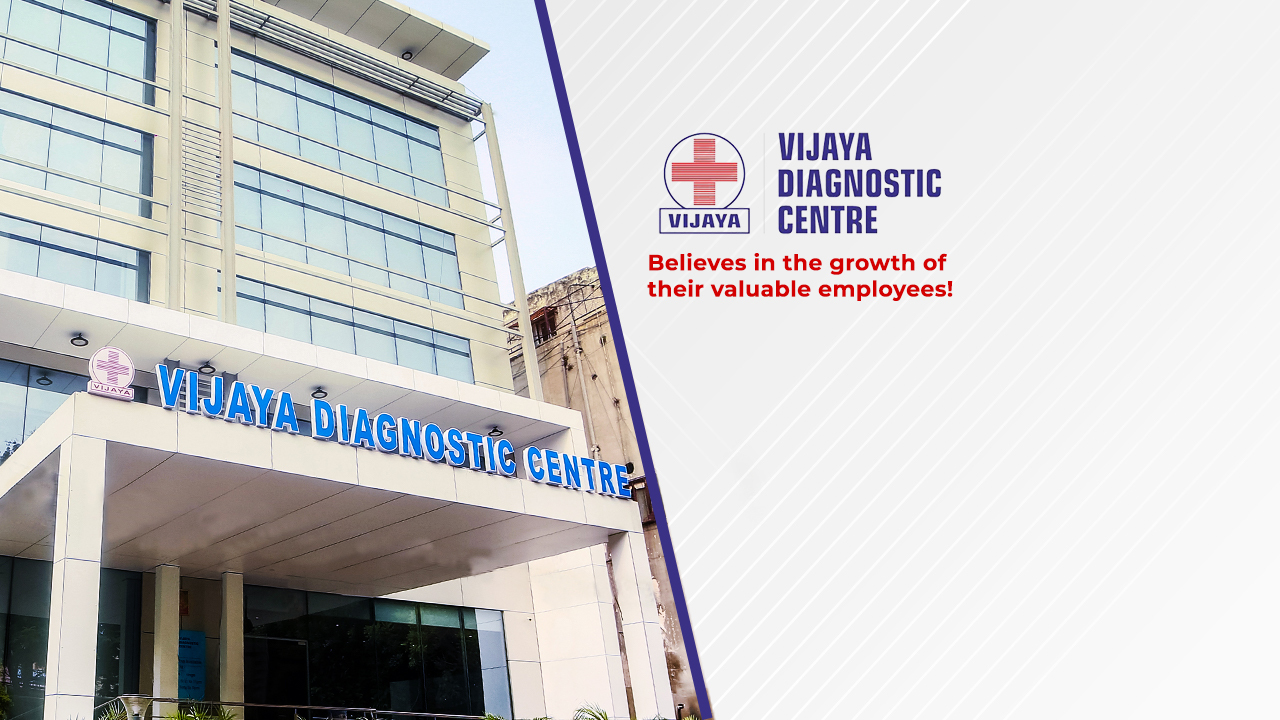 Vijaya Diagnostic Centre Limited (VDCL), with its 40+ years of excellence, is India's largest comprehensive diagnostic network with over 100 state-of-the-art centers across India's 15 cities. Since its conceiving, VDCL has been a stern believer that, employees are the lifeline of the organization and the driving force to keep the company moving ahead. Therefore, VDCL has always remained steadfast to uphold a pro-employee stand and forming policies, that adhered to this fundamental principle.
Based on their conviction that the organization's strength is greatly influenced by the values and perspectives of their employees, they conceive Ethics policies, and support for all in the team to meet and maintain the Code of Conduct, in conformance with the corporate value system of the Company. The Code of Business Conduct and Ethics Policy endeavors to lay down guidelines for the Company's employees in a way that they are simple to follow in day-to-day work life.
The Management is committed to providing its employees with opportunities for growth, getting promoted, finding new opportunities internally, and getting the most out of one's career. Identified employees are provided with a customized individual development plan for 3 months that promises 70% on-field learning through job assignments, 20% learning from other stakeholders, and 10% learning through traditional methods.
With a 60%:40% Ratio (Male/Female), the workforce in VDCL with greater gender diversity gets space to access multiple views, which is greatly advantageous in outlining and accomplishing various business strategies.
On the foundation of gender-neutrality and equality, they follow a Wages policy, offering an equal package for work of the same and similar nature to male and female workers, besides making no discrimination in the matters of transfers, training and promotion, etc., strictly abiding by Internal Compensation Benchmarking Guidelines & Remunerations acts.
To enhance employer-employee transparency and evaluate employees' contentment, they conduct an Annual Employee Satisfaction Survey and gather feedback to understand diverse perspectives as part of their learning and evolution process.
They strongly believe that employees are their most valuable asset; they make sure that their benefits are preserved well, including Insurance Plans, Corporate Discounts, Paid Sick Leaves, Performance Bonuses & Rewards, Stock Options and Training for Up-skilling, Salary advance, Employee Referral Bonus Program among others.
Accomplishing their goal to secure talent acquisition and retention, they exercise a strategic talent acquisition program, which is a pragmatic approach to attract meritorious candidates, fill positions with toppers, and go on with new hires. An attractive Employee Referral Program, Internal Job Posting and Promotions, Career Path, and Campus Connects further boost their talent acquisition and retention policy.
Recognitions and rewards are the best means to inspire and motivate the team. Their Rewards and Recognition Program has been developed for appreciating exceptional contributions by their employees. Some of the major VDCL awards for employees include Thank You Award to recognize the significant effort made in enhancing customer/stakeholder experience; the Star Monthly Award for exemplary performance in a given month; the Go-WOW Award for the grooming standards along with good attitude, true to the spirit of VDC Values.
Recognizing the fact that employee well-being is a crucial responsibility for the company, they are fully committed to employee safety and have implemented a quality management system across the organization. Amid the Covid-19 Pandemic, they have rigorously followed all the safety protocols, and put all the precautionary measures in place, to protect all their employees.