Fun Facts About IKEA We Bet You Didn't Know!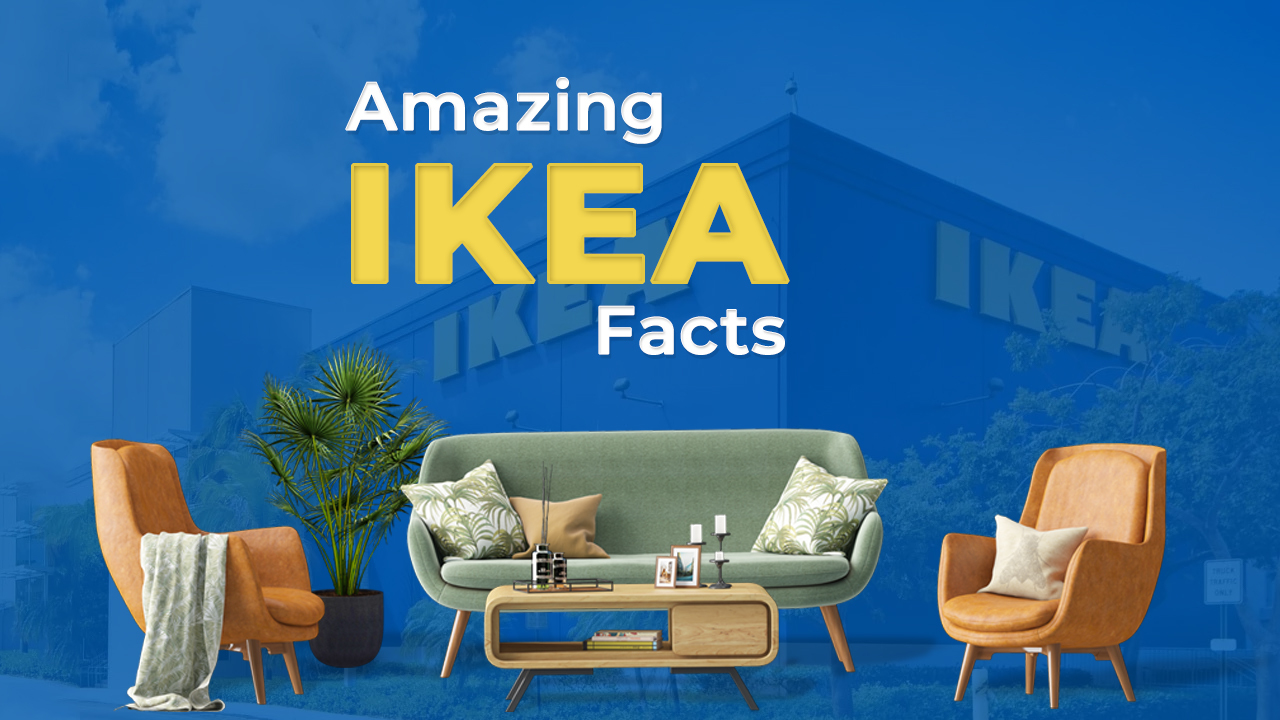 IKEA is well known for its interior products. But there are some fun facts about this brand which we are sure you didn't know before.
1. IKEA is an age old brand
IKEA was founded in the year 1943 by Ingvar Kamprad who passed away in the year 2018. The brand was launched as a mail order sales business which used to sell small items and photo frames. The shop at the original location is now a museum.
2. IKEA is the acronym of the founders name, his farm and village name
IKEA stands for the founder's name, Ingvar Kamprad and his farm's name Elmtaryd and his home village Agunnaryd.
3. First product sold was in 1956
The first product was invented in Sweden by Gillis Lundgren who was hired by Ingvar Kamprad. The first product was flat pack furniture. It was a leaf shaped side table.
4. More than 4.6 billion Billy bookcases sold in UK
As per survey around 15 billy bookcases are made every minute. They had sold over 4.6 billion Billy bookcases in the UK. Overall more than 41 million units have been sold. If you lay all of them in a line it would be 7000 kilometers in length.
5. 2000 new products are launched every year
Did you know that the company launches 2000 products every year? Komplement, Hemnes and Malm are some of the popular ranges.
6. Every product is named after Swedish Terms
Kamprad suffered from dyslexia and so he named every product using proper names and words so that it is easy for him to identify them. While the curtains are named after geometrical terms, all ranges of bathroom products are named after rivers, bays and lakes.
7. Team works to make the price affordable
The brand takes pride in their affordable options. The products are not cheap but extremely affordable. To make sure this is always so the team works backwards to determine a price that will help meet the sourcing as well as the designing materials.
8. UK is the top market for sales
IKEA UK is one of the topmost market for sales of photo frames and other products out of all the global markets.
9. IKEA stores are about 3,00,000 feet
Can you imagine? It is almost as big as 42 tennis courts. The largest one is in Stockholm and has a total area of 594000 sq ft.
10. They sell houses
Yes, that's true. They sell flat pack houses. The Boklok house was launched in Sweden in 1996.
11. IKEA has a museum
The IKEA museum is located in Almhult. This is the place where the first store of the company was opened. The main theme of the museum is about how the store was made and how it evolved over the years.
12. IKEA's instore restaurant
IKEA has an instore restaurant where one can enjoy meatless meatballs. So, more than 11 billion Swedish meatballs are sold in the UK itself.
13. They have over 400 stores globally
Since the time they launched they have over 425 stores all over the world. There are 52 markets and these are situated at the best of locations.
14. There are more copied of IKEA catalog than Bible
The IKEA catalog is available to 180 million people and in 29 different languages. So, it is compared to 100 million bibles. It has been around since 1951 and is said to consume nearly 70 percent of the budget.
15. They are spreading globally
IKEA is operating in 42 different countries. They have 716 million store visits and 1.5 billion website visits and 46 million app visits.
Conclusion
We hope you enjoyed our list of fun facts about IKEA and how they have grown and spread out all over the world.