Everything You Need To Know About Tata Neu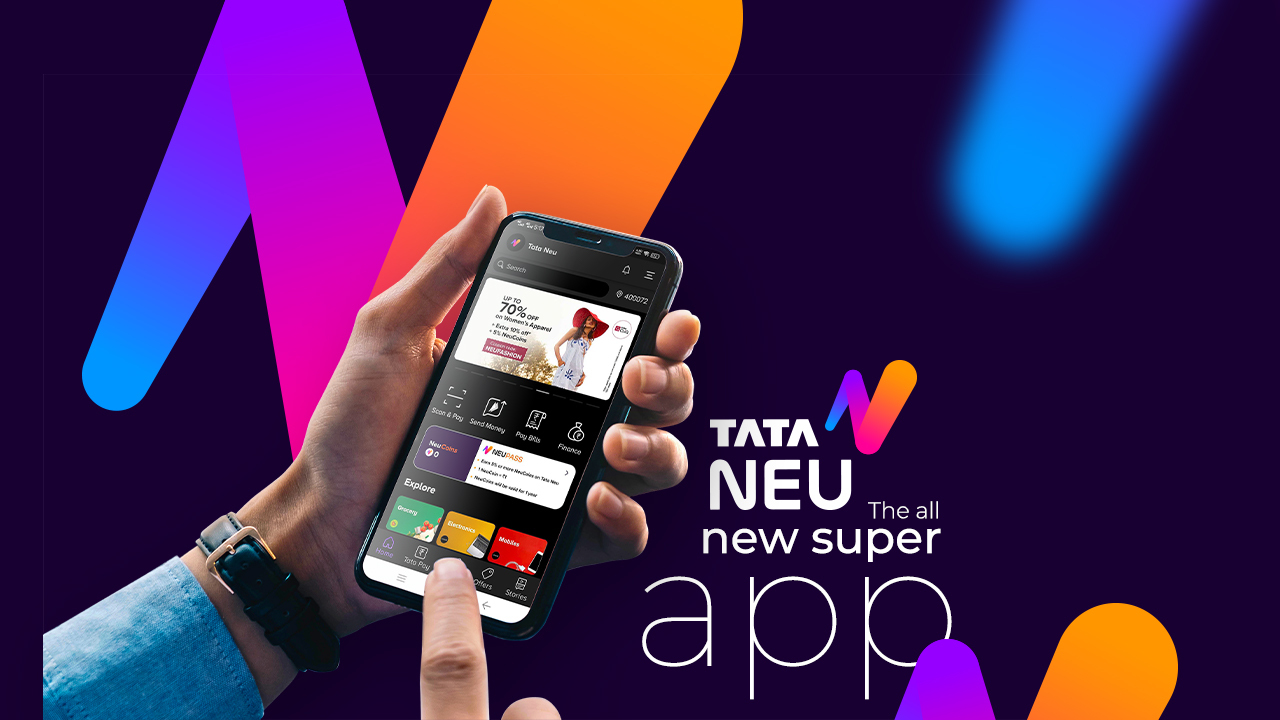 What do you need to know about the new "super" app – Tata Neu?
"Tata Neu is indeed a one-stop shop for all of your customer needs. The super-app additionally provides a suite of financial services such as UPI, payment services, mortgages, and insurance " Tata Digital made an announcement in a statement.
But that is not just it. There is more. To bolster its presence in the payment systems market, the app has also included Tata Pay, its very own UPI service. Tata Neu now will fight with PhonePe or Google Pay for a piece of the rapidly expanding payments sector. Here's a rundown of the services offered on Tata Neu.
What services are offered by Tata Neu?
The Tata Neu app offers services such as groceries, electronics, plane tickets, meal deliveries, investment, hotel reservations, and much more, everything under a single roof. Users could use Tata Pay UPI to scan and pay through any QR code, just the same as Google Pay or PhonePe.
The app will link every Tata product on its network and provide NeuCoins as an incentive. NeuCoins can be won across all of the company's brands, as well as at physical stores.
What exactly is Tata Neu's UPI functionality?
Users can make payments using their payment cards, online banking, and UPI technologies. Users could also pay via Tata's UPI service, which has been enabled as a payment method for the application.
Users of the Tata Neu app would be able to browse companies such as AirAsia India, BigBasket, Croma, Tata CLiQ, IHCL, Westside, and many others.
How can I set up a Tata Pay UPI account?
To start a new Tata Pay UPI account, go through a three-step registration system and use all of the services, such as scanner balance checks, account/self-transfer, and so on.
What exactly are NeuCoins?
NeuPass is Tata Neu's "strong yet streamlined" rewards program. Members that receive 5% NeuCoins or more when they buy, eat, or travel through Tata Neu. 1 NeuCoin is equal to 1 Rupee. The membership fees would be announced shortly.
How do I watch the IPL on Tata Neu?
Users of Tata Neu may indeed watch free IPL live matches by completing the Neu Quiz given on Tata Neu's Instagram account and winning match tickets. The IPL 2022 competition is sponsored by Tata Group.
According to data from the National Payments Corporation of India (NPCI), transactions in FY22 reached an all-time high of Rs 81 lakh crore.
The development of a super app like Neu is merely one step forward in its ambition to increase the share of the consumer companies in its portfolio, which had been heavily reliant on B2B sectors until the late-2010s.
As per Noel Tata, the Tata Neu super app does have the potential of increasing consumer traffic at its Westside design and apparels division.
Since its inception in 1868, the Tata Group has gradually expanded its tentacles into hitherto untapped markets. With yearly sales of more than $100 billion (or more than Rs 760,000 crore), the firm has ventured into fast-growing areas like online medicine and online grocery.