Diwali: the festival of lights and gold!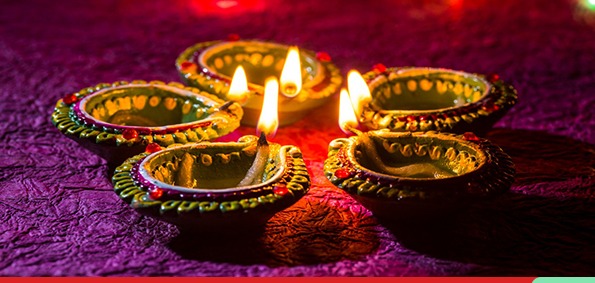 Honoring Lakshmi, the goddess of wealth, and inviting her to every home is the most important theme of Diwali. The array of lamps lit on this occasion by every household is meant to invite goddess Lakshmi into the house, and usher in wealth, and prosperity into our lives.
Businesses thrive during Diwali. People buy new clothes, utensils, jewels, vehicles, household items, furniture, sweets, groceries, and others, and hence every business is seen performing at its peak during the Diwali season. Economic activity across the country reaches its peak during Diwali.
This year, Diwali falls on November 4th, but the planning of gift-buying for the festival started long before this date. In fact, one tradition that is recognized among almost everyone who celebrates Diwali is the exchanging of gifts and the purchasing of goods for households. Purchasing and/or exchanging gifts of gold (and sometimes silver) is especially popular, as it is believed that the precious metal will help attract wealth and prosperity. Among those who celebrate the birth of Lakshmi, the first day of Diwali, called 'Dhanteras,' is an auspicious day for purchasing and exchanging gold with friends, family, and neighbors. Jewelers and gold coin dealers in India frequently see a spike of 20%-30% in sales leading up to the festival.
In fact, jewelers and companies in India are stocking up on gold in anticipation of this festive season demand. The import of gold into India rose by a whopping 107% month-on-month in August, according to Mumbai-based investment firm Edelweiss investor research.
Industry onlookers too remark on the luster and sparkle surrounding the festival, with demand often surging prior to and during the Diwali season. However, according to news reports, gold imports fell 57 percent to USD 6.8 billion in the first half of FY21. India is the world's largest gold importer, primarily for the jewelry industry. In terms of tonnage, the country imports 800-900 tonnes of gold every year. However, subsequent reports states that demand has improved, and gold imports are expected to be at approx. 25-30 tonnes in October, up from 11 tonnes in September.
Although the gold in jewelry and other precious metal objects may appear to be the same, yet the content may differ. Fine gold is pure gold that has a purity of 999 or higher. Yellow gold has silver as the major alloying element, rose gold has copper as the main alloying element, and white gold has either palladium or nickel as the main alloying element. Given the current price of gold, which is above $1,900 per ounce, knowing the exact metal composition of the item is critical.
Perhaps no other festival is celebrated with such great enthusiasm than Diwali all over India. The festival assumes different colors, flavors, and styles across India, with over a billion people coming together in celebration, and this year promises much sparkle for consumers and business alike.
Here's wishing you a very happy Diwali, and a glorious, prosperous new year ahead. May the light of wisdom lead you to much success and joy.