Tata Power hits milestone of 1,000 EV Charging Stations across India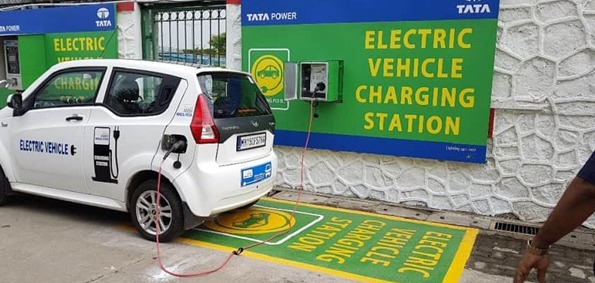 Tata Power now offers a nationwide network of over 1000 Electric Vehicle (EV) charging stations. This network gives Tata Power customers easy access to EV charging experiences in offices, malls, hotels, retail outlets, and other public areas, allowing clean mobility and reducing range anxiety. Additionally, there are nearly 10,000 household EV charging stations, making EV charging extremely handy for vehicle owners. Public chargers, captive chargers, bus/fleet chargers, and home chargers are all part of the Tata Power EZ Chargers ecosystem.
Tata Power EV charging points may currently be found in almost 180 cities around the country, as well as on many State and National roads, under a variety of business models and market sectors. The company intends to build a network of 10,000 charging stations around the country, as well as to convert entire segments of highway into e-highways across the length and breadth of the country. Driving range remains one of the biggest challenges for EV owners, with the charging infrastructure across the country still in a nascent phase, limiting travel to urban and nearby areas.
"We have started the first of our many milestones towards enabling the EV revolution in the country through successful deployment of over 1000 EV charging points in public domain. This makes Tata Power the country's largest EV charging solutions provider. Our innovative and collaborative approach has made a significant impact in developing this ecosystem and encouraging EV adoption in the country. We remain committed to playing a key role along with other stakeholders in achieving the national goal of transition to green mobility," said Dr. Praveer Sinha, CEO&MD, Tata Power.
Tata Power has partnered with Original Equipment Manufacturers (OEMs) to build EV charging infrastructure, and the company plans to extend its footprint in India's major cities. It has formed partnerships with companies like as Tata Motors Limited, MG Motors India Limited, Jaguar Land Rover, TVS, and others to provide EV charging infrastructure for its customers and dealers. e-Bus charging is made easier thanks to collaborations with numerous state transportation utilities, boosting the cause of green public transportation.
Tata Power also works closely with IOCL, HPCL, IGL, MGL, and a number of state governments to develop electric vehicle charging infrastructure (EVCI). We look forward to the ecosystem developing further, and giving the cause of green mobility a boost.