In his backyard, a brilliant Gujarati created 'Sabki Pasand Nirma'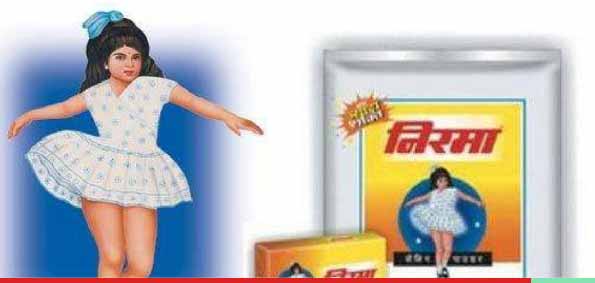 In the 1980s, Karsanbhai Patel, the founder of the Nirma brand, utilised a catchy song and a little girl to attract India's attention. This jingle, as well as the advertisement portraying a young girl in an immaculate white dress, is highly familiar even today.
Hindustan Unilever Ltd's 'Surf' brand enjoyed complete domination over the Indian detergent market in 1969. It cleansed stains from your clothes without injuring your hands, and it was better for your clothes than a conventional bar of soap. The cost, on the other hand, was a huge stumbling block for middle-class families who couldn't afford it. Karsanbhai Patel, a chemist at the Gujarat Government's Department of Mining and Geology, was interested in breaking into this sector.
Nirma was India's cheapest branded washing powder at the time, costing only Rs 3. Nirma was named after Patel's daughter, Nirupama, who died in a car accident. He'd go from house to house in each neighbourhood, promising a "money back" guarantee on every package he sold.
Nirma washing powder was performing well in Ahmedabad, so Patel decided to spend some money on a television commercial. Nirma became an instant hit thanks to the catchy song, which said that she was "sab ki pasand" (everyone's pick). Patel soon quit his work and chose to devote his full attention to this business.
Customers raced to local markets to buy washing powder, but Patel had cleverly withdrawn 90% of the supplies in order to keep up with demand. Customers watched the advertisement for approximately a month, but when they went out to buy the washing powder, they came back empty-handed.
Nirma detergent became the most popular detergent that year, outselling Surf by a wide amount. Retailers pleaded with Patel to restore supply, and he did so after a month, flooding the markets. After this excellent decision, Nirma was able to maintain its production and sales for a decade.
Nirma began as a detergent in 1993 and now has a 20% market share in soap cakes and a 35% market share in detergents. While the market's obvious ups and downs had an impact on the product, Patel was unconcerned because he had decided to offer toilet soaps, beauty soaps, and shampoos. Some goods were a hit, while others failed miserably, but the Nirma brand never lost its hold on the market.
Patel has received numerous major accolades, including the Padma Shri in 2010 and a spot on Forbes' list of India's wealthiest people (2009 and 2017). He claims that his desire to keep the firm going stems from his love for his late daughter. He is now a legend in the entrepreneurial fraternity, undeterred by his lack of a management degree, unafraid to take on great names, and armed solely with a sharp business sense and a creative intellect.