Google Meet for Web gets a new feature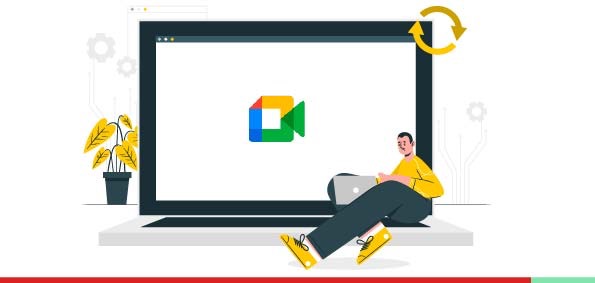 Meetings aren't just virtual or real in today's world of hybrid work; they're frequently a mix of the two as employees join from remote and in-person places. Meetings have never been more in need of an immersive, secure, and people-first approach. Google Meet realizes that, and has tweaked the meeting platform to reflect this new reality.
A richer user interface for more productive and inclusive meetings
Google Meet will have a new, richer user experience starting next month for desktop and laptop users. Updates to the video feed, the viewing and presenting experience, and the bottom bar are all part of the new Meet for online. Users will also have greater choice over how you see yourself in meetings to help you avoid meeting weariness. You can make your video stream a tile in the grid or a floating picture that you can resize and move around. You can also easily decrease your feed and hide it from your perspective if you don't want to see yourself at all.
The bottom bar of Google Meet has been changed to make navigating meetings easier. To avoid inadvertent hang-ups, the leave call button has been placed away from the camera and microphone controls. Google will be releasing tools for personalising your Google Meet experience in the future months, including the ability to pin several video feeds.
High-quality and reliable meetings powered by the latest Google AI
With many meetings held on the go, the Data Saver feature lets you make video calls without consuming big bits of your data limits. This feature restricts data usage on mobile networks, allowing you to save money. The company released low-light mode for Meet on mobile last year, which uses AI to dynamically adapt your video to make you more visible in low-light conditions. When a user appears to be underexposed in Google Meet on the web, the brightness is automatically increased to improve their visibility.
If you're standing in front of a camera, it will shift its position automatically as you walk, allowing everyone in your team to stay focused on the task at hand. In the future months, Google Workspace (premium) customers will be able to use the feature.
Tools to make meetings more engaging
We'll be adding the ability to change your backdrop to a video in the coming weeks. You can keep privacy for what's behind you by using video background substitution. A school, a party, and a forest will be the first three selections. This is part of Google Workspace's commitment to helping fuel the future of work with a flexible, helpful, and innovative solution.