The Success Story of Nykaa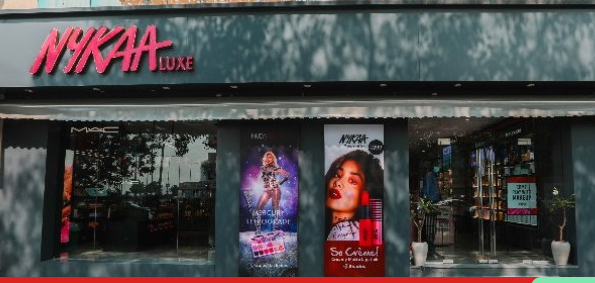 The global beauty industry has never lost its enchantment. Along with its steady growth, the industry has amassed a dedicated consumer base that spans decades. Although the Indian economy has fallen to new lows in recent months as a result of the COVID19 pandemic-induced shutdown, a handful of platforms have remained stable.
Nykaa is an e-commerce site that specialises in cosmetics and beauty products. This site, which was founded in 2012, has quickly become the go-to destination for all cosmetics enthusiasts in India. We will give you a general overview of Nykaa's platform, its business model, funding, success storey, genesis, and growth through this blog.
About Nykaa
Nykaa is an Indian cosmetics company that specialises in multi-beauty and personal care items. The brand began as a pure e-commerce platform before expanding to include retail locations in several major cities around the country. The portal, which claims to garner over 1.5 million visitors per month from across India, permits adequately prepared and priced branded products.
Nykaa's stores are divided into three categories: Luxe, On Trend, and Kiosks. More premium and luxury brands, such as Estee Lauder, Dior, Huda Beauty, and M.A.C Cosmetics, are now available in Nykaa's Luxe shops. For the time being, the corporation is a firm believer in staying in the vertical market.
Nykaa Founders
Falguni Nayar was the Managing Director of India's largest private sector bank, Kotak Mahindra Investment Bank, and was director at Kotak Securities. She quit after 18 years, taking a break to pursue other interests.
The Origin of Nykaa
Falguni Nayar founded Nykaa in 2012 after searching for a promising business opportunity in the Indian beauty products sector. She discovered an inconsistency in the Indian beauty product market, which was not comparable to the product's reach in other countries such as France or Japan. As a result, she and her husband, Sanjay Nayar, founded Nykaa. Starting as an online organisation, the platform evolved into an omnichannel platform over time.
Nykaa's Recent Growth
Nykaa has more than 5 million monthly active users, 70 outlets across India, and more than 500 brands and 130,000 products available on its website, app, and stores. Nykaa Beauty, the firm's in-house brand, has now expanded into travel care and home essentials, according to the business. This transformation has had a significant impact on how the brand is regarded by its target demographic, as well as allowing the company to reach out to a previously untapped market.
Nykaa Fashion's Nykd brand has recently expanded into the intimate wear market. The platform's sales dropped by up to 70% in April after it started displaying vital items to avoid immersing customers in non-deliverable inventory. As a result, the platform has recovered more than 90% of its pre-covid value.
Nykaa Funding
Nykaa raised Rs 66.64 crore from its current investor Steadview Capital in May 2020. The platform was valued at $1.2 billion in this round of funding. Alia Bhatt, a Bollywood actress, has acquired an undisclosed amount in Nykaa through a secondary transaction. Her investment came just a few days after Katrina Kaif made a similar investment in the platform.