Clean, green business machine: Meet myharvest farms, by Archana Stalin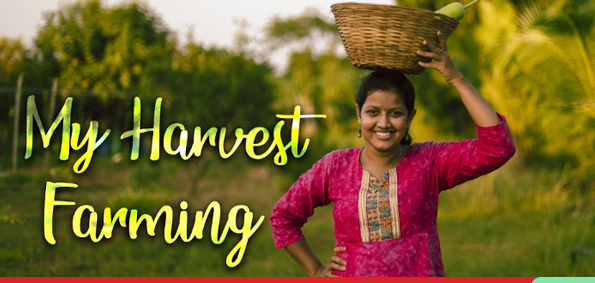 She started myHarvest Farms, a company that delivers fresh, organic produce to more than 800 customers in Chennai, about six years after shutting her first business.
Many would have buried their entrepreneurial dreams after failing in their first venture at the young age of 22, but not Archana, who treated the experience as a practical MBA, learned her lessons, and bided her time to launch her second enterprise.
But she stood up again, starting small with terrace gardening; she and her husband later leased two-acre farmland in 2018 at Sembedu village in Tiruvallur district, about 40 km from Chennai.
They named it Vembu Farms, which would evolve into a community of organic farmers and consumers.
The company's turnover in the first year (2018-19) was Rs. 8 lakh. It jumped to Rs. 44 lakh in the second year and shot up to Rs. 1 crore during the last year.
In the beginning, she and her husband invested about Rs. 10 lakh in the bootstrapped venture, dipping into their savings and borrowing from friends and family members. But all that went down the drain when they shut shop within two years. For the next few years, Archana worked at different places, before teaming up with her husband in 2018 again to take a second shot at entrepreneurship.
In 2016 she quit her job to pursue her interest in organic farming. She met organic farmers and experts in terrace gardening to enhance her knowledge in the field.
Archana and Stalin set up myHarvest in November 2016. Initially, they helped people grow their greens and vegetables in urban spaces like balconies or terraces.
myHarvest also worked with schools to provide hands-on learning in gardening by creating school gardens. They also sold gift boxes that had a pot, soil and seeds.
When their customer base reached 200, Archana organised a get-together at Vembu Farm where both the farmers and consumers met with their families and got to know each other. Around 89 families participated.
Most of their customers also visit the various myHarvest Farms with families on Sundays.
They spend the whole day going around the farms, watching how the farmers make their fertilizers, showing the children how farming is done, taking bath under the pump set, and even enjoying a bullock cart ride.
Her aim is to connect people to nature and teach them the basics of farming so that they can be more grateful to the farmers and don't waste food. There's a lesson or two for all of us to take away from her remarkable story.