Ascendion Named Market Leader in Generative Enterprise Study from HFS Research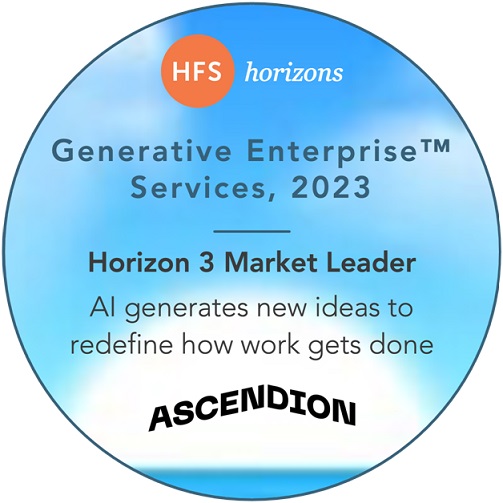 Ascendion Named Global Market Leader in Pioneering Generative Enterprise Report by HFS Research
Ascendion Advances Toward Becoming a Software Engineering Generative Enterprise
Ascendion AVA, a Proprietary AI-Powered Platform for Improved Software Engineering, Recognized for Outstanding Capabilities
Ascendion Achieves Significant Software Engineering Productivity Boost for Fortune 500 Clients with Applied AI
Ascendion, an AI-first digital engineering company, has earned the title of Market Leader among global service providers in the recently released inaugural HFS Horizons: Generative Enterprise™ Services, 2023 report.
This landmark report offers the first-ever competitive analysis of 35 global professional services firms and the value they bring to enterprises leveraging generative AI technologies. The report examines Ascendion's capabilities, shedding light on the key reasons, methods, and importance behind their standout generative enterprise services.
Badge Ascendion HFS Horizons
As a market leader, Ascendion uses AI for generating new ideas to define how software engineering work gets done. By harnessing AI to forge innovative solutions and redefine work processes, Ascendion has positioned itself as the prime choice for enterprises aiming to utilize AI for insightful digital transformation.
The HFS report emphasizes Ascendion's evolution into a generative enterprise powerhouse, praising its drive for efficiency, risk mitigation, and agile team deployment. Some of the highlighted strengths include:
Ascendions combination of credibility, agility, and expertise in guiding early-stage client strategies.
Proactive deployment of generative AI across the board, including certification of its engineering community. Notably, Ascendion has constructed LLMs for both internal and external applications.
A 30% to 50% boost in software engineering productivity with minimized risk, complemented by a strategic digital talent orchestration.
Infographic Ascendion HFS Horizons
"In our relentless pursuit of innovation, Ascendion is fully committed to the transformative power of generative AI. Based upon years of experience in developing and utilizing AI-powered tools, the future possibilities with this technology truly excite us," remarks Karthik Krishnamurthy, CEO of Ascendion. "With an unwavering commitment to responsibility, security, and expediency, we're ecstatic to materialize our vision of business impact driven by applied AI. Our overarching goal is to equip both businesses and individuals to navigate and flourish amidst the swiftly shifting technological tides."
One of the reports focal points was Ascendion's proprietary software engineering platform, Ascendion AVA. This platform has been a significant force in the companys success in serving a client base primarily made of Fortune 500 enterprises.
"Ascendion doesnt just believe in the power of the Generative Enterprise, it is going all out to become one. This first-hand experience is resulting in expertise that will serve its clients well," said David Cushman, Executive Research Leader, HFS Research.
About Ascendion
Ascendion is a leading provider of AI-first software engineering services. Our applied AI, software engineering, cloud, data, experience design, and talent transformation capabilities accelerate innovation for Fortune 500 clients. Ascendion is headquartered in New Jersey. In addition to our remote/hybrid workforce, we have more than 20 offices across the US, India, and Mexico. We are committed to accelerating innovation using disruptive technology, including generative AI, which elevates life with an inclusive workforce, service to our communities, and a vibrant culture.
For more information, please go to ai.ascendion.com and www.ascendion.com.
About HFS Research
HFS is a leading global research and analysis firm trusted at the highest levels of executive leadership. Our mission is to help our clients tackle challenges, make bold moves, and bring big ideas to life by arming them with accurate, visionary, and thought-provoking insight into issues that impact their business. HFS analysts and strategists have deep, real-world experience in the subjects they cover. They're respected for their independent, no-nonsense perspectives based on thorough research, demand-side data, and personal engagements with industry leaders.
To learn more about HFS' extensive suite of reports and services, please visit www.hfsresearch.com.