Quest Alliance's Career Simulation Game Wins International Recognition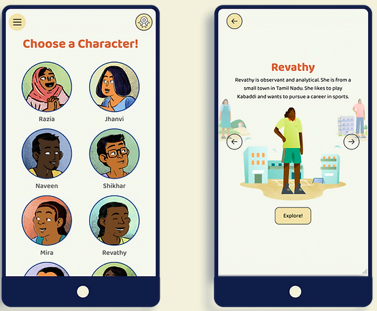 An innovative career simulation game for the under-privileged youth developed by leading non-profit organization Quest Alliance has been selected as one of the top 100 most impactful education innovations in the world.
A snapshot of Career Quest game simulation
The career simulation game 'Career Quest' has been featured as one of the 'top 100 most impactful and scalable education innovations in the world' by HundrED Global Collection 2024. The award will be given away at a ceremony in Finland.
Primarily designed for students of High School, ITI or Vocational courses, the game is an immersive and experiential career exploration simulation which offers exposure to different career journeys. This has been developed to help students from vulnerable sections of the society navigate different career choices.
The game has been tested with over 1,000 students across the country and is found to be very effective in helping students make informed career choices and understand likely feedback from parents, peers and society on their choices.
The Career Quest game helps students rehearse various career scenarios through simulations and evaluate the role of gender stereotypes, peer pressure and parental negotiations in their decision-making process. The game is specially designed to help lakhs of students from low socio-economic sections who struggle with career path navigation.
CEO of Quest Alliance Aakash Sethi said that the game aids in bringing out dilemmas that influence career decisions and allows a student to play out different scenarios in the process of career exploration.
The characters are drawn from different cultural backgrounds to suit different socio-economic and cultural backgrounds of students. The students can choose male, female or transgender characters. There are a total of 8 characters to choose from. The game is available in English and six Indian languages.
Career Quest game helps students evaluate how parents, siblings, friends and relatives in a particular socio-cultural background would react to their decisions and choices.
Mr. Sethi added, "Many students struggle to evaluate career options and navigate through various career scenarios. Lack of exposure, gender stereotypes, peer pressure and parental negotiations make this journey a difficult one."
"Students understand the impact of their career choices and decisions only in retrospect and it would be too late to reverse their decisions. Career Quest is a simulator where they can rehearse potential real-life scenarios and make well informed career choices. This saves a lot of time and anxiety for students," added Mr. Sethi.
Lakhs of students in the network schools of Quest Alliance will use this game to make career choices. Quest Alliance is also in the process of tying up with many companies to roll out this game for students. The game can be accessed at careerquestgame.questalliance.net.
About Quest Alliance
Quest Alliance is a not-for-profit trust that equips young people with 21st century skills by enabling self-learning. We design scalable solutions that enable educators to address critical gaps for quality education and skills training. We facilitate learning networks and collaboration to bring about systemic change fueled by research and Innovation.
Website: www.questalliance.net.