Power2SME and TiE Delhi NCR Announce the Winners of Spirit of Manufacturing Awards 2023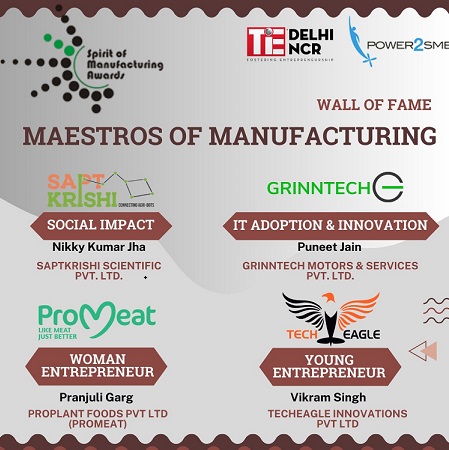 Power2SME in collaboration with TiE Delhi NCR, hosted Season 9 of their flagship Spirit of Manufacturing (SOM) awards in New Delhi in the presence of Mr. B B Swain, Secretary to the Union Ministry for Micro, Small, and Medium Enterprises, the Government of India.
Power2SME & TiE Delhi NCR announce the winners of Spirit of Manufacturing Awards Season 9
Initiated in 2014, The Spirit of Manufacturing Awards are aligned with the Indian government's call to "Make In India" and seek to applaud innovations in the manufacturing industry and encourage young innovators in the manufacturing space to hone their skills with the right resources under the right leadership so they can be positioned on a fast growth trajectory.
Mr. R Narayan, Founder, and CEO, of Power2SME said that, "Over the years, India has become one of the leading hubs for successful start-ups and entrepreneurs, thanks to pioneering innovations. Manufacturers and SMEs have benefited significantly from the Indian Governments flagship initiatives, such as Make in India and Skill India. The Spirit of Manufacturing Awards, now in its ninth season, continues to recognize and celebrate exceptional ideas, products, business models, and entrepreneurs within the Indian manufacturing industry. This initiative is a testament to the immense potential and promises that the Indian manufacturing space holds. Each year, we strive to showcase and honor inspiring and innovative ideas in the manufacturing sector."
Geetika Dayal, Executive Director, TiE Delhi NCR opined, "For nearly a decade TiE Delhi-NCR & Power2SME have partnered together to bring to the fore, innovative startups manufacturing in India. The Spirit of Manufacturing Awards is a valuable platform for founders to showcase their exceptional propositions in the domain. Our partner Power2SME has been instrumental in leading this movement toward a self-reliant nation. We are happy to put a spotlight on ventures 'Making in India' & give startups the recognition they truly deserve."
With the pre-screening of all online applications for each category, followed by an assessment of selected applications, the final list of the top 16 contestants was generated. The selection of the final winners was announced on the basis of their presentation in front of a team of Jury members, comprising business experts and industry veterans, on March 10th, and 11th 2023 and scores amalgamated from the previous rounds. The Jury evaluated each presentation on the basis of the Execution Strategy, Competitive Advantage, Management Depth, Sales & Marketing Strategy, and Financial Viability. Toward the end of the presentations and the scores were tabulated to announce the winners from each category.
The winners were awarded across 4 categories based on the innovative skills and the tangible impact showcased. The categories included Social Impact, Young Entrepreneur, IT Adoption & Innovation, and Woman Entrepreneur of the Year.
Winners
Jury members
Social Impact: Saptkrishi Scientific Private Limited
By Mr. Nikky Kumar Jha
R Narayan, Founder & CEO, Power2SME
IT Adoption & Innovation: Grinntech Motors & Services Pvt. Ltd.
By Mr. Puneet Jain
Sudha Sarin, Senior Vice President of Marketing and Communications at Power2SME
Young Entrepreneur of the Year: TechEagle Innovations Pvt Ltd
By Mr. Vikram Singh Meena
Snehashish Bhattacharjee, Global Founder and CEO of Denave
Woman Entrepreneur of the Year: Proplant Foods Pvt Ltd (promeat)
By Ms. Pranjuli Garg & Mr. Debabrata Das
Debabrata Majumdar, Director & Co-Founder of Denave
About Power2sme
Headquartered in Gurugram, Power2SME is an Embedded Finance Company, focused on SMEs. It has over 5 branches spread across Mumbai, Chennai, Kolkata, Ahmedabad, and Pune. Having started its operations in 2012, Power2SME with its mission Empower SMEs to enable the India growth story has a proven track record of enabling small businesses and enterprises to enhance their overall productivity and achieve measurable business value through its offerings. Power2SME plays a crucial role in financing the SMEs along with sourcing input raw materials at the most economical price points in varied categories like Chemicals, Inks, Paints, Metals, Polymers, and more. This helps SMEs focus on their core business of accelerating growth, both in terms of revenue and development.
Know more: www.power2sme.com.
Linkedin: in.linkedin.com/company/power2sme.
About TiE Delhi NCR
The Indus Entrepreneurs (TiE) is a global organization fostering entrepreneurship through mentoring, networking and education. TiE was founded in 1992 in Silicon Valley by a group of successful entrepreneurs, corporate executives, & senior professionals. There are currently 15,000 members, including over 3,000 charter members, spread across a vast network of 58 Chapters in 14 countries.
TiE Delhi-NCR is among the most active & vibrant chapters across the vast TiE network. In the last two decades, it has continuously taken the lead in creating an increasingly positive ecosystem for entrepreneurs and investors. With a strong mentor support base, various events throughout the year covering various aspects of entrepreneurship and multiple opportunities to showcase and network, it has emerged as one of the biggest platforms supporting entrepreneurship. TiE Delhi-NCR conducts a wide range of programs to help entrepreneurs, these include TiEcon Delhi, India Internet Day, Startup Expo, TiE Institute, TiE Young Entrepreneurs along with Special Interest Groups (SIGs) across sectors. For more details about TiEcon and registration: www.tiecon-delhi.org.
For more info about TiE Delhi-NCR delhi.tie.org.