'Bandit Shakuntala' Gets a Standing Ovation at the Berlin International Film Festival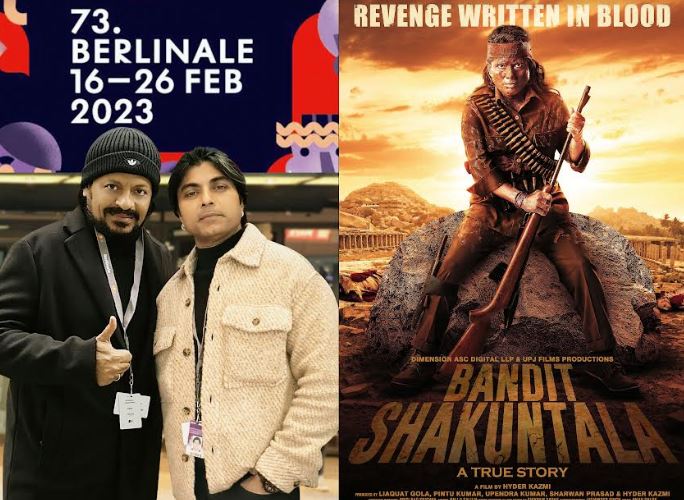 We have seen films as a medium of entertainment, but there is a different league of films earning global recognition on the international stage. Bandit Shakuntala, is one such incredible cinematic work that premiered at the Berlin International Film Festival. Based on the real-life story of dacoit Shakuntala Mahto of Madhubani, Bihar, the film got critical acclaim on the global stage.
Hyder Kazmi, Liaquat Gola of Bandit Shakuntala
The international audience appreciated the movie with a standing ovation. Film Director Hyder Kazmi and Producer Liaquat Gola graced the event and got overwhelming responses from the film viewers and critics. Made in Hindi and English languages, the English version of the film will be screened at the upcoming Cannes 2023 – Festival De Cannes in May.
While the titular role is essayed by dacoit Shakuntala Mahto herself, the film also stars Hyder Kazmi, Omkar Das Manikpuri, Pratibha Yashpal Sharma and Abhimanyu Singh in pivotal roles. The biopic revolves around the story of a dreaded dacoit Shakuntala of Madhubani. The viewers who watched the cinematic spectacle have called it a masterpiece.
Moreover, Bandit Shakuntala is a tale of revenge, bravery, love, suffering, hatred, casteism, power and injustice against women in rural India. Besides the film being a visual treat, it is the films narrative that has packed a powerful punch. To know a little about Shakuntala Mahto, she was born in Bihar in a lower-caste family. Enduring cruel poverty, she survived the humiliation of being poor and helpless. In her life, she suffered a series of terrifying ordeals and was raped when she was 11.
Through this film, makers have beautifully showcased the story of Shakuntala Mahto and how she became a dacoit. In addition, the revenge drama has a set of emotional moments based on Shakuntalas real life. Through her years of imprisonment without trial, Shakuntala remained a Beacon of hope for the poor. She had over 45 cases, but none were proven due to a lack of evidence.
Bandit Shakuntala is produced by Liaquat Gola, Upendra Kumar, Pintu Kumar, Sharwan Prasad and Hyder Kazmi. Backed by the production banners Dimension ASC Digital LLP and UPJ Films Production, edited by Ballu Saluja, associate directed by Priti Rao Krishna Bandit Shakuntala a film by Hyder Kazmi will have a worldwide theatrical release in June this year.