Dr. Bina Modi is Amongst Asia's Greatest Leaders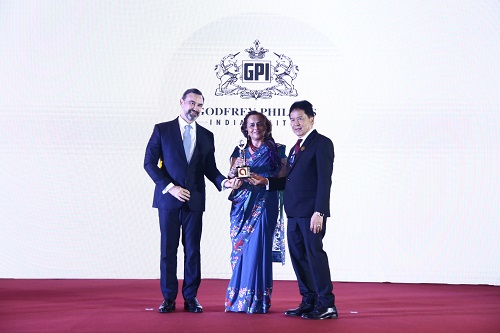 In a grand recognition of her contribution as a woman leader, promoting people-first culture and creating opportunities for women co-workers, Dr. Bina Modi, Chairperson of Modi Enterprises – KK Modi Group, and Chairperson and Managing Director of the Group's flagship companies, Godfrey Phillips India (GPI) and Indofil, was conferred 'Women Empowerment Principles Leadership Award, Asia, 2023′ at the 19th edition of the Asian Business and Social Forum Awards and Summit 2023.
Dr. Bina Modi accepting Award from H.E. Mr. Jos Borges dos Santos Jnior, Ambassador of Brazil to Thailand and H.E. Mr. Khampan Anlavan, Ambassador of Laos to Thailand
The award ceremony was organized by AsiaOne and URS at Bangkok, Thailand, on 21st February. H.E. Mr. Jos Borges dos Santos Jnior, Ambassador of Brazil to Thailand, and H.E. Mr. Khampan Anlavan, Ambassador of Laos to Thailand presented the award to Dr. Bina Modi.
Accepting the award, Dr. Modi said, "I feel extremely humbled and honoured at this prestigious recognition. It's a great motivation when your work, ideals and principles get recognized. This honour has given me greater vigor to always keep people first. It also strengthens my resolve to create more opportunities for women employees and create a robust culture of working with responsibility towards a bigger cause beyond just business."
Meenakshi Kakran, Chief Operating Officer, AsiaOne, said, "The award, celebrating the talent, excellence and resilience of women leaders, is given to 20 women achievers from across Asia. The award is recognition of Dr. Modi's efforts to provide level playing field and opportunities to all co-workers, besides consistently promoting and supporting women employees."
Some of the other awardees at the ceremony included Pirojsha Adi Godrej, Executive Chairman of Godrej Properties; Sophida Jiratritarn, Miss Universe Thailand; Dr. Mark Mabhudhu, CEO, Zimbabwe Consolidated Diamond Company (Pvt.) Ltd; Jareerat (Baitong) Petsom, Miss Earth Thailand; actor Malaika Arora; H.E. Ms. Itzel Karina Chen Chan, Ambassador of Panama to Thailand etc.
At the award ceremony, Dr. Modi also launched Dr. J.C. Chaudhary's book, 'The Incredible Aakash Story'.
Along with being an inspiration for women around the world, she actively supports women in her Group of companies by ensuring equal growth opportunities for them. Her People-First approach has promoted inclusivity. With an impressive career that spans over three decades, and a philosophy that always puts People-First, Dr. Modi is truly an institution.