RGCON 2023 Puts the Limelight on Childhood Cancers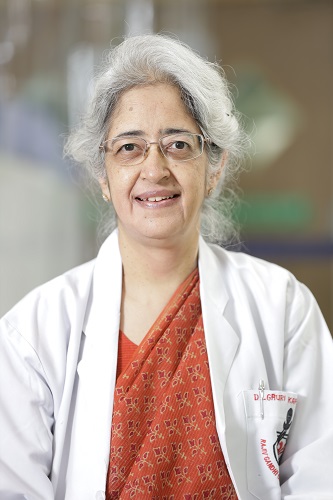 The 21st edition of RGCON, one of the largest annual international conferences on cancer in the country, will be held from Feb 24-26, 2023 at New Delhi. The theme of this year's conference is "Curing Cancer in Children and Adolescents". With 80% of the children with cancer living in low and medium income countries, RGCON 2023 intends to set the agenda for managing childhood cancer in the country. Over 200 national faculties from all leading hospitals such as TMH Mumbai, TMC Kolkata, AIIMS, Delhi, PGI Chandigarh, etc will share their knowledge and expertise. Besides 12 international faculties from eminent cancer care institutes in US, UK, Australia and Canada will be participating for sharing new therapies, international practices and successes achieved.
Dr. Gauri Kapoor
"As one of the largest international meetings on the subject, RGCON 2023 aims at providing the latest updates on various aspects of childhood cancer including hematological malignancies, solid tumors, pain and palliation, survivorship and late effects," said Dr. Gauri Kapoor, Organising Chairperson of RGCON 2023 and Director Pediatric Hematology & Oncology at Rajiv Gandhi Cancer Institute & Research Centre (RGCIRC) Delhi.
The participants are not only the specialists practicing Pediatric Hematology-Oncology but also those in Surgical, radiotherapy, radiology and pathology. RGCON 2023 will have 7 workshops covering different aspects of childhood cancer and thus emphasizing the importance of multidisciplinary care in management of the disease.
Unlike cancer in adults, childhood cancers have high cure rates. In the last few decades tremendous advances have taken place in this field and many childhood cancers are now curable to the tune of 70-80%. The high cure rates have become possible not just by development of new drugs but by development of specialty designed protocols, and development of better antibiotics, antifungal drugs, availability of blood components and training of medical and nursing personnel.
"It is estimated that in India every year about 50,000 new cases of childhood cancer are diagnosed but a very small number receive proper treatment. This is largely because even today, there is a lack of awareness among the general public and physicians about pediatric cancers. Hence there is a tendency of denial that delays diagnosis and patients are usually brought to oncology centers with very advanced disease. In India much higher cure rates are possible if children with this condition are diagnosed early by their local physicians and treated at comprehensive cancer centres like RGCIRC. A large number of General Physicians and Pediatricians working across the country, therefore, will also be a part of the conference," added Dr. Kapoor.

The World Health Organization (WHO) Global Initiative for Childhood Cancer aims to improve outcomes for children with cancer around the world. The target of the Initiative is to improve survival from childhood cancer to at least 60% by 2030 and to reduce the suffering of all children with cancer. More so because access to care is very heterogeneous especially in Low and Middle Income Countries (LMIC) like India where nearly 20% of the World's childhood cancer cases reside. The Government of India is also getting involved in this initiative and it is hoped that the future for our pediatric cancer patients is set to improve.