ET GrandMasters, an OTT Platform for Business Learning from Top Corporate Leaders of the Country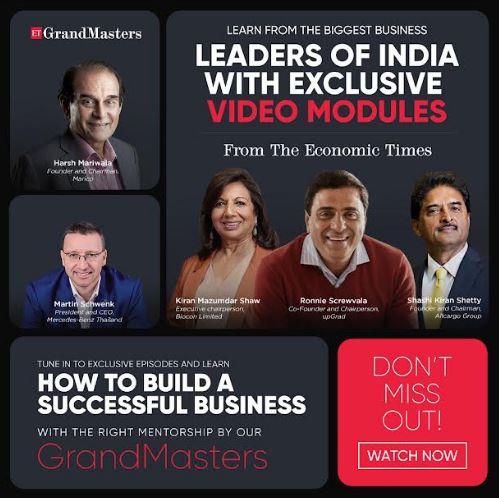 India's leading destination for consuming business & economy related news, Economic Times Digital has now launched a new OTT platform called ET GrandMasters.
ET GrandMasters, an OTT Platform from Top Corporate Leaders of the Country
For the first-time-ever, entrepreneurs, business leaders and working professionals get a chance to learn from the brightest corporate minds of the world like Mr. N.R Narayana Murthy (Founder, Infosys), Mr. Harsh Mariwala (Founder & Managing Director, Marico), Dr. Kiran Mazumdar Shaw (Founder & Chairperson, Biocon), Mr. Nadir Godrej (Managing Director, Godrej Industries), Mr. Ronnie Screwvala (Co-Founder & Chairperson, upGrad), Mr. Puneet Dalmia (Managing Director, Dalmia Bharat Group), Mr. Martin Schwenk (President & CEO, Mercedes-Benz Thailand), Mr. Nithin Kamath (Founder & CEO, Zerodha), Mr. Adar Poonawalla (CEO, Serum Institute of India), Ms. Arundhati Bhattacharya (CEO & Chairperson, Salesforce India), and many more.
In their masterclasses, GrandMasters dive deep into various topics such as Leadership, Management & Strategy, Marketing & Communication, Retail & Logistics, Brand Building and many more. Each module is carefully curated with solutions, advice and anecdotes for business challenges from the life-long professional experiences of our seasoned and coveted GrandMasters. For example, Founder of Infosys, Narayana Murthy delienates his genius when it comes to the IT sector, right from shutting down a failed start-up, managing employee attrition, ensuring a culture of aspirational leadership and building one of the world's most successful IT consultancies, Infosys.
Commenting on the launch of the platform, Amit Kumar Gupta, Business Head of ETB2B, said, "ET GrandMasters will truly reimagine the way we learn, consume and engage with business content while top leaders of the country solve various business challenges and intrinsic problems of the corporate world through a wide range of intuitive topics. This is an opportunity to consume business content where life learnings of business leaders with collective experience of over 20 decades are distilled through 100+ exclusive episodes, with new leaders and modules added every month. "
About EconomicTimes.com
EconomicTimes.com is India's No.1 news destination for business leaders, executives, policymakers, thinkers, small and large enterprises, start-ups, academia, and students. EconomicTimes.com is committed to demystifying Indias business news and adding new content genres to cater to every evolving reader interest. ETMarkets section within EconomicTimes.com, a favorite among investors, is the go-to source for all information on stock markets, mutual funds, IPO/FPO, commodities, and cryptocurrency.
For more information, please visit; masterclass.economictimes.indiatimes.com/grandmasters