The culture of "Employee First"
Amway's India operations started in 1998 with just 6 products from our global portfolio and today we have more than 140 distinct consumer offerings for daily use, across categories such as Nutrition, Beauty, Personal Care, Home Care and Consumer durables. With over two decades of presence in the Indian market, we are proud to have emerged as one of the country's leading FMCG direct-selling companies with a strong and resilient workforce of over 2500 direct and indirect employees.
With a strong focus on local manufacturing and in line with Hon'ble Prime Minister Narendra Modi's Make in India vision, we have built our state-of-the-art manufacturing facility in Tamil Nadu in 2015 – to indigenously develop and manufacture high-quality products in India, for India. This facility has won the prestigious LEED Gold Certification from the U.S. Green Building Council for being one of the most environment friendly and sustainable facilities in the country. It is designed as per the most stringent environmental and quality standards by following the best available sustainable and energy efficiency practices. Majority of the products sold by Amway in India are made in India.
For over two decades, Amway India, has been living its purpose of helping people live better, healthier lives. High consumer preference, motivated employees, and direct selling partners, along with empowered communities are a true testimony of our relentless efforts in the country.
At Amway, building an inclusive and diverse work culture is deeply rooted in the company's heritage. Since, the company's inception Amway Founders emphasized that the Amway business is for everyone. One of the Founder's key goals was to bring people together from all walks of life in an inclusive way. This has resulted in Amway's extraordinary success.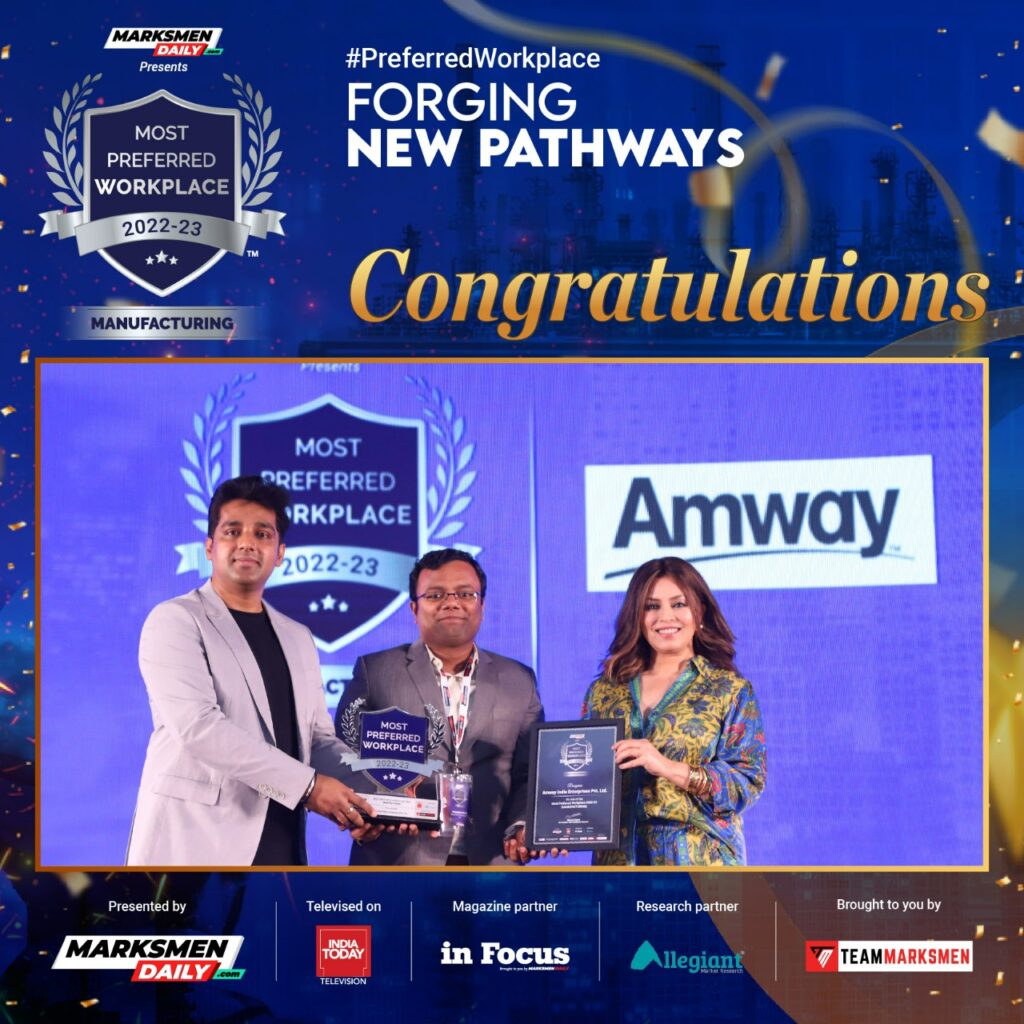 At Amway, the culture of "Employee First" is promoted by focusing on empowering employees at all levels across locations including our manufacturing plant. We believe in building a culture of trust that is inclusive, open, and transparent and instills a sense of ownership and empowerment among our employees, fostering productivity and motivation. All our policies at Amway are particularly designed to provide our employees with a good work-life balance. We have a unique blend of best practices and policies standardized across the globe, and we incessantly strive to bring innovation in our people practices to remain ahead of the curve in the industry that we operate in.
Empowering women has always been at the heart of all our initiatives. While the majority of our workforce consists of women, our manufacturing plant in Tamil Nadu also has 25% women employees which clearly indicates our commitment towards gender diversity. We also have very well-thought-out policies designed for women that aim to support them through life's various stages. Additionally, we have specially designed programs that aim to empower our women workforce and accelerate their growth. We are equally proud of being able to empower the women technicians at our manufacturing plant, some of whom hail from the adjoining villages, to become self-reliant, enabling them to manage the livelihoods of their entire families.
As a part of our commitment to promote diversity and inclusion at the workplace, Amway introduced many women-centric policies to ensure a better work-life balance thereby improving productivity at the workplace that reflect their importance and value to the organization.
Amway's DEI vision reflects aspirations that spring from our heritage. From the beginning, Amway Founders emphasized that the Amway business is for everyone. They were pioneers in bringing people together from all walks of life in an inclusive way, resulting in Amway's extraordinary success. And, today, we want the same for our employees. That is the heart of the matter. Our strategy rests on 3 strategic pillars
Leaders advocate for DEI and integrate it within their teams: Leaders advocate for and display inclusive behaviors and are responsible for integrating DEI into their operations. Leaders will be accountable for helping to drive diverse teams that operate in an inclusive manner. Leaders are equipped with tools and resources to advance inclusivity.
Creating an environment where employees feel valued and safe being themselves and sharing their diverse perspectives. Employees are given tools and resources to remove barriers to inclusivity. Workplace behaviors reflect sensitivity to employee needs and cultural norms.
DEI is embedded into all talent practices and processes, including community engagement, recruitment & hiring, employee development, promotion & compensation. Goals are established considering the existing Amway Direct Selling Partner population and needs, untapped customer segments, and underrepresented employee populations.
At Amway, we are driven by our Founders' Growth Mindset, focused on three principles – 'Live to serve', 'Love to learn' and 'Lead with heart' which reflect in all our endeavours, keeping employees at the heart of everything we do.