Aman Gupta & Journey Of boAt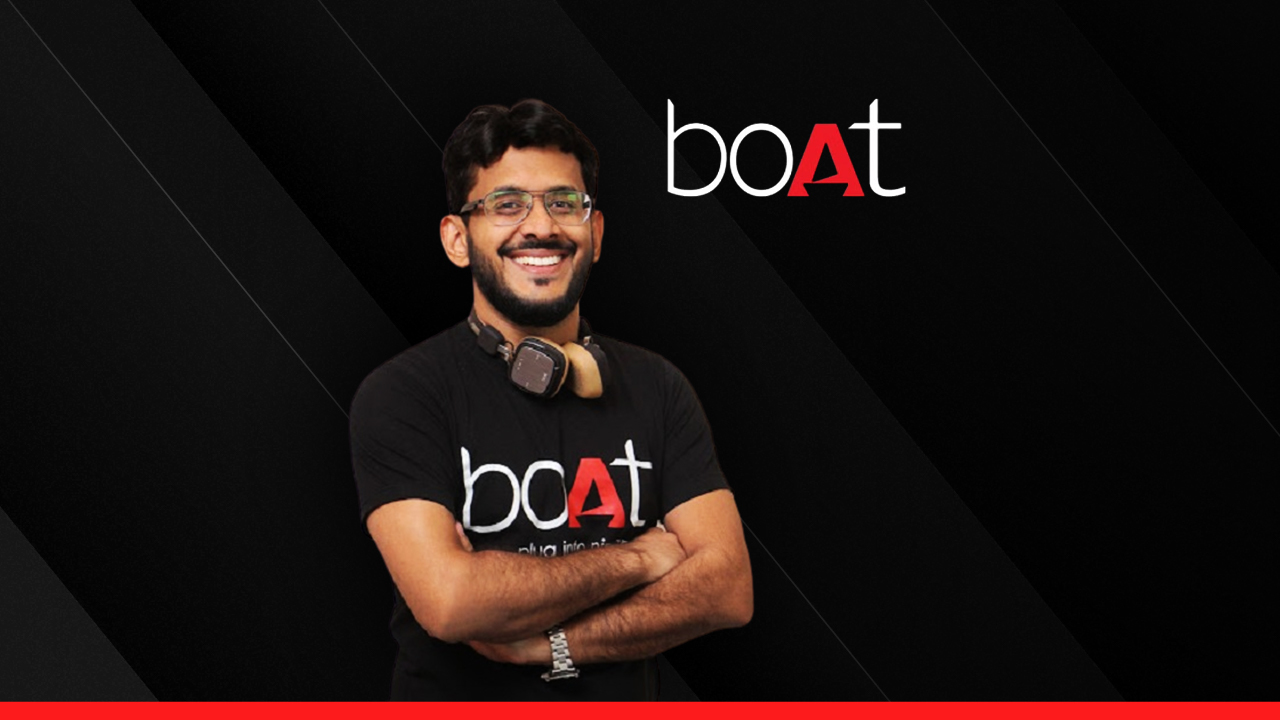 Before he founded boAt, Aman Gupta was working as an ordinary regular employee with a fashionable consumer electronics brand. In 2016, Aman Gupta founded a boat with his partner Sameer Mehta. The boAT is all about quality consumer electronics that sell everything from headphones to earphones and portable chargers.
boAT offers a wide gamut of products that includes premium cables, travel chargers headphones, earphones, speakers, etc. The company started with the main objective of affordable, stylish, and good quality electronics. Before the introduction of the boat, there were already multiple brands that were offering a huge range of consumer electronics. But, they were either very expensive or looked too big to the eyes. This is where the boAt brought a revolutionary range of products that bring forth stylish and affordable electronics to the consumers.
Here's the case study on how Aman Gupta started his journey by boat and made it to reach pinnacles.
How did it all start?
the boAt is an India based startup that has managed to attract customers with its affordability and classy products. Today, Aman Gupta has become one of the biggest entrepreneurs in India has revenues exceeding Rs. 1000 crore. Along with electronics, the boat is the leading ear wearable brand in the country.
Though he was a successful entrepreneur, Aman Gupta got immense popularity with his entry into Shark Tank India. He was one of the judges in this start-up based reality show. At an age of 37, Aman Gupta has become a prominent businessman and achieved so many things.
The idea behind boAt
the boAt was launched in 2016 but it was first imagined in 2014. These two years were all about findings that made both the founders Aman Gupta and Sameer Mehta do market research and strategies.
The company started when both the founders invested 1.5 million from their savings. This is how the boat started and today it's creating history. The company term itself a lifestyle brand that deals in fashionable wearables and consumer electronics. the boAt came into existence with the sole aim of bringing highly affordable, durable, and 'fashionable' audio products, wearables, and accessories.
It started as a cable manufacturer and seller company and today boAt has expanded its product range to attract consumers. Millions of 'boAtheads' can be seen all across the country. Since its inception, the company stands tall with lakhs of happy customers. In an interview, Aman Gupta said-"both of us did a lot of use-case analysis and research. During our research, we found that people are looking for easy to use and tangle-free earphones at affordable pricing. So, we launched stylish, tangle free, long cables, affordable and metal earphones."
Aman Gupta's achievement after business failures
Before boat, Aman Gupta tried their hands in many businesses but unfortunately, those businesses failed. Despite numerous business failures, Aman Gupta persevered himself and created a start-up that has now become one of the preferred choices among the youth. Aman worked in several companies before founding boat Lifestyle. He learned from his mistakes, implemented it during the time of the launch of boAT, and never gave up hope of achieving heights. the boAt is also a top global brand that is accounting for 48 percent of the market share.
Delhi based Aman Gupta graduated from Commerce High School in 1998. In the year of 2008, he married Priya Dagar and he has two daughters named Ada Gupta and Miraya Gupta.
Aman Gupta's success story and his brand boat journey depict the passion he has had for dreams. Today, his efforts in taking the boat Lifestyle to the peak and that is appreciable and inspiring.
Marketing Strategy of BoAt
For the marketing and promotion of the boat, Aman Gupta left no stone left unturned. He chose a unique way of marketing in which most of the strategies were made focusing on influencer marketing. He followed different marketing strategies to make his brand reach every consumer who's looking for an affordable and stylish electronic range.
Right from social media influencers to celebrities, boAT dealt with many influencing people for marketing its product range. To get the attention of the consumers, different illustrations were made and shared on Instagram stories.
Growth and Revenue of boAT
Within a few years of establishment, Aman Gupta's brand boAT growth is tremendous and it has generated a lot of revenue. Today, the company retails at many offline stores and online sites. Croma outlets, Myntra, Amazon, Jabong, and Flipkart are some of the places where boAT has recorded a huge sale.
Aman Gupta's only focus was on ensuring the quality performance of the boAt products. This has aided the company in achieving growth. In FY20, boAT gained a 2X growth in its revenues because of which the revenue increased from Rs 704 crore to Rs 1,531 crore.
Some of the main highlights of growth, revenue, and milestone of boAT-
the boAT is having a market share of 27.3 percent,
Gathered 800,000+ happy customers within a short period
Aman Gupta and Sameer Mehta founded company has been profitable for 5+ years straight
Claims to have an addition of boAthead to boAT family within every 3 minutes that pass
Currently, the company sells 4 units every minute which means 6,000 units each day
FAQs
What is boAt?
Started in 2016, boAt is an Indian startup that was founded by Aman Gupta and Sameer Mehta. The company mainly manufactures and distributes electronic gadgets such as headphones, earphones, wearables, etc. Today, the company is hailed as one of India's acclaimed audio and wearable brands.
Who founded boAt?
Sameer Mehta and Aman Gupta founded boAT in 2016.
What is the valuation of the boAT company?
Boat is projected to seek a valuation of $1.5-2 billion.
What are the features of boat headphones?
As per the consumer reviews, boAt headphones are quality assured, tangle free and affordable.