Everything You Need To Know About boAt's IPO
Imagine Marketing, the parent company of India's fastest-growing consumer electronics brand boAt, is set to launch its IPO. Let us see how this player fares in the current scenario where multiple unicorns like Paytm and Zomato have gone live with their public offerings.
As one of the biggest audio electronics brands in the country, boAt has had an impressive run till now. It is the second-fastest Indian startup to go public, which paints a clear picture of its pace for growth.
Financial Edge
From FY2018 to FY2022, the company has registered an awe-inspiring 14 times increase in EBITDA. It went from $1.25 mn in FY18 to $17 mn in FY21; this is rare because only 24 of 100 startups in India are EBITDA positive, and boAt has not reported a loss since 2015. These data points are proof of the company's robust financial health.
In FY21, the company clocked a revenue of $178 mn, and its operating revenue saw a 2.2x YoY surge. The first half of FY22 ($209 mn) has already outpaced FY21 in revenue by 18 percent.
Market Foothold
FY18 is also one of the key phrases for the brand since it implemented its enhanced marketing strategies of bringing in celebrities from the world of sports to give a face to the company. While audio remains the biggest revenue stream for the brand, a series of strategic acquisitions has allowed the company to diversify its product segment and capture a higher market share of the consumer electronics industry. With the acquisition and launches of Redgear, Defy, Misfit, and Tagg, the company has expanded itself as a lifestyle brand with product offerings in gaming, personal care, and wearable.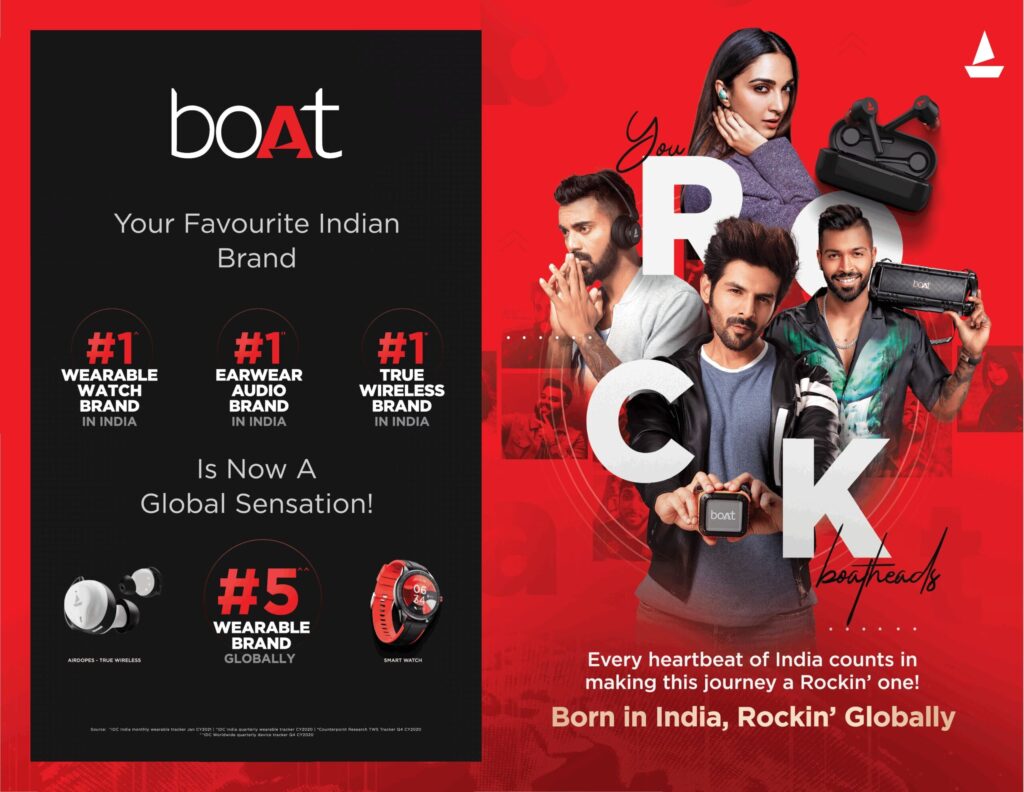 The brand also stacks up overall sales and return on ad spending against competition with homegrown consumer electronics brands such as Portronics, Noise, and Ambrane. With sales of 82.3 Mn in FY20, boAt's sales were almost 4x that of any of the homegrown competitors in the INR sub-10K segment.
What's Promising
The increasing demand across the Indian market for branded products is well aligned with the company's branding strategies. The wearable audio market in India is estimated to grow from $3bn in 2020 to $13bn in 2025; in the same time frame, the online sales penetration of these products will increase by 20 percent. This gives the brand a sizeable market to make its future plays.
What has always worked for the company is its digital-first brand approach. Through its branding and marketing strategies, boAt has positioned itself as an audio electronics brand for the Gen-Z and millennium market, which is another sizeable target audience (708Mn).
What's Risky
Third-Party eCommerce marketplaces like Amazon and Flipkart are the biggest sales channels for the brand. While the eCommerce strategy has worked for the company, its sheer dependency for sale on these channels can substantially affect the brand if the eCommerce partners decide to increase their commission. Eighty-five percent($152 Mn) of all sales in FY21 came through eCommerce platforms compared to just 3.2 percent from the company's website.
Dependency on third-party suppliers and manufacturers is another factor that can pose a bottle-neck for the company in the future that can disrupt operations and cash flow.