Crompton Greaves Consumer Electricals Ltd: One Of India's Leading And Indigenous Consumer Brand.
Crompton Greaves Consumer Electricals Limited's Trust quotient
Crompton Greaves Consumer Electricals Limited (CGCEL) is one of India's "leading" and "indigenous" consumer brands with a 75+ year old brand legacy spanned over several decades of innovation. While the businesses of the company can be broadly classified into four product categories – fans, lighting products, home appliances and pumps, however, Crompton Greaves Consumer Electricals Ltd. is the country's market leader in fans & residential pumps with a strong presence in LED lighting, geysers & air coolers. The brand's ability to develop and supply varied products that have stood the test of time as per the changing needs of the customers, consistently, has made 'Crompton' enjoy these strong market positions in many of our product categories. brand's presence and constant innovation across the years has helped them, thereby, evolve as a truly "Indian" brand synonymous with 'quality', 'reliability' and 'trust' of the consumer at large.
Backed by a deep legacy that connects with eons of generations, we are steadily changing the perception from being a nostalgic brand to a more contemporary brand but one that is backed by years of experience and knowledge. In order to establish the brand as the leading consumer appliance company in India, over the years the company has increased brand awareness and visibility through marketing campaigns thereby deepening the connect with consumers and enhancing the relationship with the younger generations.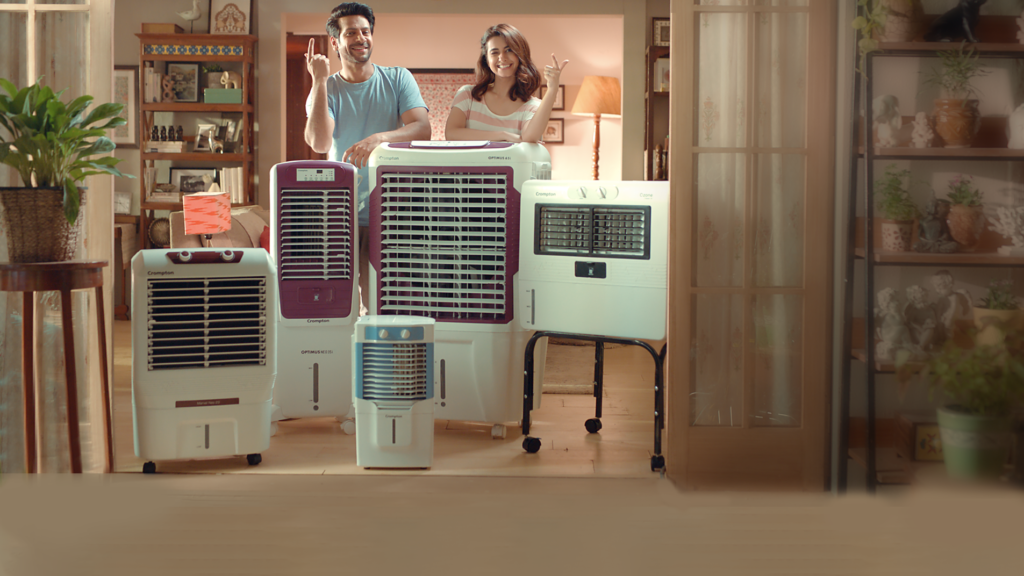 Crompton Greaves Consumer Electricals Limited has invested in brand and innovation; an innovation that is not only based on better meeting consumer needs but one that helps drive energy efficiency and tech evolution like capitalizing on the trend of augmented reality / IoT in order to make the lives of the consumers easier. The Brand is amongst the first few players to launch innovative Anti-Dust Fans, Anti-Bac LED Lamps, Mini Crest Pumps & a series of new products to refresh our offering in geysers & coolers into the Indian market. Navigating through the pandemic has also fast-forwarded the consumer's digital adoption. And so, despite the challenges that every company faced, we continued bringing steadfast innovations with meaningful benefits. The brand, hence, became the first in the Fans industry to partner with Google Lens in showcasing its new SilentPro range and its features for an immersive and contact-less product experience. Following this, we have also launched a range of IoT products like Immensa Wi-Fi enabled LED Lamps and is slated to launch smart Air Coolers and Fans soon.
Having been a part of the erstwhile Crompton Greaves (Avantha Group), the erstwhile CG had been listed on the stock exchange since 12th April 1967. Post demerger in 2015, CGCEL became an independent company and the new company got listed on the stock exchange on 13th May 2016. Headquartered in Mumbai, and now has seven manufacturing plants across India with more than 30+ Sales offices and an annual turnover of Rs 4520 (In Crores), as of March 2020. We employ more than 1500+ people across India and the brand reputation and brand recognition depends primarily on the quality, pricing and consistency of their products, as well as the success of our marketing and promotional efforts.
With its legacy, technological advancement, extensive manufacturing and sales force network, portfolio refreshed constantly, augmented with quality and recognition of the brand, it has gained in awareness & the trust of the consumer at large. We will continue to be focused on delivering great products and services for our consumers, just like our tagline states "Let's Hang Out Ghar Pe" ensuring more quality time at home with comfort, convenience and ease.
Did you know
Crompton Greaves Consumer Electricals Ltd.is India's market leader in fans, the No. 1 player in residential pumps and has leading market positions in its other product categories
From the Crompton Greaves Consumer Electricals Ltd.'s desk :
With a legacy of 75+ years, Crompton Greaves Consumer Electricals Ltd. has always catered to evolving consumer needs. Over the years, the organization has strived to produce a range of innovative products like Anti-Dust fans, Anti-bacterial bulbs, high performance water heaters etc that cater to the modern consumer. The brand resonates with a large cross-section of consumers, thereby making it a versatile brand. We will continue to work towards making the lives of our consumers better by making their homes a more comfortable and happier space.