10 Key Takeaways From The Union Budget 2022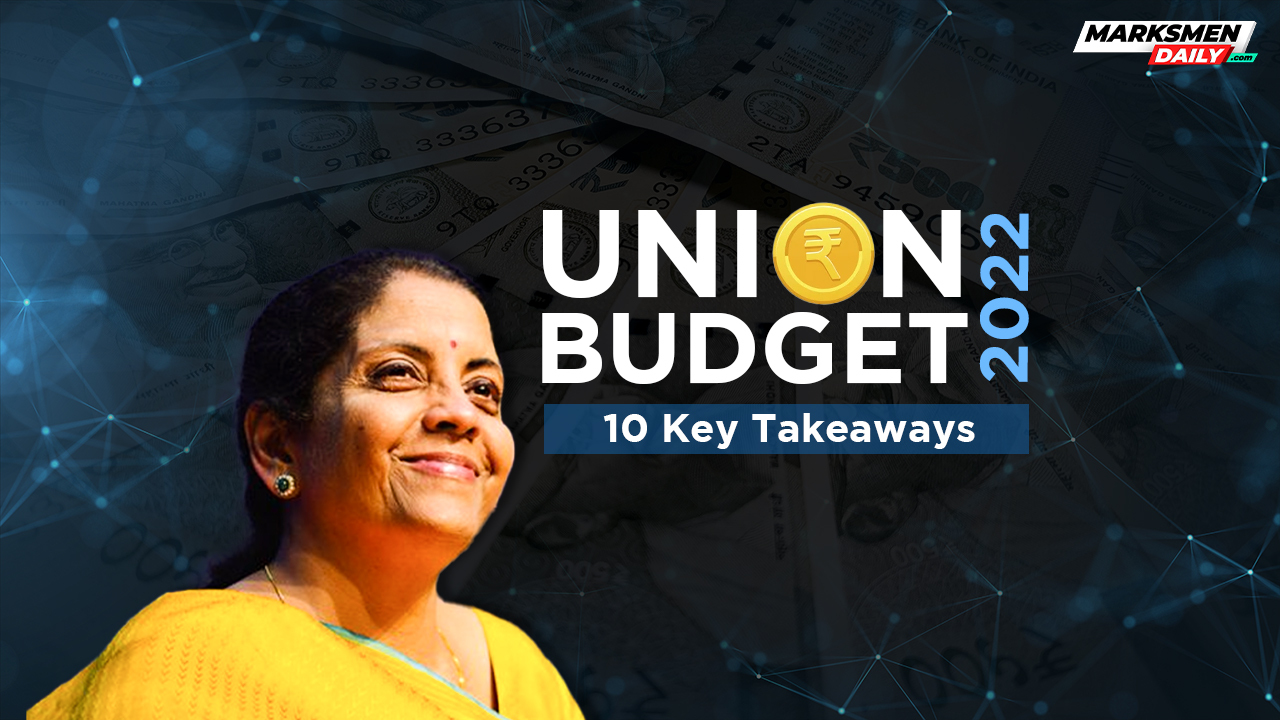 2nd February 2022 was a busy day for India's finance department as finance minister Nirmala Sitharaman presented the 2022-2023 budget in parliament. This year's announcement was about one hour and thirty minutes considered the shortest in history.
Nirmala Sitharaman made several crucial announcements, including an updated policy on income tax returns, the introduction of 5G services, digital money, among other things. The current financial budget is for improving the suffering economic conditions.
Here are some of the important announcements: 
1. No change in the personal income tax slab 
In efforts to seek relief from the middle-class suffering due to pandemic woes, the financial budget made no amendments to the personal income tax slab this year. Also, there were no changes in the corporate sector either. But, the new industrial estate has to pay 15%, which is extended by one year. The budget has also reduced the alternative minimum tax (MAT) for cooperative sectors from 18.5% to 15% for private ones.
2. 30% charge on digital currency
Money earned through digital currency such as cryptocurrency and others will have 30% taxation levied on it. There will also be one percent TDS on such transactions. And to add more, there will be tax added to the presents and digital assets. These proposals will come into effect from April 1.
3. RBI will introduce digital rupee
The Reserve Bank of India will introduce digital currency using block technology starting from FY23. This step will be a push towards the digital economy as introduced by the Prime minister of India. Plus, digital money will lead to cheaper and smoother management of currency.
4. Less surcharge on LTCG
People who earn more than two crores will have some respite from surcharges. There will be 15% capping from long-term capital gains (on some assets). One time taxpayers will get a correction window to rectify any errors in their ITRs within two years of filing. The finance minister intends to increase voluntary tax compliance by decreasing surcharges and releasing the omission form.
5. Passports will go digital
In a move to push digital India more, there will be e-passports. The government will soon start issuing passports embedded with chips. These passports will use biometrics and Radio frequency identification systems to track the traveller. At the same time, chips will have security-related information encoded within them. 
6. National highways will be broadened.
Government plans to expand highways by 25,000 km. It will be done by integrating the national roadway development program as a public-private partnership (PPC). This model will also be used in implementing multimodal logistics parks. The extra cost and resources will be raised through creative financing methods.
7. Domestic solar cells and modules will be manufactured.
The Finance minister will improve the budget under the PLI scheme. The amount will increase from the existing 4,500 crores to 25,000 crores to make India an exporting country.
8. A transformative approach towards PM Gati Shakti
The PM's plan intends to grow towards sustainable development driven by seven engines – waterways, logistics infrastructure, roads, railways, airports, and transport systems. Clean energy and Sabka Prayas (efforts by the central, state, and the private sector) will help create more job opportunities and the spirit of entrepreneurship.
9. Battery vehicles
Due to the lack of space for charging stations, the government will implement a battery swapping program to encourage the usage of electric vehicles in India. She further stated that the private sector would be encouraged to develop sustainable business models for battery or energy services.
10. National TeleMental Health program
Pandemic has resulted in depression and distress amongst teenagers as well as adults. Mental health has taken a toll on everyone, and to provide relief, the government will introduce a TeleMental Health program. The government will establish centres across India in collaboration with many institutions to increase its focus on mental health.