Meet the coach behind India's top para-Badminton players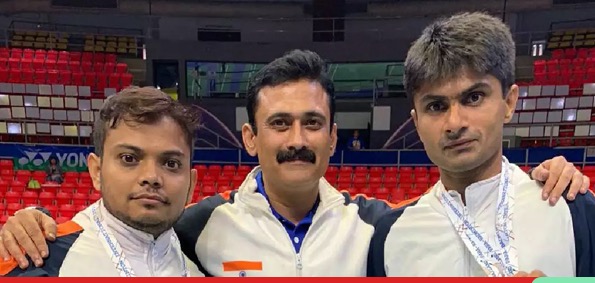 A seven-member strong badminton Paralympic team, consisting of experienced players like Pramod Bhagat and budding stars like Palak Kohli, owed a lot of their success to a hitherto unheralded coach. Coach Gaurav Khanna has dedicated his life to training athletes with disabilities and hearing impairments, and been a quiet part of India's badminton heroics.
The Learning Curve
After damaging his knee during a match at the Udaipur Nationals, Gaurav, 46, was forced to retire from badminton. His mother, who came from low beginnings, had spent the majority of her life in their community assisting the poor and Persons with Disabilities (PwDs). She would go to the temple every day as a devout person and give food or essentials to the poor.
Gaurav used to work with both hearing-impaired and disabled players in his training sessions. They would pick up the game faster and generate better outcomes since he was paying special attention to them. Gaurav even learned sign language to make it easier for him to communicate with his students. He continued to find players from various rehabilitation centres and assist them in their recuperation.
He also guarantees that they receive government and private-sector sponsorship. According to Gaurav, he must consider their physical conditions, manage movement for those in wheelchairs, and be patient as they learn.
Training Champions
He founded a non-profit coaching academy for disabled athletes in India in the year 2000, was also named the Indian deaf team's national coach, and has coached some of the world's top deaf athletes. Manoj Sarkar, Pramod Bhagat, Parul Parmar, and IAS officer Suhas LY are among his students. He was appointed head coach of the Indian Para team for the 2015 World Championships when India won 13 medals.
In 2015, the Dronacharya Award was given to Gaurav Khanna for his contributions to para-badminton. In the same year, he founded a badminton academy, which has since produced seven players who will compete for India at the 2020 Paralympics in Tokyo.