Amul to invest Rs 5,000 crore over next five years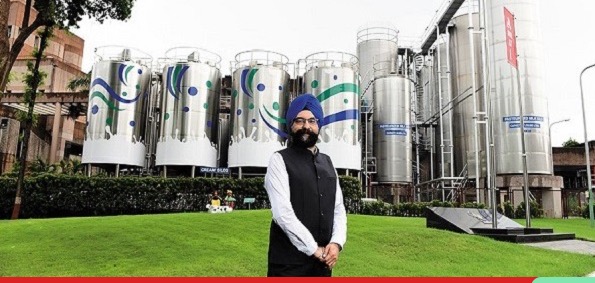 Because individuals have consumed more branded products, consumer goods turnover has climbed 15-20%. Amul wants to double its revenue to Rs 1 lakh crore by 2024, up from Rs 52,000 crore now. In the next five years, they want to invest over Rs 5,000 in increasing milk processing facilities.
Amul increased its daily milk collection from 10 to 11 lakh litres to 22 lakh litres in Maharashtra, where the business previously collected 10 to 11 lakh litres. Amul is unconcerned about commodity stock because it will be taken care of during the summer, according to Dr. RS Sodhi, MD, Gujarat Cooperative Milk Marketing Federation Ltd. (a.k.a. Amul). Ice cream sales had plummeted by 85%, but have since recovered and are currently down 50%. However, Amul has made up for the decline in commodity prices by increasing its consumer business.
"The organised packed food brand business has benefited from Covid-19. The change to organised branded and packaged food will have a favourable influence in the next one or two years. This transformation will be irrevocable", R.S. Sodhi remarked. He said that the market was there for the taking, even though just one-third of the milk market sector was organised. Amul would have to buy more, process it, advertise it, and expand its distribution network.
Sodhi talked to members of the TiE Pune Chapter and advised start-ups that now was the greatest time to enter the food market. Amul, according to Sodhi, used the lockdown period to strengthen the brand, reassure customers, and keep in touch with them. He explained that the food business is long-term and takes decades to build brick-by-brick, brick-and-mortar and that it cannot be done solely by sitting in front of laptops. Amul does not spend a lot of money on advertising and never spends more than 1% of its revenue on it, according to Sodhi. With the reruns of the Ramayana and Mahabharata teleserials, they were able to gain three times the benefit for the same commercial cost.
Amul is increasing its investments in milk procurement infrastructure both within and outside of Gujarat. After Gujarat, Maharashtra had the largest milk procurement, with daily collections ranging from 21 to 22 lakh gallons. Amul operates a dairy plant at Khamano, which is located between Ludhiana and Chandigarh and is investing in Punjab. It already collects three lakh litres of milk each day from 50,000 Punjab farmers. "We are paying them the same amount as a Gujarati farmer. Other players, such as Nestle, will have to pay a higher price as a result of our entry", noted Dr. Sodhi.
Delving further into this, Sodhi pointed out, "Aside from that, we have three private plants that we have rented out. One is near Chandigarh, the other is in Bhatala, and the third is in Bhatinda. Punjab is where we're putting a lot of our money". Milk, pasteurised milk, and eventually other products will be the initial investments earmarked by the dairy major.