"I see 20% upside, but 60% downside potential for Zomato": Jhunjhunwala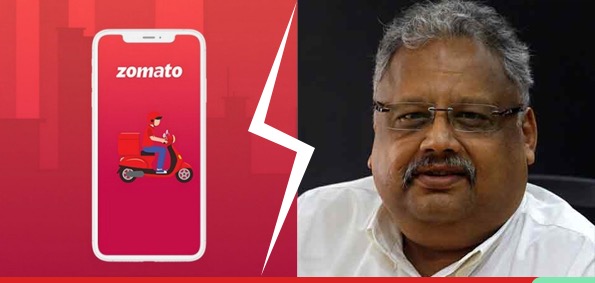 Zomato's recently-concluded IPO can be surmised to be a resounding success, given that the ₹9,375 crore IPO was oversubscribed by 40 times on the last day of subscription, but billionaire investor Rakesh Jhunjhunwala is no fan of these new-age IPOs, saying, "This party (of new-age IPOs) will pop sometime".
Speaking at Motilal Oswal AMC's recently organised Global Partner Summit, India's Warren Buffett said that he believes he can make more money ​​investing in shares of metal producers and banks than on new-age technology companies that are swarming the Indian primary market currently. Whilst stating that he sees 20% upside, but 60% downside potential for the company, he attributed this to be "driven by discounting the next 15 years", adding that, "It is not my party, I do not go there. This party will get spooked at some stage".
A market divided
Markets are taking to India's unicorns and startups with great gusto. Earlier this week, tech heavyweights Paytm filed its draft red herring prospectus for an IPO, mirroring the moves of its digital brethren such as Mobikwik, Zomato, and PolicyBazaar.
While the market has feasted on Zomato's IPO, often looking for seconds and thirds, it has sparked a sharp divide in the Indian investment community between the old-school and the new-age. On the one hand, naysayers have raised alarm bells over its supposedly exorbitant valuations and pointed to its track record as a loss making entity, while others have justified past valuations given its limitless growth runway and upside.
For his part, Jhunjhunwala has been stoically old-school, often airing his skepticism of the valuations of India's myriad tech startups, which are largely bankrolled by limitless venture capital money chasing the proverbial pot of gold at the end of the rainbow, but stopped short of casting questions on the underlying business model.
While tech companies rule the roost globally and indeed even on Wall Street, the billionaire investor said that Indian companies are yet to gain such a foothold. "These (US technology) companies have built valuations over time. Amazon took 25 years to reach this stage…Except for new-age companies and cryptos, everything else is good (in this market)".
Bullish on India
While speaking about the ongoing bull run of Indian markets, the ace investor professed that the bourses are structurally strong, unlike the 1990s, which bodes well for the coming decades. "India's fundamental story today is far stronger than it was in 1991. Today, we are starting as a well-established country in the software space. Software exports will touch $400 billion in the next 4-5 years. We are positioned to be the pharma capital of the world. We have had reforms such as GST. Economically, India is in a position that is better than ever".
Big Bull's confidence in the India growth story is as strong as ever, and it is a sentiment that is largely shared by the cadre of Indian investors. Be it tech, metal, or BFSI, it seems the party isn't going to stop anytime soon on Dalal Street.